Posted November 2, 2007

Ah! A little bit of Paris and a little bit of vroom-vroom made for an exciting party on Sunset Blvd. Disney is releasing "Ratatouille" and "Cars" on DVD and Blu-ray disc on November 6th, so they brought out French cheese and American burgers to celebrate. The party was held at Social Hollywood, a restored 1920s athletic club in the heart of Hollywood.

Walt Disney Home Video President, Robert Chapek, is excited about his company's backing of the high definition Blu-ray format. And so is director John Lasseter, who is a self-professed movie geek. He mentioned during an interview with Maxim's Peter Hammond, that Blu-ray offers the best home video experience around. And by looking at the giant Panasonic displays, Lasseter was on the mark. The Blu-ray images are gorgeous and really can provide viewers with unprecedented image quality.

On hand at the party were writer/director Brad Bird, producer Brad Lewis, actors Patton Oswalt, Brian Dennehy, Cheech Marin and John Ratzenberger, composer Michael Giacchino, famous chef Michel Richard, and Chef Remy, who was made entirely out of cheese.

Guests ate appetizers in the "Cars" room, then were escorted by a chef and a lovely French maid into the "Ratatouille" ballroom. They were served French cuisine and were encouraged to try ratatouille. It wasn't to my particular taste, but it still tasted good.

Both "Cars" and "Ratatouille" hit stores on November 6.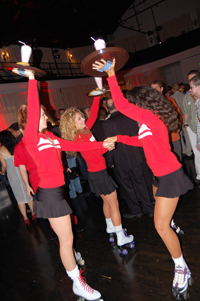 "Cars" girls skated around Social Hollywood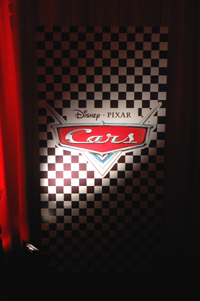 An iconic "Cars" poster greets visitors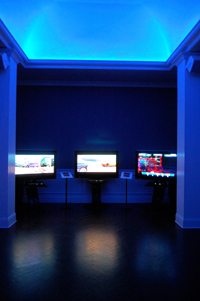 A triple display of Blu-ray capability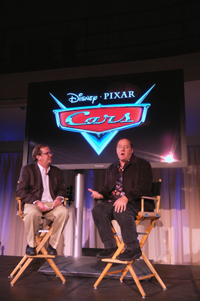 Maxim magazine's film critic Pete Hammond (left) and "Cars" director John Lasseter (right)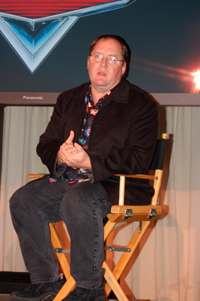 Lasseter spoke of his love for the Blu-ray format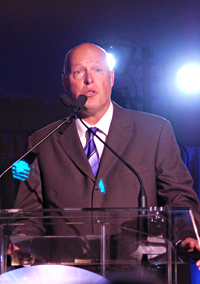 Robert Chapek, President of Walt Disney Home Entertainment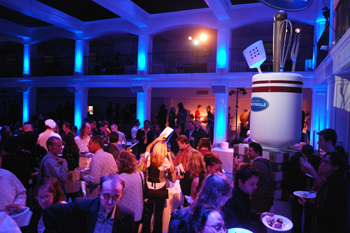 Guest were led into the giant ballroom for French cuisine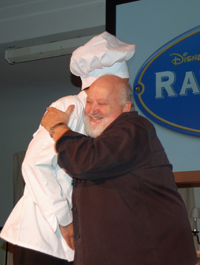 Chef Michel Richard (right)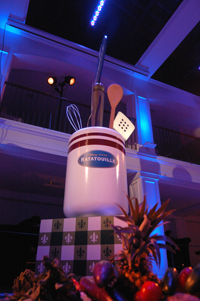 A giant prop on display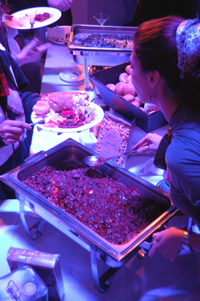 Genuine ratatouille was served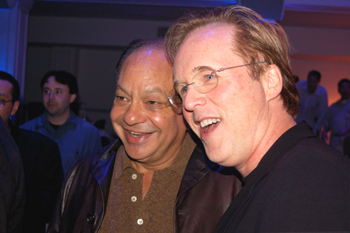 Cheech Marin (left) and writer/director of "Ratatouille" Brad Bird (right)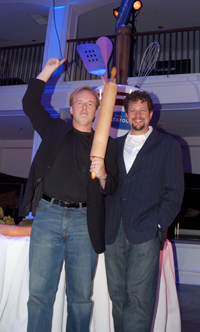 Bird and "Ratatouille" composer Michael Giacchino (right)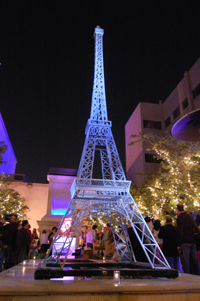 The Eiffel Tower in Hollywood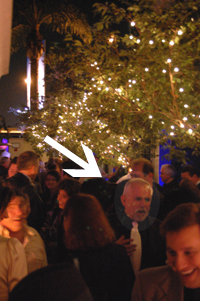 Yep, that's John Ratzenberger (voice of "Mustafa")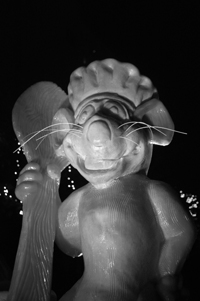 "Cheesy" Remy watches over the guests outside

Special thanks to Mac McLean of Click Communication and Daryl at BVHE
Photos © 2007 Bill Kallay. All rights reserved.
"Cars" and "Ratatouille" © Disney/Pixar. All rights reserved.