Walt Disney Studios Home Entertainment and Children For Children teamed up at Bethune Middle School in Los Angeles to paint murals for a worthy cause. Students painted alongside stars from Disney's "The Game Plan." The event was part of an effort to revitalize the school and pep up student spirit in learning and taking pride in one's school. The students at Bethune "qualify for the Federal Free Lunch program," and the school is located in an "underserved" section of Los Angeles. The event was held on February 1, 2008.

Stars from "The Game Plan" included Madison Pettis, Morris Chestnut, Hayes MacArthur, Brian White, Jamal Duff, and Tubbs the Bulldog. Actress Ali Lartner (fiancé to actor Hayes MacArthur), CFC's Maggie Jones, and Disney's Amelia McPartlon also joined the painting party.

From Script To DVD wasn't officially on-hand for this event, as my own daughter had a tonsil infection the morning of the festivities. Plus, she would've been upset if I, Dad, didn't take her to paint with Madison Pettis! By the looks of it, though, the students and stars had a fun time together.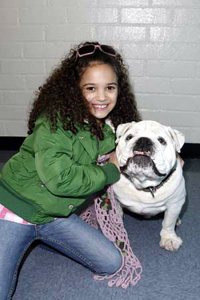 Madison Pettis and Tubbs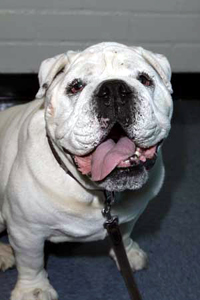 Tubbs is one brave bulldog, having donned a tutu in "The Game Plan"
The class of students participates in a discussion with CFC's Maggie Jones (center)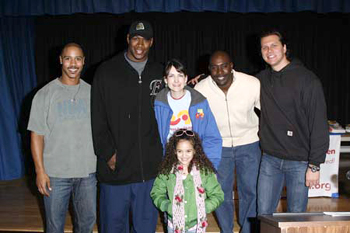 (left-to-right clockwise) Brian J. White, Jamal Duff, Maggie Jones, Morris Chestnut, Hayes MacArthur and Madison Pettis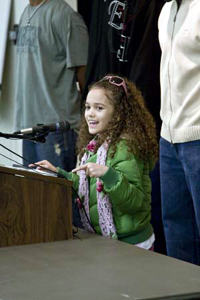 Pettis is a very sweet young lady off-screen and a joy to talk to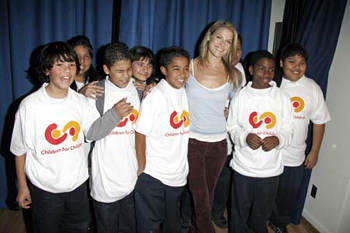 Ali Lartner ("Heroes") hangs out with some of the students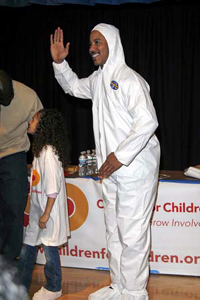 Brian J. White gets ready to paint!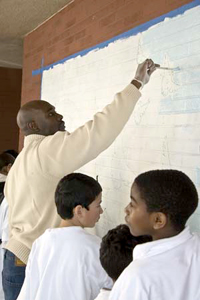 Morris Chestnut starts painting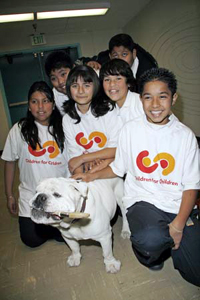 Tubbs shows the kids there's nothing to painting a mural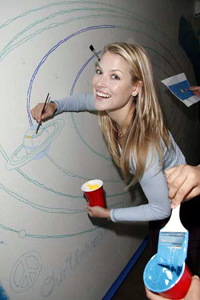 Lartner paints Saturn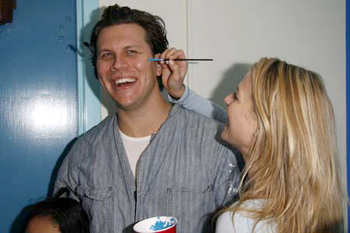 MacArthur gets painted by Lartner! First down!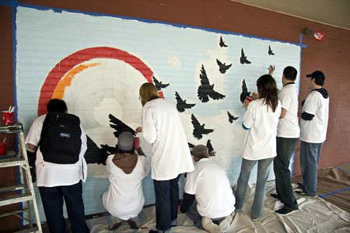 Just one of the murals painted that day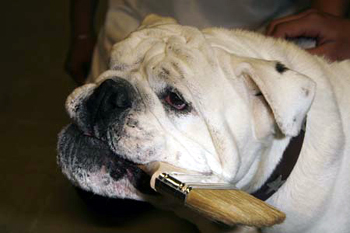 Tubbs shows how it's done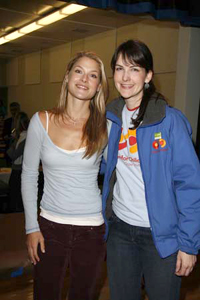 Lartner and Jones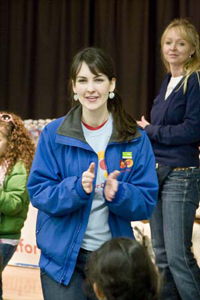 Maggie Jones is the Executive Director of Children For Children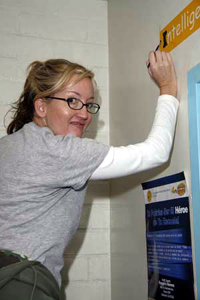 Disney's Amelia McPartlon is one of the coolest volunteers around!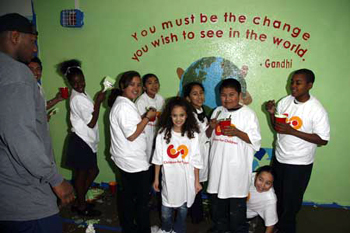 Pettis and the kids show off their fine artistry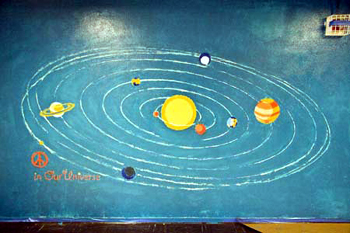 Our universe as painted by the kids of Bethune Middle School and the cast of "The Game Plan"

Special thanks to Click Communications and www.tonydphotography.com
Photos by Tony D. © 2008 Tony D. Photography . All rights reserved.
Article written by Bill Kallay