Let me just say that I'm not a kid. I'm not a tween, nor am I in high school. I'm a grown up daddy of a 4th grader, and "High School Musical 2" is something that has been seen in my house a lot.

"High School Musical 2: Extended Edition" is now on DVD and Blu-ray.

Those loveable, almost wholesome teens in "HSM" have danced and sung their way into our household. For a television movie, "High School Musical" (2006) really surprised me in the quality of acting, songs and Kenny Ortega's direction. The original movie was thoroughly enjoyable. The innocent puppy love romance of Troy (Zac Efron) and Gabriela (Vanessa Hudgens) brought back memories of my own puppy crushes in high school, and the songs were well written and performed. "HSM" was one of those rare moments where the elements came together.

My daughter really enjoyed the 2007 sequel, "High School Musical 2." Did she like it as much as the first? Maybe not as much, but she does sing along to the songs and has the soundtrack in her iPod. Did I, Mr. Grownup, like "HSM 2?" Does it matter? Kids with Zac Efron posters and Gabriela dolls aren't going to care what a dad says, that's for sure. I'm a DVD reviewer, so it's my sworn duty to uphold the right to praise and nit pick, no matter if it's a kid's movie or serious adult bore fest.

I liked "HSM 2." Did I like it as much as the first movie? Nope. I'm not sure what didn't click with me on this sequel. Sharpay (Tisdale) is just as scheming as she was in "HSM." The songs are very good, though not quite as catchy as those in "HSM." Efron & Hudgens are enjoyable, if not in a super sweet way, as the lovey couple. The story is simple and straight forward. Nothing offensive there. Everyone from the director to the actors seems like they're having a great time. I'm just having a hard time pinpointing what didn't click with me on the sequel. I'm not sure if it's the fact that the kids are growing up and taking on responsibility, or perhaps I'm missing the boat. Was it the warm cinematography (and I know the film takes place on summer break)? Was it the simple boy loses girl story? I'm reading too much into this movie. I'm a grown-up, therefore, I'm not supposed to understand and just go along for the ride.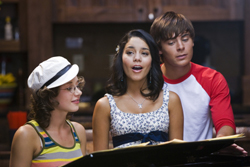 The songs in part 2 are catchy and are better than a lot of pop songs on the radio these days. The extra song number, "Humuhumunukunukuapua'a," is a lot of fun, though the sequence in the movie is similar to "You Are The Music In Me" sung by Sharpay. "All For One" is one of those Disney-esque staples that will be played for years at Disney theme parks.

The "kids" of East High are some of the most wholesome kids you'll meet this side of "The Mickey Mouse Club." I say that with a smile. If Annette Funicello was the kid icon of the 1950s, then Troy and Gabriella (Efron and Hudgens) are the kid icons of the early 21st Century. Okay, and so is "Hannah Montana." The kids of East High aren't as sugary as the kids from "Up With People." But they are enjoyable as a whole. Every actor has put their heart and soul into their roles, so this film doesn't feel like they're going through the motions. The chemistry between Efron and Hudgens is genuine (they're dating in real life). I like that all of the characters, so far, haven't gone off the deep end like Sandy in "Grease." One minute they're innocent, the next, they're trashy. Let's hope that this fantasy of the kids being innocent remains.

My high school was nothing like East High. We didn't rush into the quad area of the school and sing. If the jocks joined the music and drama "geeks" in song & dance, then that would be the end of it. There would be no singing and dancing over the virtues of "I Don't Dance." To paraphrase Vince Vaughn in "Dodgeball," things have changed since I was in high school. "HSM 2" is a fantasy, whichever way you look at it. This is an idealized world that waters down peer pressure and wraps up growing pains in a nice little package. To me, there's nothing wrong with that.

The "HSM" franchise has exploded for Disney, and the sequel certainly adds more fuel to this rocket ship. By watching Disney Channel or visiting the theme parks, you'd think that audiences couldn't get enough of "HSM." Everywhere I look, I see some kind of reference to this franchise. There are dolls in the stores, and kids hum the tunes from the movies. If you watch Disney Channel, you're hammered with commercials about a reality series based "HSM," as well as commercials for video games based on the movies. Disney and company have hit something and hit it big. I wonder how long this ride will last for all involved. Disney Channel has been on a roll that began with "Lizzie Maguire" (2001), "Phil of the Future" (2004), and "Hannah Montana" (2006). How do you top the success of "High School Musical" parts 1 & 2? There is a theatrical sequel on the way. Will audiences still want more by then? Probably they will.

Bill Kallay

Special thanks to Click Communications

Photos: © Disney. All rights reserved.

DVD
Quick Glimpse

MOVIE
Those talented "kids" are back at East High

TALENT
Director: Kenny Ortega

Cast: Zac Efron, Vanessa Hudgens, Ashley Tisdale, Lucas Grabeel, Corbin Bleu and Monique Coleman

FEATURES
Sing-a-long, exclusive music scene

RATING
TV-G

DVD
Picture: Good
Sound: Good

GEEK OUT
Geeks probably won't geek out on this movie, but the kids love it!

TECH SPECS
Aspect Ratio (1.33:1)

Dolby Digital 5.1

DVD RELEASE DATE
December 11, 2007