Pixar's dandy short films have previously been available on DVD, but not in a neat collection like this. Ever since 1984's "The Adventures of André and Wally B.," Pixar's amazing artists have given audiences little gems of ingenious fun.

These days it's easy to take Pixar for granted. We've been accustomed to seeing their features being released on a regular basis since "Toy Story" (1995). Usually spliced in front of the feature is a short almost guaranteed to win an Oscar. The shorts are often funny and charming in a "Pixar Way," showing characters with expressive eyes and cute body movement. Whether it's a lamp playing with a ball, or a little girl showing two bumbling street musicians how to play music, Pixar's artists have continued to push the boundaries of computer animation.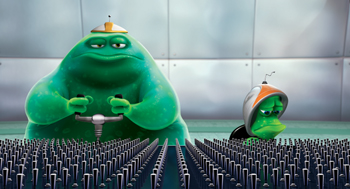 This collection features:

Lifted
Mater and the Ghostlight
One Man Band
Jack-Jack Attack
Boundin'
Mike's New Car
For The Birds
Geri's Game
Knick Knack
Tin Toy
Red's Dream
Luxo Jr.
The Adventures of André and Wally B.

A more extensive review to follow.

Bill Kallay

Special thanks to Click Communications

Photos: © Disney/Pixar. All rights reserved.

DVD
Quick Glimpse


MOVIE
Finally! A compilation of some of Pixar's quirky short films

TALENT
Directors: Various

Cast: Snow dome Man, Birds, Bees, Mike, Sully, Sheep, Lamps

FEATURES
Featurette, audio commentary

RATING
Not rated

DVD
Picture: Excellent
Sound: Excellent

GEEK OUT
The progression of Pixar can be seen on this disc

Steve Jobs' best investment, next to that little computer company he co-founded

TECH SPECS
Aspect Ratio: Various

Dolby Digital 5.1

DVD RELEASE DATE
November 6, 2007