How often in today's environment does a film leave you with a grin on your face? Very few movies do that. Once again, writer/director Brad Bird comes to our cinematic yearning for entertainment that is smart, cute, exciting and moving. His story of a rat named Remy (Patton Oswalt), who yearns to be a chef, does nearly everything right in so many ways. "Ratatouille" is now on DVD and Blu-ray disc.

The idea of a rat being in the kitchen is quite repulsive. Who in the world would tackle that idea for a movie? Brad Bird, that's who. He does it with such expertise that you forget the very idea of vermin cooking up gourmet meals. After all, millions of children want their picture taken with a giant Mouse, so what's wrong with a rat cooking soufflé? This is animation, so anything goes. It's what the meal tastes like after it's been cooked, not what goes into the pot. Bird is such a strong writer/director that we comfortably sit at our table and wait for whatever he sends out of the kitchen.

Remy, nicely played by Oswalt, is such an expressive little character. His mannerisms (he's a refined rat), movement and body language are fluid and very much like, well, a real rat. When he's in the kitchen of Gusteau's, he moves and darts with such precision against the dangers of falling pots and pans, fire and people, that we grab onto our chair arms with tension. I enjoyed how Remy's emotions, like humans, are expressed through his eyes. The way he communicates with Linguini (Lou Romano) shows the eye for detail that makes Bird such a strong director (the film was co-directed by Jan Pinkava.)

Remy's journey from the fields of France to Gusteau's kitchen has traces of "Pixarian" humor and action. The scene in which Remy and his brother Emile (Peter Sohn) are blasted at by an old lady shows off Pixar's animation chops. The ghost of Gusteau (Brad Garrett) has traces of Jiminy Cricket as Remy's conscience, and this provides a sweet interplay between the two characters. The film is in tune with animation's past, but puts in its own originality.

The voice talent utilizes both known actors and unknown actors. Unlike of a lot of today's animation promotion, Pixar thankfully foregoes hyping the stars of the film. Even though some of the voices are instantly recognizable, Pixar films tend to get you into the story first. I was hard pressed to notice Janeane Garofalo's voice in the character of Colette. Brad Garrett is delightful as Gusteau, and I found Skinner (Ian Holm) to be wonderfully voiced and funny to watch bouncing about the kitchen. Lou Romano gives a good performance as Remy's alter ego, Linguini.

Nearly everything about "Ratatouille" hits the mark. The production design renders Paris beautifully. I went to Paris once in my life, last year to be exact. Like most Americans, I fell in love with the city. Instead of taking a sightseeing bus, I acted as my own tour guide and simply roamed the streets on my own. I got lost and would find myself at the Louvre. I'd take a turn and find myself standing in front of the Arch de Triumph. I'd walk the same walk near Notre Dame as Remy did and admire the beautiful cathedral across the River Seine. Everything you see about the romantic atmosphere of Paris is captured in "Ratatouille."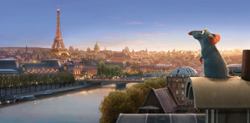 Michael Giacchino is one of today's best composers. He's created a score that has a mixture of French music, traditional classic film music, and jazz. It's a lush and romantic work that can, and should, be enjoyed on its own merits. Most of the movies made today rely on "needle drop" or "spray painted" soundtracks. Either you hear the millionth playback of James Brown's "I Feel Good" or Steppenwolf's "Born To Wild" in a movie. And most songs have nothing to do with the movie, other than to speed up the pace of a scene or montage. Giacchino's score fits in with Remy & Linguini's adventures quite well. It's nice to hear a score that compliments the film rather than calling attention to itself.

If there is a weakness to the film, it's that Linguini doesn't have a very strong personality. Perhaps what makes Linguini almost too passive is that the other characters who populate "Ratatouille" have very strong personalities. Remy, Colette, Skinner or Ego dominate the screen, whereas Linguini occupies it. This, of course, isn't by any stretch of the imagination a deal killer. The camaraderie of Linguini and Remy is rewarding and pleasing, despite the character flaws of Linguini. He's a young man who doesn't seem to have much ambition, even toward the end of the film. Events just fall in his lap. There's nothing wrong with that, but I was hoping that he'd take better command of the happenings in his life. Maybe that was Bird's intent. Linguini isn't a bad character and he's completely watchable. Linguini is voiced perfectly and animated well as any Pixar human. I guess I had wished for him to rely less on Remy and more on himself.

Worth noting is Peter O'Toole's performance as Anton Ego, a nasty food critic. Arrogant and scary, Ego is every bit of a critic a budding chef would fear. O'Toole relishes the role and makes his presence known for the few times he's on screen. What inspired casting to get one of the world's finest actors to play Ego.

One of the most delightful treats on the "Ratatouille" DVD is a new short film called "Your Friend The Rat." Pixar has made short films since its humble start with "The Adventures of André and Wally B." (1984), and continues to refine itself with these shorts. Directed by Jim Capobianco, this is one of the cleverest and funniest shorts I've seen in years. The short has a mix of traditional 2-D, 3-D, and stop motion animation, with a nod to some of Disney's classic shorts like "Toot, Whistle, Plunk and Boom" (1953) and "Noah's Ark" (1959). "Rat" is as fun as almost any of the classic Disney shorts by Ward Kimball or Bill Justice. Remy and brother Emile take us through the history of man's evolution with the rat. We see the perils of being a rat through a humorous collection of skits. The pace is fast and the various animation techniques will leave an animation buff breathless.

For all the mediocre movies that are released in a given year, isn't it refreshing to see a film that is downright extraordinary? My compliments to all the cooks in "Ratatouille" kitchen, particularly Chef Brad Bird. This is a delightful treat that satisfies my appetite for first-rate filmmaking.

Bill Kallay

Special thanks to Click Communications

Photos: © Disney/Pixar. All rights reserved.

DVD
Quick Glimpse

MOVIE
Compliments to the chef

TALENT
Directors: Brad Bird, Jan Pinkava

Cast: Patton Oswalt, Lou Romano, Peter Sohn, Janeane Garofalo, Brad Garrett, Peter O'Toole

FEATURES
Deleted scenes, excellent short film "Your Friend The Rat," and more

RATING
G

DVD
Picture: Excellent
Sound: Excellent

GEEK OUT
How'd they make those rats looks so real, yet cute?

Brad Bird early in his career made "Family Dog"

TECH SPECS
Aspect Ratio (2.39:1)

Dolby Digital 5.1

DVD RELEASE DATE
November 6, 2007