I AM GEEK!

Wondercon 2008 was my first foray into the world of comic books, anime, manga, real life Stormtroopers, hot bodacious babes dressed in Catwoman costumes, famous people I've admired since childhood, and full-on geekdom. And I say that with an amount of mutual respect for my fellow brothers and sisters whose jaws dropped at the sight of a Star Destroyer, or wanted to shake a Wookiee's paw.

I went to San Francisco to cover this smaller sister con(vention) to Comic-Con in San Diego. Held at Moscone Center, Wondercon still packed the huge convention center with eager fans. Despite cold, windy, rainy weather, many people still dressed in their favorite character threads. Others, dressed in normal street clothes, brought wads of cash to have actress Chase Masterson ("Deep Space Nine") sign a few 8x10 glossies. So many people invaded the convention center ATM that it had to be shut down.

Never having been to a comic/sci-fi/fantasy convention before, I was expecting odd people and odd things to happen. My expectations were met, but I actually found myself enjoying the company and the antics. Most people who attend conventions like Wondercon are good people who have normal everyday lives and jobs. So what's the matter with letting out their inner Princess Leia or Creature From The Black Lagoon? In fact, a friend of mine convinced me to go with her to the Wondercon Masquerade Ball. Expecting this to be a full-scale bash, I went all over my home town and found duds for a Sweeny Todd costume. We got to the ballroom at Moscone, she dressed in Goth, me in Sweeny, only to discover that nobody was dressed in costume! This was after getting chuckles (all in good fun) at those dressed in costume during the day. We discovered that the costume contest began an hour before we arrived (never get to a party early, right?), and the costume contestants were backstage. Still, most people loved our costumes and graciously asked for our pictures.

I was invited by various studios and vendors to Wondercon, and I'm grateful to those who did. Because of the tight time schedule, I was able to visit a few. I visited with Steve Yatson of Smith-Micro, producer Charlotte Mason ("Journey to the Center of the Earth: 3-D"), and some of the talented filmmakers of "Blood+." Detailed articles will appear on this site shortly.

Wandering around Moscone and visiting the various booths was highly informational and entertaining. Being able to meet some of my childhood heroes was great. The "Star Wars" fan I am couldn't resist asking Peter Mayhew (Chewbacca) for his autograph. I can honestly say I'm not an autograph hound, but his was special to me. Besides, we had a nice conversation about his Chewbacca costume. Herb Jefferson, Jr. and Richard Hatch, who I thought were very good on the original "Battlestar Galactica," were friendly. I spoke with Don Pedro Colley, whom I best remember as the friendly SRT in George Lucas' "THX 1138" (1971). He's just as friendly in person. Actress Chase Masterson was a sweetheart and even helped me out with a goof I made at the convention. The goof shall go unsaid, as I don't want other fans to think that the remedy is something that normally happens.

Many of the vendors I met are creating new fantasy and science fiction on their own. Daniel and Dawna Jo Davis have illustrated and marketed a three book series of monster books through their Steam Crow Press company. I bought one for my daughter, "KlawBerry: Good Girl, Bad World." This is a sweet little story and lushly illustrated by Daniel. The book has every bit of high quality as books from major publishers. Jody Lee Parker and I spoke for awhile about her story of "The Last Labyrinth," a comic book. I think it's pretty cool that anyone with an idea can make their own film, comic book or book without the need for major backing (although I'm sure that would be nice!)

There are geeks in almost every aspect of our culture. Sure, the jocks probably used to make fun of computer geeks or drama geeks back in high school. Look what happens when everyone grows up. All of us don't seem to let go of those geeky things that made us happy way back when. The jocks live, breath, and die wearing their favorite team jersey or number. That's kinda geeky. Computer geeks grew up to run the world, and make the rest of us feel pretty stupid. Those sly devils figured out how to charge big bucks on how to hook up a hard drive. Geeks! Movie geeks, comic book geeks, and anime geeks turned a once small group of entertainment diversions into multi-billion dollar industries. We can thank both "Star Trek" and "Star Wars" fans for starting that fire. There isn't anything wrong with that, by my estimation. Geek be proud, be strong, be a geek at Wondercon and love every minute of it!

Bill Kallay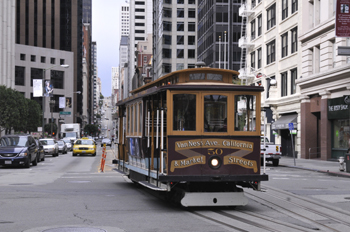 Cable cars clang through the streets of San Francisco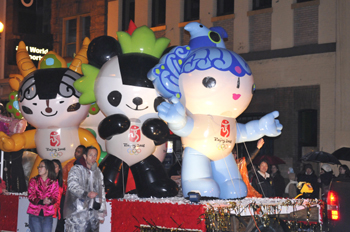 Celebrating the Chinese New Year in Chinatown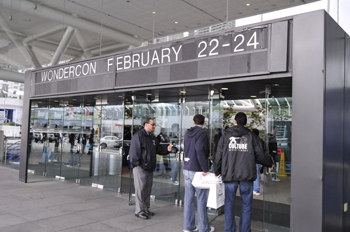 Fans enter Moscone Center -- The lines did stretch in the front of the convention center
The Empire made sure that security was extra tight (actually the 501st Legion did)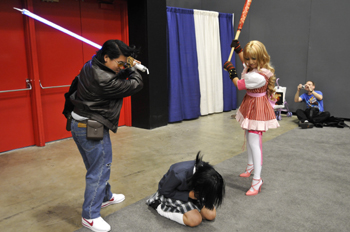 Any fans who got out of hand were dealt with anime super hurtful pain sticks!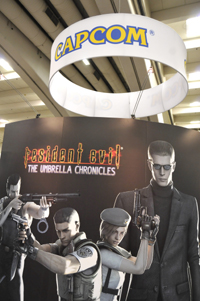 Just one of the many booths at Wondercon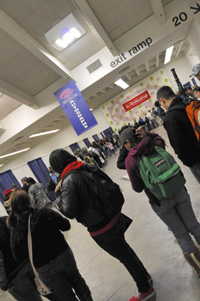 The autograph line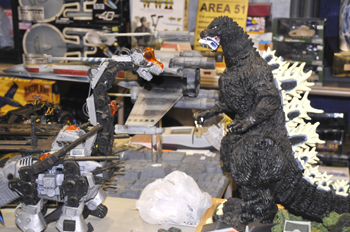 Godzilla Versus Mechanical Toy Beast!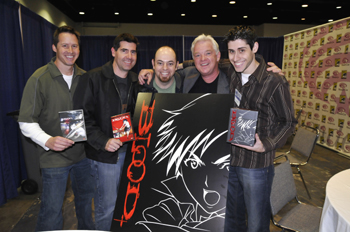 The American "Blood+" team (left-to-right) Tom Teves, Joe D'Ambrosia, Michael Hack, Dave Wittenberg and Ben Diskin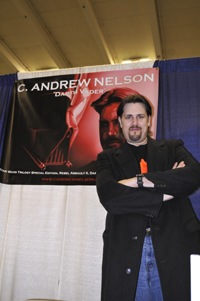 C. Andrew Nelson plays not only Vader in various Lucasfilm projects, but is also a visual effects artist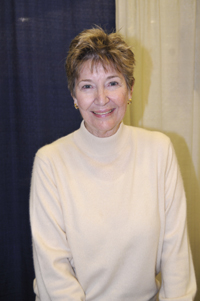 Don't let the innocent looks fool you...Charlotte Stewart is actually a very nice person who happens to have worked in David Lynch projects like "Twin Peaks"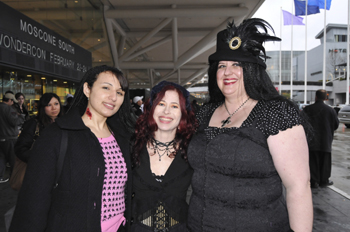 The Chella Girls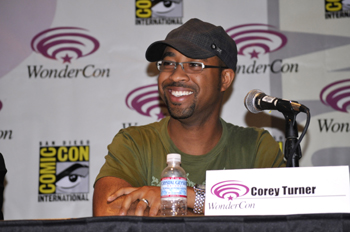 Corey Turner of "Beowulf's" visual effects team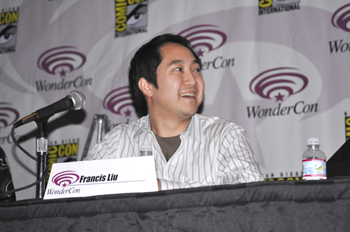 Francis Liu of "Beowulf's" visual effects team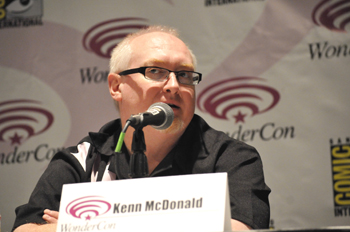 Kenn McDonald of "Beowulf's" visual effects team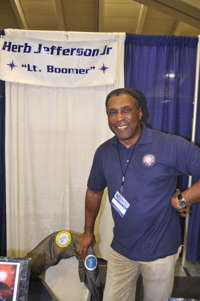 Herb Jefferson, Jr. of the original "Battlestar Galatica" series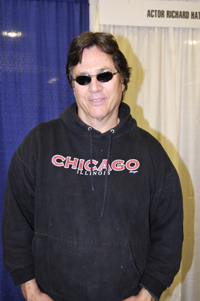 Richard Hatch played Apollo on the original "Battlestar Galactica" series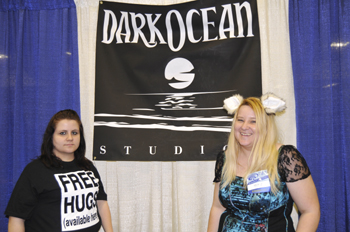 Dee Welch (left) and Jody Lee Parker of Dark Ocean Studios, creator of "The Last Labyrinth" comic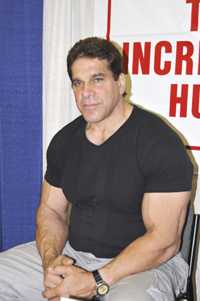 Lou Ferrigno, the original "Incredible Hulk"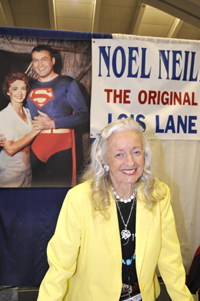 Noel Neil (Lois Lane in the "Adventures of Superman" television series) had adoring fans lining up to see her at WonderCon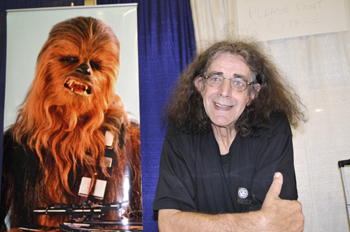 Peter Mayhew is every bit as nice as Chewbacca and a true gentleman in real life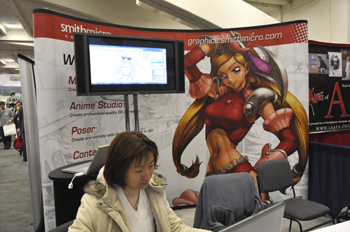 An artist demonstrates the power and ease of using Smith-Micro's "Anime Studio" software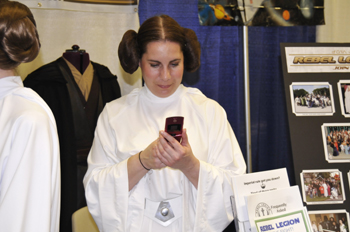 Princess Leia text messages Alderaan, but doesn't get a message back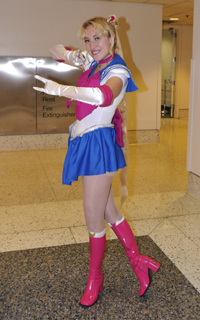 Sailor Moon!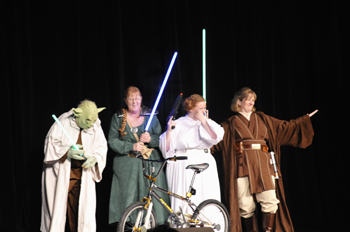 These friends won a bike from Lucasfilm at WonderCon Masquerade Ball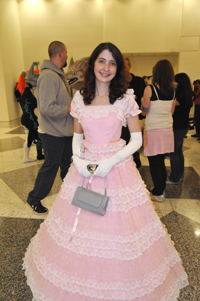 I thought this nice girl's dress was very elegant, and she liked my Sweeny Todd costume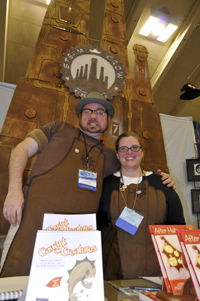 Daniel and Dawna Jo Davis have self-published a wonderful series of books through their Steam Crow company, including "KlawBerry"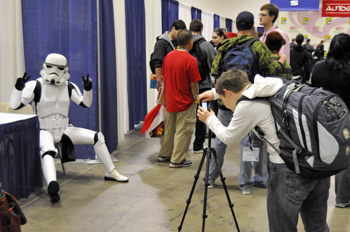 And a lone Stormtrooper says "peace out" on a WonderCon well-done

Special thanks to Mac McLean, Jennifer Lankford, Karen Penhale, Deirdre Kennedy, Christopher Jansen, Graziela Camacho, Deborah Peters, Charlotte Huggins, SteveYatson, Daniel and Dawna Jo Davis, Jody Lee Parker, C. Andrew Nelson, Lisa Camp, Brenda Knight, Peter Mayhew, Chase Masterson, the "Blood+" crew, Noel Neil, Herb Jefferson Jr., Richard Hatch, Charlotte Stewart, Lou Ferrigno, and Don Pedro Colley

Photos © 2008 Bill Kallay. All rights reserved.