A year-by-year, film-by-film history of 70-millimeter wide gauge exhibition in New York City & Vicinity
Compiled by Michael Coate and William Kallay
---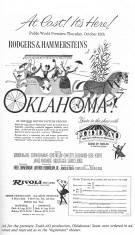 Showmanship is a New York City tradition. Want to build a skyscraper? Build The Empire State Building. Do you want a nice park for the kids to play in? Build Central Park. Do you have a stage play you want to produce? Do it on Broadway. New York endeavors are quite often larger-than-life. Showmanship and motion picture entertainment are no exception. It was here where modern-day motion picture showmanship began with the Broadway opening of "This Is Cinerama" in 1952. But for our intents and purposes, we are focusing on showmanship of the 70mm kind, New York Style.
This article and subsequent list is a celebration of 70-millimeter wide gauge exhibition in New York City. Presented here is a list of every commercial (5-perf) 70mm film shown in the Manhattan area that we could track. We've also included the outlying sub-markets, such as Long Island, northern New Jersey, and southwestern Connecticut.
Historical Value
This project is a historical reconstruction of 70mm engagements in New York City. This meant that we
had to go back in time to attempt to track each and every 70mm engagement in the New York City
region. This required using major regional newspapers archived on microfilm, film industry trades, and speaking to projectionists and theatre chain employees. In a sense, this was an archeological dig for motion picture facts. We found that the New York City region existed as a bridge between the old and the new of 70mm presentation and theatrical exhibition. By combing through newspaper ads in the entertainment sections from 1955 thru present day, for instance, we could reconstruct how important motion picture exhibition was during a given era and what type of theatres existed.
During the early part of the Roadshow Era, ads pushed 70mm presentation (or a 70mm process) in the
public's eye. Once roadshows faded, ads became low key. But when 70mm releases became popular again (mostly blow-ups), the format was advertised with more enthusiasm by studios. By the early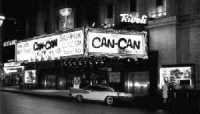 1990s, 70mm presentations became scarce, first following the introduction of Dolby Stereo SR, and
then almost non-existent once digital sound for cinema was introduced. Ads promoted digital sound, but the thrill of movie presentation, for some, came to a virtual halt. But like all good
things that must come to an end, for researchers like ourselves, it was intriguing to put together this historical list of films and theatres associated with the 70mm format.
This article is not a history of the 70mm format. The focus is on the exhibition of a specific film format in one region. For more information on the history of the 70mm film format, there are a number of
excellent sources of information. We would recommend the book "Widescreen Cinema" by John Belton, Thomas Hauerslev's website in70mm.com, and Martin Hart's American WideScreen Museum. In addition, we'd like to encourage readers to seek out "Presented In 70mm," our contribution to Widescreen Review magazine's 2001 special edition: "The Ultimate Widescreen DVD Movie Guide."

What was additionally intriguing for us was to reconstruct theatre history. Manhattan, being one of the earliest places for film exhibition, had an abundance of old-fashioned movie palaces. They had thousands of seats, a stage and a balcony. Thus, early roadshows were shown in retrofitted movie palaces in Manhattan. Many of these theatres existed through the 1980s and even into the year 2000. Many, starting with the State, were ultimately subdivided into multiple screens and suggested a sign of things to come. It is interesting to note that despite being split into multiple screens, theatres like the State or Warner (a.k.a. Cinerama, Penthouse) still showed 70mm films frequently and appeared to be successful.
The List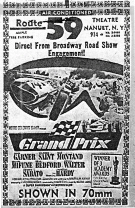 As a fan of 70mm and possibly a resident of the New York City region, you're probably here to read the list of 70mm engagements (unless you did that already and are now reading this). The list is a culmination of over two years of library microfilm research, email exchanges, cross-country travel and face-to-face meetings with people involved with this subject, not to mention taking notes and printing several hundred photocopies of newspaper and trade ads and articles.
This list is important for several reasons: (1) It is a historical record of 70mm engagements in a large metropolitan and suburban region. (2) It is a historical record of theatres in this region that could play 70mm. (3) It is a celebration of the wonderful newspaper and marquee promotion that occurred during a bygone era. (4) It can be fun to read and reminisce about historical film topics.
We've tried to present the engagement listings in an organized, easy-to-reference style. An example follows:
Start date of engagement
Title of film
Photography process / sound process
Reserved Seat Engagement notation (selected entries)
Distributor
Newspaper hype blurb (selected entries)
City or community of engagement: [Theatre company] Theatre name
Additional info (selected entries) regarding gala premieres or cross-reference notations
You will notice that a number of entries include additional layout-related data such as "Expanded release on …" or "Additional 70mm Engagements." This is an attempt to clearly and concisely account for 70mm engagements that began being shown after the first known engagement in the region. During the roadshow era, you'll find that the typical pattern was for the 70mm films to premiere in Manhattan and then over a course of a few months additional roadshow runs may have begun in the outlying submarkets. During the blow-up/saturation booking era, some films were given a specialized "platform" release where the opening was in a single theatre (or a few) with more prints gradually being put into the market. Films such as "Altered States" (1980) and "Quest For Fire" (1982) were distributed in this manner. As for "Additional Engagements," this is generally accounting for "move-overs," whereby prints are moved out of one house to make room for a newer release and, instead of being withdrawn from service, transferred to another theatre. (In all of this, 35mm versions are not included whether they occurred before, during or after the 70mm engagements.)
As for re-issues (re-releases), these, admittedly, can at times be tricky to sort out. In the absence of a definitive reference, a judgment call is often needed to determine whether a film should be given a
stand alone re-issue entry or listed simply as an additional engagement. In an attempt to remove any confusion on this portion of our project, we've cross referenced these titles by listing the additional years in which they appear at the bottom of the entries in question. Certain titles include a plethora of both types of engagements. A film like "2001: A Space Odyssey" (1968) is one such example.

Also note that the placement of a title is based on the earliest known release date. So, for instance, if you resided in New Jersey and recall seeing, say, "Altered States" in early 1981, don't give up on us if you cannot see a listing for that film in our 1981 list, even though it opened in New Jersey in 1981. In the case of "Altered States," it is listed under 1980 since its earliest release date for our region of coverage was in December 1980 in Manhattan. Therefore, based on the format established, the New Jersey engagements fall under the "Expanded release on..." category.

One thing we've not accounted for are the ending dates of the engagements. This decision may disappoint some readers but, hey, we wanted to finish this project in our lifetimes! As a consolation of sorts, we've included the duration for many of the titles that played for a very long time in a separate section.

Geography of NYC Region
If this article and list is about 70mm in New York City, why are other areas around the Big Apple included? Well, if one were to take a drawing compass to a map and draw a circle centered on Manhattan, the coverage of the metro area would extend to Westchester and Rockland counties to the north, Nassau and Suffolk counties on Long Island to the east, northern New Jersey to the west, the Jersey Shore to the south, and southwestern Connecticut to the northeast. We chose these regions for a few reasons. (1) The regions are covered by a number of NYC area newspapers. (2) 70mm engagements in any one of these cities could be accessed by area residents. (3) This is a region in which a lot of 70mm prints were allocated over the years of 70mm exhibition. In the Roadshow Era, studios generally allocated prints first in
large metropolitan cities such as New York, Los Angeles, Chicago, Detroit, Dallas, Philadelphia, etc. As some roadshows ran their course, additional engagements would move into suburban areas like Long Island and northern New Jersey. With the addition of new theaters built during the roadshow era in suburban cities, it was sensible for studios to cater to upper middle class audiences that might have not traveled into Manhattan to see "South Pacific," for example.


Some surprises were found by us during our research. We had a hunch that some cities in northern New Jersey and on Long Island had a few theatres capable of showing 70mm, but not nearly as many as we found. Allow us to clarify. Over the years and when we undertook this project, our main resource was researching through The New York Times. Therefore, that publication was our point-of-reference on the region. We found that it wasn't until the early 1970s that 70mm and roadshow engagements from the outlying areas began being included along with the New York City news in the entertainment section of The New York Times.
(This type of occurrence has been common throughout the country since a newspaper's area of coverage would increase every decade or so to keep pace with the population and suburban expansion.)

Like archeologists, we dug deeper into the tombs of history and uncovered some interesting treasures. It turns out, as we learned by incorporating the newspapers specific to the submarkets into our research, that there were a number of early engagements in those areas. Perhaps this is not surprising to many who grew up in the outlying areas, but for some readers, this might bring back some memories or a moment of discovery like, "Oh, I didn't realize that so many 70mm prints ran in Upper Montclair!" As it turns out, the cities of Montclair and Upper Montclair, New Jersey, held a number of roadshow and standard 70mm engagements on par with Manhattan and Long Island. The Clairidge and Bellevue theatres were the New Jersey houses to attend during the Roadshow Era. Another city in that area to play a fair share of 70mm was Asbury Park. Later, theatres in Cedar Grove, Paramus, Secaucus and Totowa began to run quite a few 70mm prints.
The Big Apple: Premieres, Long Engagements, Big Theatres And Large Print Runs
Manhattan was known for big premieres and big theatres. Many world premieres and gala premieres occurred in the Big Apple. From 1955, with the premiere of "Oklahoma!," through the late 1960s, most premieres for major films occurred in New York before a film would reach other parts of the United States and around the world.
These premieres were often huge gala events, touted with large ads in the local papers. In some cases, whole blocks in front of a particular theatre were closed off. In the case of the invitational showings of "Oklahoma!" the governor of New York, Raymond Gary, annexed a block around the Rivoli Theatre into "Oklahoma Territory." For "Around the
World in Eighty Days," producer Mike Todd produced a lavish one year anniversary party at Madison Square Garden. For "Funny Girl" (1968), there was a giant "Times Square Tent Party" set up for the occasion.
New Yorkers enjoyed a good 70mm run on many films. A number of films played for many, many weeks in the same theatre, sometimes over a year! Repeat business was not uncommon on such films as "Oklahoma!" (1955), "Around The World In Eighty Days" (1956), "Ben-Hur" (1959), "My Fair Lady" (1964), "The Sound Of Music" (1965), "Star Wars" (1977) and "E.T. The Extra-Terrestrial" (1982). As well, it was common for people to travel a great distance into Manhattan for the showmanship experience. The Cinerama film that eventually spawned 70mm presentation, "This Is Cinerama," played for over 2 ½ years on Broadway.
And did we mention big theatres? Most of the early 70mm engagements were shown in classic movie palaces in Manhattan. And what a grand group of 70mm-equipped theaters they were. The names are famous. The Rivoli is remembered for a number of 70mm engagements, most notably, the premiere Todd-AO engagement of "Oklahoma!" If you lived in Manhattan, or came into the city for roadshows, these other names might sound familiar to you. The Criterion. The Capitol. The Warner. The DeMille. The State. Even modern movie houses like The Ziegfeld, National and Astor Plaza might conjure up memories of movie bliss. And, of course, we can't forget the 5,000-plus seat "Showplace of the Nation": Radio City Music Hall.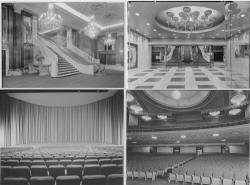 The Capitol Theatre
There wasn't a lot of new roadshow theatre construction in Manhattan from the 1950s through the 1990s. Theatre chains like United Artists (UA), Cinema 5, Cineplex Odeon and RKO Stanley-Warner built or renovated a number of theatres on the island. Once the megaplex boom hit during the 2000s, Manhattan was graced with the addition of new movie theatres at Lincoln Center and in Times Square, which coincided with the closure or destruction of the old movie palaces.
Where new theatres sprouted up was in the suburbs around Manhattan. Beginning with the opening of the Syosset

Theatre in 1956, modern suburban theatres began to sprout up. The newer theatres were smaller and perhaps less ornate than their counterparts in Manhattan, but they offered comfort and a 1960s ideal of luxurious cinema. The Syosset was built preceding a nationwide renaissance of new theatre construction, which included a number of new theatres built by companies such as Skouras, UA, and Century. (It should be noted that the Syosset was the first custom-built Todd-AO house in the world.)
In northern New Jersey, the Bellevue in Upper Montclair and the Route 4 complex in Paramus (which has gone under numerous names and was expanded over the years to accommodate up to ten screens) were very popular 70mm venues. Even the Cinema 23 in Cedar Grove, which was independently owned, had its share of 70mm presentations. In New York's Rockland County, the Route 59 showed a number of 70mm presentations (and 3-strip Cinerama before that). Unfortunately, many of these theatres have been closed and demolished in recent years. Some are currently open, like the Cinema 23 and the Bellevue, but have been divided into multiscreen complexes.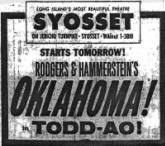 Despite the addition of 70/35 projection and six-track stereophonic sound in these new movie theatres
in New York and New Jersey, Hollywood began to cut back on roadshow films. The studios, seeing
potential dollar signs after the success of films such as "Easy Rider" (1969), began to concentrate on
darker and more independent films. The industry began to de-emphasize widescreen image composition and quality sound mixes; they focused on simple cinematography and threw out most technical innovations such as good sound recording and playback. Thus many theatres with elaborate playback capability were forced to play most films in
35mm and monophonic sound. This wasn't simply a New York City issue; it happened in newer theatres nationwide. By the 1970s and 1980s blow-up era, some of those same theatres with 70mm projection finally began to show films in the format.
Hope was not lost when the Ziegfeld Theatre opened in 1969 at the tail end of the Roadshow Era. It has been one of the most well-equipped theatres over the years, being among the first in the world to showcase such innovations as Sensurround, Quintaphonic Sound, Dolby Stereo, digital sound and, recently, digital projection.
The 1980s through the early 1990s were extremely popular for the 70mm format. In New York City, it wasn't unusual to see large print runs of popular films like the "Star Wars" and "Indiana Jones" sequels playing in all of the boroughs. Digital sound and, shortly thereafter, megaplex theatres (20 or more screens), ultimately killed the 70mm format and the single-to-multiplex theatres in which they played.
Modern progress and real estate development hasn't been kind to classic movie theatres. Nearly every single theatre built or modified for 70mm projection in Manhattan has been closed, demolished or renovated. Early roadshow houses like the Rivoli were demolished. The Criterion was modified to
accommodate a major toy store. The more modern Astor Plaza, a popular 70mm venue during the 1970s and 1980s, closed in August 2004 after a 30-year run to become a music venue. The only remaining theatre of the 70mm era in Manhattan is the Ziegfeld. This single screen theatre is still considered a class act in movie presentation, but many fear its days are numbered. As well, a number of classic (as some would consider) Long Island cinemas have closed in recent years, like the Syosset.
Megaplex theatres have sprung up nationally like mushrooms. Manhattan avoided that fate for years, until AMC moved in and built the Empire 25 on 42nd Street. Some today feel that the AMC Empire 25, one of the most popular theatres in the United States, is a fantastic place to attend. But some others might feel that a theatre of this type is the antithesis of what has gone wrong in theatrical exhibition in Manhattan and elsewhere. The theatre was even built from the remnants of an old movie palace called The Empire. Could this be seen as a clever and useful urban renewal project, or merely robbing the past to make something new? After all, we did mention this was an archeological project on Manhattan 70mm history.
---
Search 70mm Engagements By Year