THE SCREENING ROOM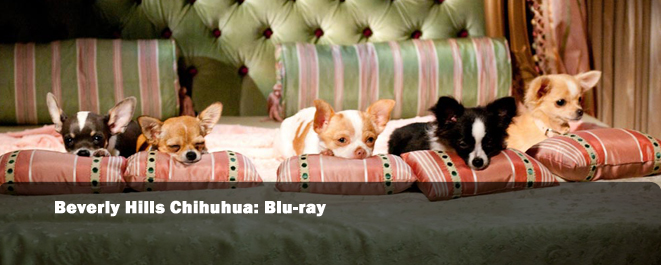 BLU-RAY REVIEW
By Bill Kallay
Pappi! You finally have a movie worthy of your charm.

"Beverly Hills Chihuahua 2" is now available on Blu-ray.

The original "Beverly Hills Chihuahua" had a sweet premise about a Chihuahua named Pappi who was in love with a rich Chihuahua named Chloe. Well, that wasn't quite what the plot was about. In the 2008 feature film, starring George Lopez and Drew Barrymore, Chloe was a spoiled dog who learns to be more humble. Big message, but the film was filled with annoying racial cliches and a story about characters the audience didn't care about. The saving grace was the character of Pappi. He was sweet and determined to win the love of Chloe who didn't even notice him.

Here is the direct-to-video sequel. Back as Pappi (his voice) is Lopez. He gives the character warmth and humor which was sadly lacking in the original feature film. In the sequel, Pappi has now settled down with Chloe and they have a litter of adorable puppies. And naturally, they all talk through the magic of CGI.

Like the "Air Buddies" franchise of films Disney has released on home video, "Beverly Hills Chihuahua 2" relies on cuteness to drive its story. It's hard to resist the site of cute Chihuahua puppies getting into trouble. When Pappi and the puppies are on-screen, the movie is charming enough to entertain the family.

It's hard to expect a direct-to-video movie to have high comedy, but this movie has some cute gags. What weighs the movie down is a subplot about the Cortez family's dealing with an evil banker who's out to kick them out of their home. Tired plot point. Why can't a kid's movie revolve solely around gags and puppies?

That said, the movie is paced quickly enough that children and their parents will enjoy it for the most part. Of course, there is a way for the Cortez family to possibly win money to save their house: a dog show! Again, tired plot point, but it's charming enough.

The Blu-ray picture is excellent. The movie has good production value and the cinematography is usually bright and very sharp. The picture quality is only occassionally marked by digital noise in very random areas of the movie. Otherwise, it has excellent picture quality.

The DTS-HD Master Audio soundtrack is very good. This isn't a Blu-ray to highlight the strength of a person's home theater sound system. The soundtrack is perfectly accetable with nicely recorded dialogue.

Surprisingly, "Beverly Hills Chihuahua 2" barks up the right tree.

Special thanks to Click Communications

Photos:

© Disney. All rights reserved.
QUICK GLIMPSE
MOVIE
Superior sequel to the original 2008 feature movie

TALENT
Director: Alex Zamm

Cast: George Lopez, French Stewart, Morgan Fairchild, Elaine Hendrix

FEATURES
Bonus features, DVD copy

RATING
G

BLU-RAY
Picture: Excellent
Sound: Very Good

TECH SPECS
Aspect Ratio (1.78:1)





BLU-RAY RELEASE DATE
February 1, 2011
About | Site Index | Contact | Terms & Conditions | Links
Custom Search