"Bridge To Terabithia" On DVD
By
William Kallay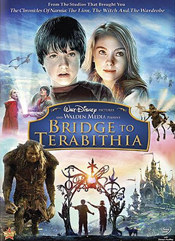 Surprises are good and it's good to keep your mind open.
If you're a hard case, like I am, you may just want to sit down and watch "Bridge To Terabithia," now on DVD. It's a lot better than you might ever think.
Call me cynical. Okay. That's fine with me. I find that movies today are fairly predictable onslaughts of stunning visual effects, weak plots and weak characters, and music montages to today's latest recording artists. I haven't heard a real orchestral score for a film that I can remember since John Williams' "Schindler's List." Movies seem like they've been through a cookie cutter. A lot of the cookies have different shapes, but ultimately, they taste the same.
For the most part, movies just aren't that wonderful anymore. During the 1980s and early 1990s, at least for myself, movies still had magic and I would generally go to the movies every weekend. Perhaps it was because I was younger that directors like James Cameron or Steven Spielberg really surprised me with their ability to shape a good story. These days, despite the hype about the latest blockbusters, I rarely go to the local megaplex. Movies don't move me with thrills, laughter or an occasional tear. I guess in my ripe old 30s that much doesn't surprise me about movies anymore. Been there, seen that.
When you have a child, like I do, you're immersed in their world of Disney Channel and Bratz dolls, if they're into that. I've seen a lot of children's movies and DVDs to know what's great, good and just plain awful. So when Disney Channel began running their homegrown commercials for "Bridge To Terabithia," repeatedly, I rolled my eyes. With a cynical eye and a raised eyebrow, I thought that this was going to be another Disney C-level family film along the lines of "Max Keeble's Big Move" (2001). You know, a big budget television movie that somehow made it to the big screen.
But I guess that the old adage that you shouldn't judge a book by its cover might just apply to movie promotion, too. And the same applies to movies that open in the dead of winter. "Terabithia" was released in February of 2007, normally a time when the studios dump their worst films. I avoid these early-in-the-year movies. "Terabithia" was one of them.

The DVD contains the feature film in widescreen (1.85:1) with a 5.1 Dolby Digital sound mix, Dolby Digital 5.1 mixes in Spanish and French, audio commentary tracks by director Gabor Csupo, writer Jeff Stockwell and producers Hal Lieberman and Lauren Levine, actors Josh Hutcherson and AnnaSophia Robb, a music video featuring Robb, bonus features "Bringing Terabithia To Life" and "Behind The Book: The Themes Of Bridge To Terabithia," and sneak peeks.
The picture and sound quality ranks right up there with the best DVDs out today. The widescreen picture, when viewed on a 16x9 screen, is natural and occasionally very sharp in brightly lit scenes. Michael Chapman's cinematography is first-rate and doesn't call attention to itself. If there was a minor complaint about it, and this applies to most movies today, why are there never lights on in classrooms or any kind of building anymore? It's almost as if the power went out. The "X-Files" curse still lingers these days. But I digress. This film looks great!
The Dolby Digital 5.1 soundtrack is very good, with some deep bass. Dialogue is clear and concise. The main mix plays at 448kbps, while the French and Spanish 5.1 tracks play at 384kbps.
"Terabithia" is based on a 1977 children's book by Katherine Patterson. Despite being of age to have read the book back then, I must've missed it. I was more into reading books on airplanes and the occasional Judy Blume book like "Tales Of The Fourth Grade Nothing." The story of "Terabithia," through Gabor Csupo's tight direction, was fresh to me.
Without giving away crucial plot details, the film revolves around Jesse (Josh Hutcherson), a loner and very imaginative kid growing up on a farm with four sisters and his parents (played by Robert Patrick and Kate Butler). He's bullied and mocked by most of the kids at school, until he strikes up a friendship with a new kid, Leslie (AnnaSophia Robb). After school one day, they run into the forest behind their homes (they live next door to each other). Leslie's wild imagination conjures up a kingdom of trolls and other fantasy creatures in a land called Terabithia. Reluctant at first, Jesse begins to open up his mind to her world, and discovers that he and Leslie share an incredible friendship that's strong enough to take on the problems of their own reality.
One of the biggest surprises for me about "Terabithia" was its honesty. Children's stories tend to be either too cute or too cynical (witness the live action version of "The Cat In The Hat," which may be the most mean spirited movie of all-time). This film, based on the classic book, of course, takes the troubles of growing up with siblings, tough parents, seemingly mean teachers, and bullies, and presents them fairly. There are reasons why most of the main characters, including Jesse's father, are so hardboiled. In children's films, you rarely see depth in the characters. In "Terabithia," nothing is held back.
The acting by Hutcherson and Robb is realistic and never played cute. We believe in their friendship and even the little suggestion at puppy love. Both are natural. Out of the two actors, neither one overwhelms the other. Robb's portrayal of Leslie is right on the mark by being quirky, yet being a normal kid with a vivid imagination. Hutcherson's Jesse is the type of loner that elicits empathy rather than scorn. He does a very good job in keeping his acting low key, yet believable.
The supporting cast of Patrick, Baker and Zooey Deschanel (Ms. Edmonds) round out the real world of "Terabithia." When I was in elementary school, I was a shy kid who often received bully treatment, as well as occasional teasing from classmates. Deschanel's Ms. Edmonds reminds me of a young teacher whom I had a crush on in 4th grade. She was sweet and supportive of me when my spirits were down. It's fantastic to see this type of positive character in a movie such as this. Teachers are usually seen as heroes in film ("Stand And Deliver," "Stand By Me," for example), but Edmonds isn't seen that way. She's more of a support for Jesse at a time when he needs it. Also worthy of note is Jesse's little sister, May Belle (Bailee Madison). She's delightful.
Outside of the wonderful storyline and performances, "Terabithia" is truly a great coming-of-age film. I was reminded of other films like it, though on less fantasy terms, like "Lucas" and "Stand By Me" (both 1986). Childhood, depending on one's upbringing and factors such as school and friends (or lack thereof), can be one of the most difficult times in one's life. I not only empathized with Jesse's plight to fit in the world, but also of his friendship with Leslie. It can be tough to fit in, especially if you're seen as "different" while growing up, but it's tougher to find a best friend who sticks by you, no matter what.
Like "The Chronicles Of Narnia: The Lion, The Witch & The Wardrobe" (2005), the film was produced by Disney, in association with Walden Media, a company owned by billionaire Philip Anschutz. According to press reports I've read about Mr. Anschutz and Walden Media, the films they've chosen to produce usually have a Christian theme and/or moral values. "Terabithia" was written by Patterson, who is also a Christian. But I didn't feel the film preached to me, even during a discussion between Jesse, May Belle and Leslie in a ride home after church. The conversation seemed honest as to how kids that age would talk about religion.
What really got me about "Terabithia" was how it moved me. One could technically pick this film apart for its fairly standard storyline of childhood, the visual effects not being super spectacular (it seems that the film was made on a small budget), and it being similar to other coming-of-age films. But that doesn't apply here, at least for me. The filmmakers carefully crafted the way the film comes together. I was genuinely, and happily, surprised by the emotional power that this film gives.
"Bridge To Terabithia" is perfect for children ages 8 and up, though some of the situations might be overwhelming for some. My daughter thought, through the previews, it was going to be scary. It's not.
If there is any complaint about the film, it was the way it was marketed. The ads for it reminded me of a poor man's version of "Lord Of The Rings." They emphasized a lot of the visual effects. I suppose Disney knows what they're doing, as the film did some very respectable business. And I suppose it would be more difficult to market a film about growing up. Knowing how well the story is told, couldn't the marketing have been more honest?
Yet, I came away from "Terabithia" with the surprise that there can be a magical film gem hidden underneath strange marketing and low expectations. Peel open this DVD. You might be surprised.
Bridge To Terabithia
Walt Disney Home Entertainment
Catalog Number 52372
Region 1
1.85:1
Dolby Digital 5.1
Dolby Digital 5.1 (French and Spanish)
DVD Release Date: June 19, 2007
$29.99
PG
DVD-9 Disc
2007
96 minutes
Color
Director: Gabor Csupo
Cast: Josh Hutcherson, AnnaSophia Robb, Robert Patrick, Kate Baker, and Zooey Deschanel
---
Special thanks to Mac McLean
IMAGES: © Disney. All rights reserved.