THE SCREENING ROOM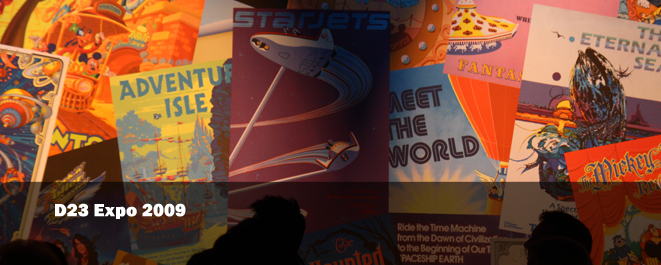 PHOTO GALLERY
By Bill Kallay
Disney finally gathered its goods and put on a huge Disney fan convention, D23 Expo, at the Anaheim Convention Center. D23 is Disney's answer to Comic-Con; a one stop shop to experience the magic that makes the Mouse company run. D23 ran from September 10-13, 2009.

The company has developed a history of famous motion pictures, music, and theme parks. There is a mythology that's endured for years, creating a fanbase that is one of the most loyal around. "Star Wars" has a presence at conventions, as do super heroes and anime characters. Yet Disney has kept its mouse feet out of the water until now. If you're a fan of Disney, this was the place to be. I'm surprised this didn't happen earlier.

Fans who couldn't make it probably have no idea how large D23 Expo is. Taking up most of the Anaheim Convention Center, Disney has pulled out props, displays, screenings of classic and new films, and actors from its movie and television line-up. There was a lot of walking done during D23 Expo!

Since the Expo was huge, and my own time was limited, down below are some highlights of the major attractions. Below that is an expanded photo gallery.

OPENING DAY

Opening day got off to a late start, but once it was up and running, fans were in for a treat. Walt Disney Company CEO, Bob Iger, began the festivities with slides of Disney's slate and recent acquisition of Marvel. He mentioned that Disney was expanding its offerings in their worldwide theme parks.

The big surprise Disney unveiled was the first 30-minutes of their new traditionally animated feature, "The Princess and the Frog." The audience seemed to really enjoy the short sample from the opening of the film. I'll reserve most of my judgment until it comes out in November. But I found it had some cute gags and the animation in the "Almost There" song sequence was inventive. There is no doubt a lot of work has gone into the film.

DISNEY LEGENDS

This year's recipients included Betty White, Robin Williams, Tony Anselmo (voice of Donald Duck), Harry Archinal (former president of Buena Vista International), Estelle Getty, Beatrice Arthur, Rue McClanahan, Bill Farmer (voice of Goofy), Don Iwerks (son of Ub Iwerks and a legendary Disney inventor), and Leota Toombs-Thomas (the head and voice of Madam Leota in the Haunted Mansion attraction). Both Bob Iger and "Dancing With The Stars" host Tom Bergeron shared MC duties.

Betty White was the delight of the show, walking on stage to receive her award before Bergeron had a chance to talk about her career. She was clearly moved by the honor with misty eyes and a smile.

TRON AND TRON LEGACY PANEL

One of the most anticipated movies for next year is "Tron Legacy," a sequel of sorts to the original groundbreaker. Writer/director Steven Lisberger and producer Sean Bailey talked about the new and original films. The panel was moderated by Mike Bonifer, publicist on the first film.

The speakers highlighted the original's groundbreaking effects and how the film spawned a whole industry in computer animation and effects. They also spoke about the people who made "Tron" come to life, like Bill Kroyer, Jerry Rees, Richard Taylor, and the "Prince of Disney," Harrison Ellenshaw.

The new film will expand upon the ideas of the original, while maintaining its own mythology. The few pieces of artwork promise a new and bold electronic landscape. Look for it in theaters on December 17, 2010.

UPCOMING DISNEY FILMS

Both Dick Cook and John Lasseter introduced a slate of big films coming to theaters and home video. Nicolas Cage, John Travolta, Miley Cyrus, Tim Burton and Robert Zemeckis were on hand through the feature film unveilings.



Feature Films



"Disney's A Christmas Carol"
Tim Burton's "Alice in Wonderland"
"Old Dogs" (with Robin Williams and John Travolta)
"Prince of Persia" (producer Jerry Bruckheimer)
"The Sorcerer's Apprentice" (producer Jerry Bruckheimer)
"The Last Song" (Miley Cyrus)
"Tron: Legacy" (Jeff Bridges and Bruce Boxleitner)
"The Yellow Submarine" (directed by Robert Zemeckis)
"Pirates of the Caribbean 4" (2011)
"The Lone Ranger"



Feature Animation



"Toy Story" and "Toy Story 2" (3-D, two week engagement)
"The Princess and the Frog"
"Rapunzel"
"Winnie the Pooh"
"Toy Story 3"
"Cars 2"



Home Video and Television



"Tinker Bell and the Lost Treasure"
"Prep and Landing" (ABC Television)

There are also a few more "Tinker Bell" movies in the pipeline.


UPCOMING THEME PARK ATTRACTIONS


Jay Rasulo introduced a series of new attractions at Disney theme parks around the world. I wasn't able to attend this presentation, but here are some of the highlights. Also in the exposition hall, Disney showed visitors exclusive sneak peeks at other new attractions.

Please note that the "Star Tours" revamp may apply to all Disney theme parks that already have the attraction.



Disney's California Adventure



Entire theme park is being renovated and will include:

The Little Mermaid attraction
Carsland theme area featuring a major "Cars" ride



Disneyland, Anaheim



Star Tours (new film "tour" and may be in 3-D and may include face recognition technology)



Magic Kingdom, Orlando



Fantasyland makeover and expansion
The Little Mermaid attraction



Hong Kong Disneyland



Entirely new lands being added include:

Toy Story Land, featuring a roller coaster and parachute ride
Mystic Point, featuring the "Mystic Manor" attraction with illusions and mysterious rooms
Grizzly Trail, featuring a roller coaster called Big Grizzly Mountain


TREASURES OF THE WALT DISNEY ARCHIVES


One of the biggest mysteries to Disney fans are the Walt Disney Archives. Founded by David R. Smith, the Archives have preserved many of the company's treasures. Visitors to D23 were treated to glimpses of a model of the Nautilus submarine from "20,000 Leagues Under the Sea," Julie Andrews' costume from "Mary Poppins," and numerous other surprises. I chatted with my good friend David R. Smith. I've had the pleasure of knowing him since the early-1980s. It was neat to see that he's now not only a Disney Legend, but also popular with the public who want to know about all things Disney.

WIZARDS OF WAVERLY PLACE AND HONOR SOCIETY

The "Wizards of Waverly Place" is a Disney Channel show that has gained a sizable audience in the last year. A made-for-television movie took it over the top, and now the show has won an Emmy. So it was no surprise that the Arena at the Anaheim Convention Center was packed with screaming kids!

The cast and two of the show's producers came out and discussed the show's quirky storylines and how much their fans meant to them.

After they left the stage, a new band called Honor Society rocked the house. They've been signed to the Jonas Bros. label.


Bill Kallay


Special thanks to John Singh, Mike Bonifer, Steven Lisberger, Sean Bailey, David R. Smith, Howard Green


Photos: © Bill Kallay. All rights reserved. [all photos except where noted]

Additional Photos:

© 2009 Disney-ABC Television Group. All rights reserved. Adam Larkey [1]
© Le Studio/Eric Charbonneau. All rights reserved. [2]
© Disney/Lucasfilm. All rights reserved. [3]
PHOTO GALLERY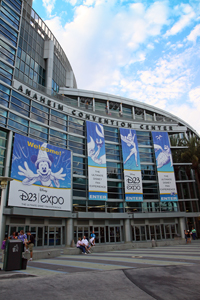 The Anaheim Convention Center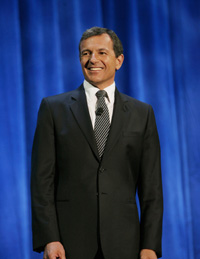 [1]
CEO Bob Iger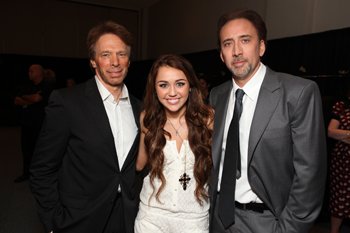 [2]
Jerry Bruckhiemer, Miley Cyrus and Nicolas Cage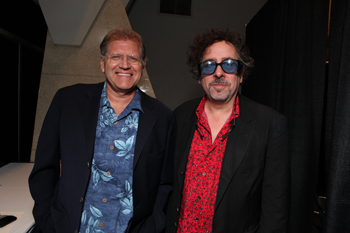 [2]
Robert Zemeckis and Tim Burton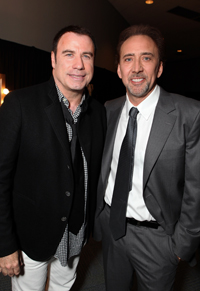 [2]
John Travolta and Nicolas Cage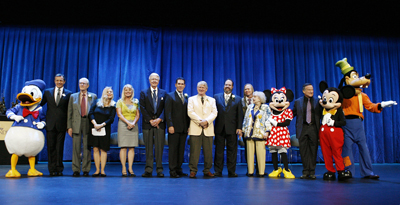 [1]
Disney Legends 2009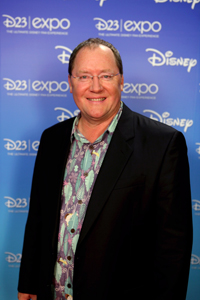 [1]
John Lasseter
break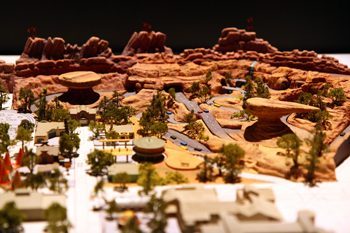 Carsland at Disney's California Adventure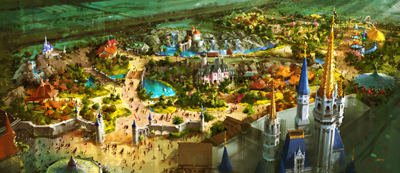 Fantasyland makeover at Walt Disney World, Florida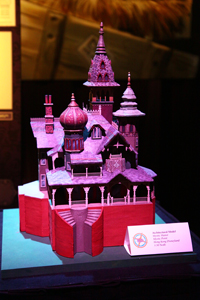 Mystic Manor at Hong Kong Disneyland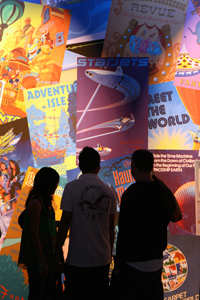 Entry queue to the Disney Park exhibits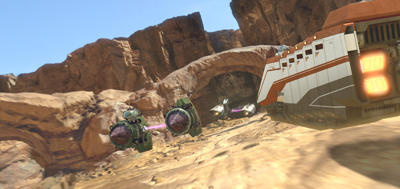 [3]
Star Tours II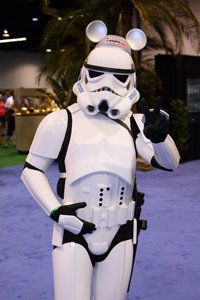 Even Classic Stormtroopers get into the Disney act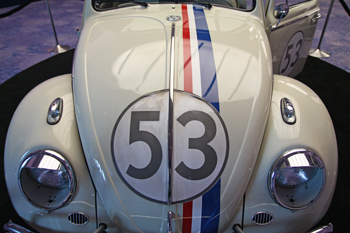 Herbie rides again in Anaheim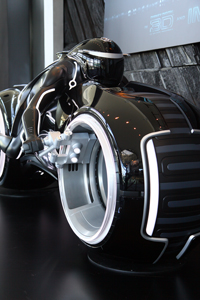 Tron Legacy Light Cycle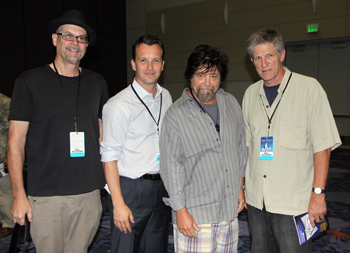 Tron original and Legacy crew (left-to-right) Mike Bonifer, Sean Bailey, Steven Lisberger & Bill Kroyer
Queen of Hearts from Tim Burton's Alice in Wonderland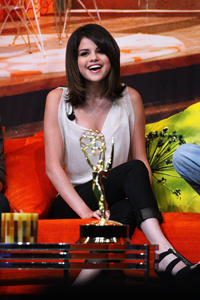 Selena Gomez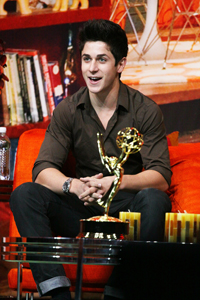 David Hendrie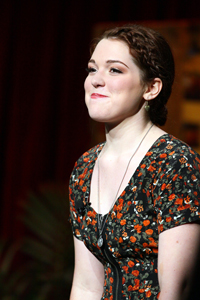 Jennifer Stone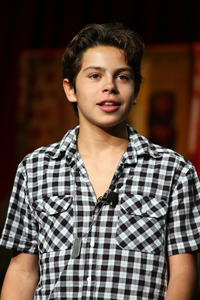 Jake T. Austin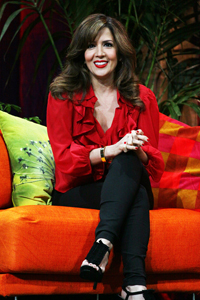 Maria Canals-Barrera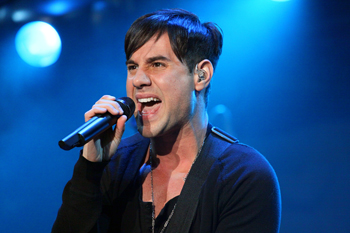 Lead singer of Honor Society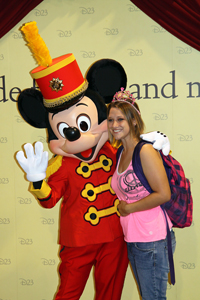 Mickey Mouse
About | Site Index | Contact | Terms & Conditions | Links
Custom Search