"Dumbo" Re-Premiere!
Walt Disney's Charming Classic Returns To The Big Screen
By
William & Alexandria Kallay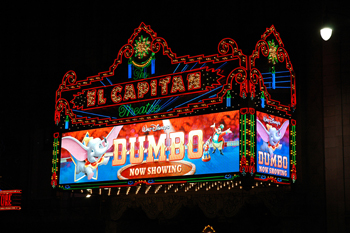 Walt Disney's classic little animated feature, "Dumbo" (1941), flew onto the El Capitan Theatre screen recently. There was a low key "re-premiere" featuring host Eric Goldberg ("Aladdin"), composer Richard Sherman ("Winnie The Pooh") and music historian Miles Krueger on May 25th. According to Disney, the film has undergone a "digital" restoration and will run at the El Capitan Theatre May 25-June 7, 2006.
Goldberg led a fascinating discussion with Sherman and Krueger prior to the evening's showing of "Dumbo." He discussed the film's genesis as a short story by animator, Joe Grant. As with "Lady And The Tramp," it was Grant's innovative storytelling techniques that helped bring "Dumbo" to life. The film was based on a short book by Helen Aberson with drawings by Harold Pearl, which was published in 1939.
Krueger, who was referred to as a "walking encyclopedia," can rattle off dates of when movies opened. He showed the audience various programs and music books from Disney films. These were programs that he got when he was a child. One of them included "Dumbo," of course.
Sherman spoke about the film's excellent soundtrack. With music composed by Oliver Wallace ("Lady And The Tramp") and songs written by Frank Churchill ("Who's Afraid Of The Big Bad Wolf" from "The Three Little Pigs"), Sherman praised the team for creating classic music for this film. Songs include "Look Out For Mr. Stork," "Baby Mine," "Pink Elephants On Parade," "Casey Junior," When I See An Elephant Fly," and "Roustabouts."
After the panel discussion, there was a presentation of a sing-a-long version of "Winnie The Pooh And The Honey Tree" (1966).
"Dumbo" is a charming tale of friendship and still brings a tear to your eyes in the very moving scene of "Baby Mine." This is one of Walt Disney's endearing classics that needs to be seen on the big screen.
The "Dumbo" Big Top Edition DVD will be released June 6, 2006. Stay tuned for a review.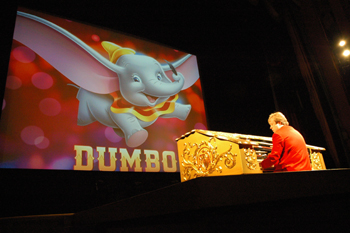 Organist Rob Richards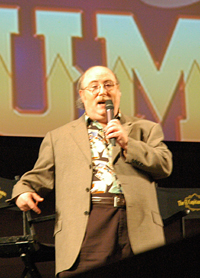 Animator Eric Goldberg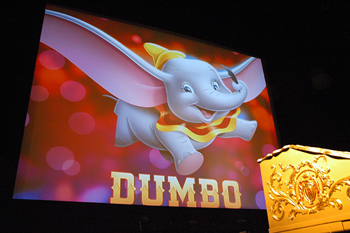 A glimpse of that famous flying elephant before the movie starts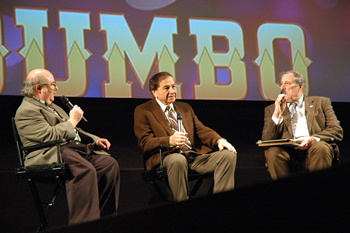 (Left-to-right) Eric Goldberg, Richard Sherman and Miles Krueger
Special Thanks To Mac McLean and Alexandria Kallay
---
All photos © 2006 William & Alexandria Kallay. All rights reserved.
Images of Disney characters are © Walt Disney Enterprises. All rights reserved