THE SCREENING ROOM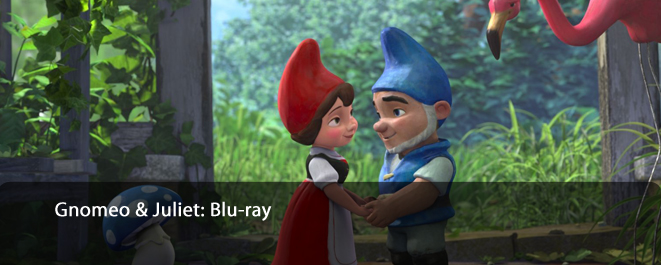 BLU-RAY REVIEW
By Bill Kallay
Who knew that garden gnomes actually led an exciting life?

"Gnomeo & Juliet" is now available on Blu-ray.

I always found garden gnomes somewhat cute, yet somewhat creepy. Their funny hats are cute, but those dead stares seem to be watching every move I make as pass by. I wonder what is going on in their little plaster heads. I suppose that is what the makers of "Gnomeo & Juliet" were wondering, too. What goes on when the people are away?

From what I understand, the film has been on the drawing board for a number of years. I had heard rumors of the film being developed as far back as 1999, if I recall. It was a cute concept about two garden gnomes falling in love Shakespeare-style. With advancements in CGI animation over the years, it had become easier to bring the garden world of gnome culture to life.

Director Kelly Asbury ("Shrek 2") and his crew have created a delightful looking garden world where gnomes come to life and race lawnmowers. There are the "reds" and the "blues," two warring factions who live next door to each other. Two free spirits, Gnomeo (James McAvoy) and Juliet (Emily Blunt) fall in love despite the hatred of their clans. Indeed, we have seen this story before many, many times. That is not to say the story cannot be retold without some fresh ideas.

I must admit upon viewing the film the first time, I did not get into the story or its characters. The film generally plays to a small fry audience, yet it never talks down to small children. Unlike some other recent animated features, the film thankfully does not get into crass humor.

What I found lacking in the film was the sense of a good villain and the sense that I really cared for the leads. I was initially put off by the lack of feeling that Gnomeo & Juliet were really in peril trying to be with each other. There did not seem to be any real desperation that they would risk their lives to be with each other. Yes, I know this is a children's film, but even the classics like "Snow White and the Seven Dwarfs" put their characters in real danger.

After watching it a second time, my defenses wore down a bit. The film is enjoyable as long as you take it with no criticism going in. Almost all of the characters are stock characters seen in dozens of other recent children's films. The use of Elton John's songs actually work pretty well within the context of the story. In many films, songs are simply put in just because they are familiar and get the audience distracted by the plot. It does not mean that the songs being used have anything to do with the film. Yet here in this film, the songs work.

The leads of Gnomeo & Juliet are appealing to watch, although they are not the strongest or most memorable characters. Featherstone (Jim Cummings) and Fawn (Ozzy Osbourne) are fun characters to watch. Featherstone, in some ways, reminds me of Jesse in "Toy Story 2" where she has been abandoned by her humans. The pink flamingo has been abandoned and locked in a shed. I felt more empathy for his character than the plight of the leads. And Fawn is just fun because he is voiced by Ozzy.

The Blu-ray picture is stunning. Watching the film through the Oppo BDP-95 Blu-ray player is like watching the film through a window. Sharpness, depth, bright and vibrant color dominated my plasma screen. I never once felt the need or desire to watch this film in 3-D. To my eyes, it was already dimensional without the need to upgrade my television to 3-D. Even if you do not like the movie, it is certainly an excellent demonstration disc.

The DTS-HD Master Audio soundtrack is excellent. Though Elton John's music does not sound anywhere near as brilliantly clear as it does on my SACDs, it sounds very good in this film. The music score by Chris Bacon, James Newton Howard and Elton John sounds clear, and sound effects are perfectly suited in the soundtrack. At times the soundtrack gets loud, but it is no louder than any of the Pixar titles.

"Gnomeo & Juliet" is a perfectly harmless animated film. It does not break any new ground in story or originality. If anything, it is a light way to pass time with your children.

Special thanks to Click Communications

Photos:

© Disney. All rights reserved.
QUICK GLIMPSE
MOVIE
Easy-going computer animated film

TALENT
Director: Kelly Asbury

Cast: James McAvoy, Emily Blunt, Michael Caine, Jim Cummings, Ozzy Osbourne, Jason Statham

FEATURES
"Elton Builds a Garden," DVD copy of feature, music video, Ozzy outtakes

RATING
G

BLU-RAY
Picture: Excellent
Sound: Excellent

TECH SPECS
Aspect Ratio (1:85:1)





BLU-RAY RELEASE DATE
May 24, 2011
About | Site Index | Contact | Terms & Conditions | Links
Custom Search