THE SCREENING ROOM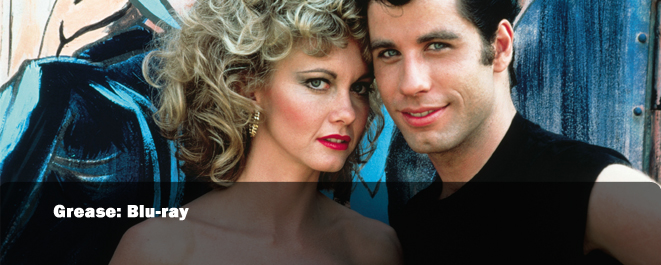 BLU-RAY REVIEW
By Bill Kallay
Before it became a video favorite, "Grease" was a box office phenomenon. Like "Star Wars" the year before, audience couldn't get enough of the film. The soundtrack album was a huge seller, and radio stations would play many of the songs over and over again. Both John Travolta and Olivia Newton-John were unstoppable.

"Grease" is now available on Blu-ray.

In the 1970s, America was experiencing a look back at times when hula hoops and Elvis Presley ruled. A person couldn't escape the nostalgia. "American Graffiti" (1973) started the nostalgia. Even though the film actually took place in 1962, its roots were still in the 1950s. "Happy Days" and "Laverne & Shirley" continued the trend.

Adults who grew up in the '50s must have loved "Grease" when it arrived on stage. It took them back to a time of innocence and frivolous fun. Once director Randal Kleiser helmed the film version, it seemed that everyone, no matter what their age, fell in love again with the simple yet effective story of Danny & Sandy falling in love.

The film version holds a place in my film heart. Seeing it with my parents back in the summer of 1978, it was one of those films that was fun enough for a 10 year-old kid, but had enough adult theming to please teens and adults. I saw it again in 1979 during its re-release and being a bit older, I began to understand some of its sexual innuendo, or at least my buddies did. Being naive, all I knew was Olivia Newton-John was a babe, John Travolta was cool and funny and the songs were great.

In watching "Grease" since it was released over 30 years ago, it's tough not to call up my childhood memories of it. Like "Star Wars," "Close Encounters of the Third Kind," and "Jaws," "Grease" was a seminal pop film. It was a film that was a crowd pleaser and let an audience truly escape for two hours. There was no hidden message and no real serious reason why the film should exist, other than to entertain. There were adult themes such as wanting to score and pregnancy, but for a ten year-old, those concepts went over my head. "Grease" was as much a loving look back at the 1950s and being a teenager, as it was an exploration of teenage lust.

First and foremost, the film is well cast. Casting Travolta, who was coming off "Saturday Night Fever" and a stint on "Welcome Back Kotter," was genius. For a man in his young 20s, he had a commanding presence on screen. His youthful energy, his humor, and his natural leadership captivated audiences. It was a surprise back then to hear that he could not only act and dance, but he could sing. As Danny, Travolta looks like he's having fun as the goofy yet appealing leader of the T-Birds.

Olivia Newton-John had been known as the cute Australian girl who sang soft rock and country hits during the 1970s. Even critics of her soft and sweet music couldn't resist the fact she was adorable. She'd later shed the cuteness with her album "Physical." In "Grease," she's quite a bit beyond her high school years as Sandy. Yet, because of the enthusiasm of her character, we look past that. She's the core of the film, providing a sweet center to the "rough" situations of sex starved teenagers and pregnancy scares around her.

The songs in the film, both from the original stage play and newly added songs, are still classics. It's hard to resist not breaking into a dance while "Summer Loving" hit comes on-screen. Frankie Valli's "Grease" is still a catchy song, even though it was a then-modern 1970s disco based tune. "You're The One That I Want," "Greased Lightening," and "Hopelessly Devoted To You" are all strong songs, though they became hard to escape in 1978 while listening to the radio.

Randal Kleiser's direction is every bit as solid as a Steven Spielberg or George Lucas or Francis Ford Coppola era film. Kleiser was one of that generation's talented directors, and "Grease" showed his eye for making an entertaining film. He directed two powerful television movies before getting his first feature with "Grease;" "Dawn: Portrait of a Teenage Runaway," and "The Boy in the Plastic Bubble" (which starred Travolta). His direction of this musical is assured and he keeps the film moving along at a fast pace. What is admirable is how Kleiser and crew kept the film rooted in 1950s nostalgia, but also gave it a modern feel with Bill Butler's extraordinary cinematography.

The film has some flaws, yet the movie is so fun that we don't mind. What has always thrown me for a loop was Sandy's transformation. The sudden transformation of Sandy from a sweet girl to a leather wearing tease never clicked for me. The audience knows that Danny is a good guy underneath his tough guy exterior. Sandy is true to herself through the entire film, even when Danny makes a move on her at the drive-in. Then suddenly, after watching Danny race, she decides to become a vamp! There is no hint of Sandy becoming this new person throughout the film. I liked Sandy for being who she was.

The story itself is fairly thin without going into depth over the relationship between Danny & Sandy, and maybe that was intended. There is a stronger subplot involving Rizzo (Stockard Channing). Indeed boy meets girl, snubs her in front of his buddies, loses girl. It works because Danny & Sandy are such an appealing couple. We buy that they're in love in opening scene on the beach and that sticks with us.

The Dolby TrueHD soundtrack is perhaps the best this film has sounded on a home video format. I don't have the LaserDisc with its analog soundtrack to compare. The original film was released in 35mm, and then 70mm Six-Track Dolby Stereo prints were struck later that summer.

The Dolby TrueHD 5.1 mix is pleasing and sounds "analog," but it's lacking in power. I wish I had an LP copy of the soundtrack, because that would actually give me an idea of how the fidelity was on the musical portion of the film. Even though the Dolby TrueHD soundtrack is apparently bit-for-bit accurate to the source material, it's still been compressed and to my ears it sounds like it. The original music tracks, in my opinion, aren't allowed to breathe. The sound is still very good for Blu-ray, though some listeners might object to some distortion in the dialogue. This is probably due to the recording equipment used at the time.

The Blu-ray picture quality is excellent. It seems to retain the dynamic look of Bill Butler's cinematography and the colors are fine. The film was shot with Panavision anamorphic lenses and their sharpness lends to the film's distinct look. The Blu-ray shows this unique lens at its best. There is minor film grain, but that's perfectly acceptable as this is a film. After seeing the film on video or television cropped for the television frame, it's great to see it presented in high definition with its aspect ratio intact (I don't have the widescreen DVD). The dance numbers are spectacular in widescreen.

"Grease" is still one of those films I cherish. It's a time capsule of an era for many Baby Boomers, as well as their children. It's a fun film and I'll always cherish seeing it with my parents as an ant invasion hit the Cerritos Twin theater, and a woman behind us sang every song. Obviously it still has an effect on audiences to this day. The "High School Musical" franchise probably wouldn't exist without its influence.

Bill Kallay

Special thanks to Click Communications, Randal & Jeffrey Kleiser

Photos:

© Paramount. All rights reserved.



QUICK GLIMPSE
MOVIE
The musical classic is finally looks great on home video

TALENT
Director: Randal Kleiser

Cast: John Travolta, Olivia Newton-John, Stockard Channing

FEATURES
Sing-a-long, director commentary, deleted scenes, and much more

RATING
PG

BLU-RAY
Picture: Excellent
Sound: Very good

GEEK OUT
The songs are still a lot of fun

Bill Butler's cinematography looks fantastic on Blu-ray

TECH SPECS
Aspect Ratio (2.39:1)





BLU-RAY RELEASE DATE
May 5, 2009
About | Site Index | Contact | Terms & Conditions | Links
Custom Search