THE SCREENING ROOM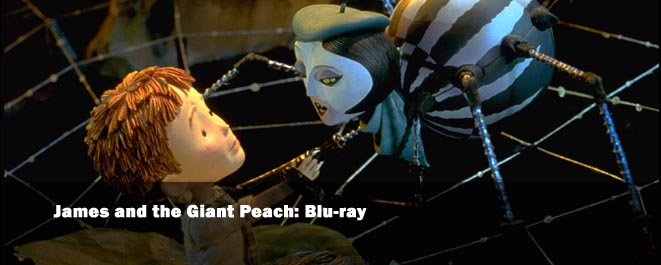 BLU-RAY REVIEW
By Bill Kallay
Not all children's book adaptations to the big screen are created equal.

"James and the Giant Peach" is now available on Blu-ray.

Author Roald Dahl's charming book, "James and the Giant Peach" was beloved and found itself on many bookshelves. He was a writer with a stunning imagination. A number of his books have been translated into feature films. Many have been excellent from "Willy Wonka and the Chocolate Factory" (re-titled from "Charlie & the Chocolate Factory") [1971] to the mediocre "Matilda" (1996). He seemed to key into the imagination of children with accuracy and charm. I used to read some of his books as a kid, and "James" was one of them. I'd imagine just how incredible it would be to make a movie out it.

In a sense, "James" is a variation on the "Cinderella" story. Replacing Cindy with a boy and two ugly aunts, it's the tale of a poor boy's ascension from a crummy life to the good life. All it takes is not a little faith and trust, but a giant peach and some incredibly friendly insects to help James discover the world outside.

Director Henry Selick ("The Nightmare Before Christmas") was ideal to bring Dahl's book to animated life. "Nightmare" was a tour-de-force on most levels from animation to music. It's now a perennial classic. So it seemed fitting that Selick should direct "James."

On the surface, when I first saw the film, I was impressed by it. I don't recall if I saw it on LaserDisc or DVD for the first time, but I did enjoy it. Selick's clever fusion of live-action with his trademark stop-motion animation engrossed me into the story. Yet when watching it on DVD with my daughter some years later, I found the film slow paced and lacking that magic that was so wonderful in "Nightmare." I thought that maybe I was just in a mood. Or maybe I didn't enjoy as much as I thought I did the first time around.

Now the film is on Blu-ray and we sat down to watch it again, this time in high definition and beautiful DTS-HD sound. She lost interest after about 20-minutes. I found myself waiting for this short feature to end. It wasn't the fact that the direction or animation was lacking. Not at all. The animation was every bit as good as "Nightmare" and Selick's direction was strong.

What was lacking, in revisiting the film, was a sense of a dynamic story and characters. James isn't the most appealing character, though he's admirably played by actor Paul Terry. He reminded me of Mark Lester in "Oliver!" Sure he's a nice kid, but he kind of gets on your nerves because he's such a pushover. Nothing wrong with a good kid, but I found myself not caring for his character or his plight or if he made it to NYC. His various friends on his voyage across the Atlantic to New York City range from delightful (Grasshopper, played by Simon Callow) to downright annoying (Centipede, played by Richard Dreyfuss). It's difficult to get into the cast of characters when one is fun to watch, but when another is grating. It's not to say that Dreyfuss isn't normally a good actor, but I really didn't care for the over-the-top Brooklyn shtick.

The film is moody in its production design and cinematography, but for some reason, it doesn't click with the innocence of the story. About the only dark element to the film is the sister duo of Aunt Spiker (Joanna Lumley) and Aunt Sponge (Miriam Margolyes). They're actually not very scary. James' adventure across the sea has some nice moments, but it isn't until the voyage to the bottom of the ice sea that really offers some excitement. The majority of the film is slow paced with mostly unmemorable songs by Randy Newman. "That's the Life" is the strongest track and Newman's score is very good, however. I just didn't find myself remembering most of it like I had remembered Danny Elfman's score for "Nightmare."

The Blu-ray picture is excellent, but problematic to some degree. Since I didn't see the film theatrically (which isn't always a guarantee of print/theater presentation quality anyway), I couldn't say that the Blu-ray picture best represents the film. All I can say is that the film looks excellent in some areas, but extremely dark and underexposed looking in others. Film grain seems natural to how the film probably was shot. I don't have an issue with it. I do question the darker scenes, though. In the early scene in which James comes across Pete Postlethwaite, the blacks are crushed beyond recognition. It just doesn't look right. The scenes inside the giant peach and daylight scenes look fine. I'm not sure what Blu-ray buyers will think of this transfer.

The DTS-HD Master Audio soundtrack is excellent, though not as dynamic and punchy as "Nightmare" is. Randy Newman's songs and score play nicely. There are occasional loud sequences like the one involving the metallic shark, but nothing outrageous enough to make you cover your ears.

"James and the Giant Peach" isn't one of those films that strikes you as "Nightmare Before Christmas" does. Perhaps it's unfair to compare the two as they're completely different from one another. But I found watching "James" wasn't as fun as I remembered. Upon further introspection, I realized that I gave the film more credit the first time around. Maybe it's because it was unique (stop-motion) and was directed by Selick.

Selick went back to his trademark brilliance, in my opinion, when he filmed "Coraline." That film has an edge, a likeable lead, scary moments and a deliciously evil villain. It even had some Roald Dahl-style trademarks of great storytelling. Though it's not a bad peach, "James and the Giant Peach" is simply not tart enough compared to "Nightmare" and "Coraline."

Special thanks to Click Communications

Photos:

© Disney. All rights reserved.
QUICK GLIMPSE
MOVIE
Not quite as delicious as I remembered

TALENT
Director: Roald Dahl

Cast: Paul Terry, Simon Callow, Susan Sarandon, Jane Leeves, Richard Dreyfuss

FEATURES
Plenty of extras, DVD copy included

RATING
PG

BLU-RAY
Picture: Good-to-Excellent
Sound: Excellent

TECH SPECS
Aspect Ratio (1.66:1)





BLU-RAY RELEASE DATE
August 3, 2010
About | Site Index | Contact | Terms & Conditions | Links
Custom Search