"Lady And The Tramp" Re-Premiere!
Walt Disney's CinemaScope Classic Returns To The Big Screen
By
William & Alexandria Kallay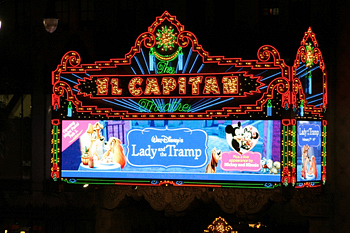 If there was ever a quintessential film about dogs, I think "Lady And The Tramp" would be it. It captured the whimsical qualities of man's best friend with charm, wit, and even a little (brief) sadness. What a delightful, sweet and enduring treat it is to see this Walt Disney film back on the big, wide screen. The El Capitan Theatre in Hollywood held a special "re-premiere" of sorts in early February of this canine classic. The film has undergone a frame-by-frame restoration and will run at the El Capitan Theatre February 2-14, 2006.
On the first night of this special engagement, Disney invited some Disney luminaries, plus the film's restoration heads, to a Q & A panel before the film began.
Stan Freberg (Beaver), Richard M. Sherman (composer, "Mary Poppins"), Theo Gluck (restorer), and Andreas Deja (animator) were on stage with host, John Canemaker (author, "Walt Disney's Nine Old Men & The Art Of Animation"). Also present in the audience were John Lowry (DTS Digital Images), Alice Davis (wife of Disney animator, Marc Davis), Tony Baxter (Imagineer), and Kathryn Beaumont (voice of Wendy, "Alice In Wonderland").
Canemaker took the stage and was a pleasant host of the evening's program. An accomplished author and researcher, he has written a number of books on the subject of Disney's animation and its artists. He is also recently nominated for an Academy Award for 2005's animated short, "The Moon And The Sun: An Imagined Conversation."
The audience was delighted to hear Stan Freberg read his lines as the "Beaver" in "Lady And The Tramp." Taking out a small toy whistle, he recited the lines in full character to applause.
Richard M. Sherman spoke about the film's wonderful songs written by Peggy Lee (who provided the voice for "Peg" and three other characters in the film), Sonny Burke and Oliver Wallace. There was a clip of Ms. Lee singing as Peg with the singing group, The Mellow Men, acting as the dog pound dogs shown on the screen. This was as funny as the actual scene is in the film!
Theo Gluck spoke about how the film was restored. Much to my delight, he spoke of how the film was restored to its original full frame CinemaScope aspect ratio. Undertaken by Disney and DTS Digital Images, the digital presentation at the El Capitan was spectacular with resolution perhaps not seen before on this film. This film retains some of the "flaws" of early CinemaScope, including (on rare occasion), abnormalities associated with those early lenses such as softness. This in no way takes away from the overall beauty of how this film now looks. It looks very natural and pleasing to watch. The soundtrack has been re-mixed and cleaned, giving it a slightly different audio experience from past incarnations. Some of the flaws in the soundtrack where dialogue tracks were distorted have been fixed. The audio is outstanding.
Andreas Deja once again showed his mastery of animation, and his appreciation for the great animators at Disney. He presented sketches on an overhead to illustrate how much detail and study goes into even the most seemingly simple drawings. Disney's early animators, the Nine Old Men, if you will, were experts at studying anatomy. "Lady And The Tramp" certainly displays their attention to how dogs move, act and play.
The audience responded to each and every memorable scene with delight, surprise and cheering as if this was the film's original premiere. "Lady And The Tramp" still holds an audience captive, both young and old.
Again, I thank my intrepid cub reporter, Alexandria, for joining me. I'm glad she's able to see this film on the big, wide screen, as it was originally intended.
The 2-Disc Special Platinum Edition DVD will be released February 28, 2006. Stay tuned for a review.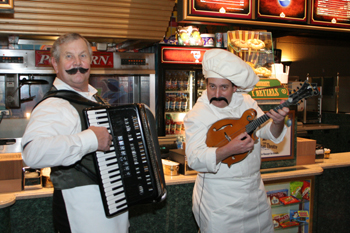 "Tony" and "Joe" serenade in the lobby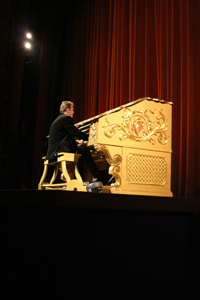 Organist Rob Richards plays a mix of Disney's classic songs prior to the show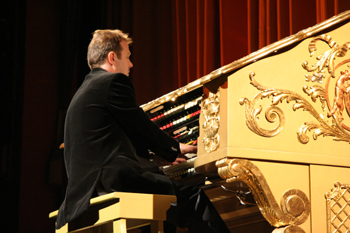 Richards recently won the 2005 "Organist of the Year" by the American Theatre Organ Society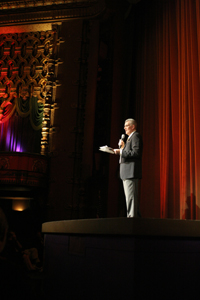 Author and filmmaker, John Canemaker, addresses the audience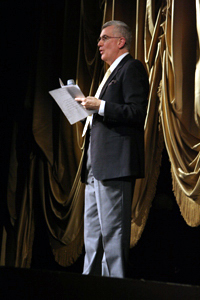 Canemaker has written a number of books on animation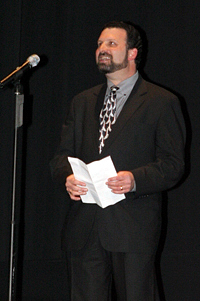 Theo Gluck was one of the key people involved with restoring the film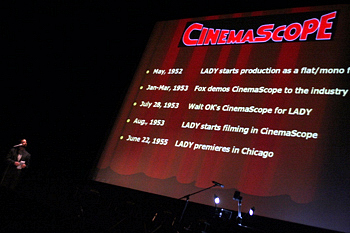 Gluck describes how "Lady And The Tramp" was shot in CinemaScope
The film was actually filmed in black and white with three separate color filters — This technique is known as Sequential Exposure and was common on Disney's animated productions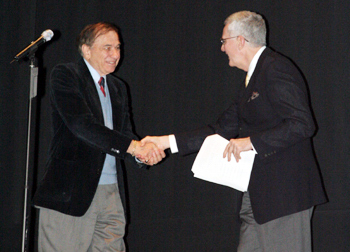 Richard M. Sherman is greeted by Canemaker (right)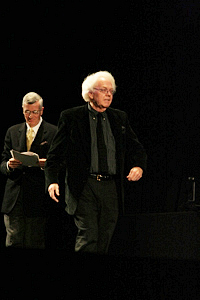 Actor Stan Freberg (Beaver) walks on stage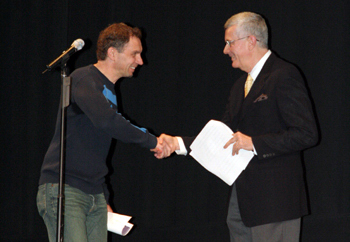 Andreas Deja (animator) is greeted by Canemaker
Canemaker and Freberg listen to Richard M. Sherman (off frame) talk about the music in "Lady"
Freberg and Sherman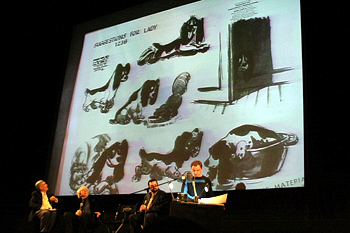 Deja shows the panel and audience some sketches from the film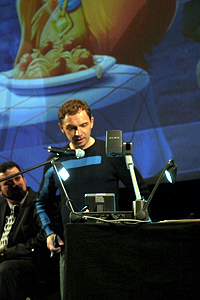 Deja is one of Disney's recently regarded animators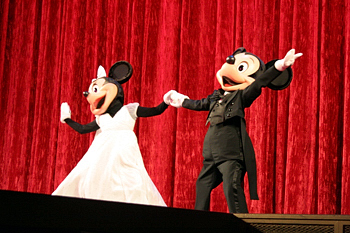 Mickey and Minnie Mouse do a dance in time for Valentine's Day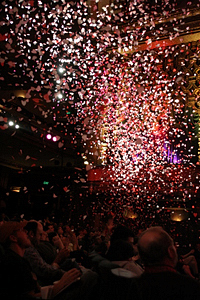 Confetti rains onto the audience below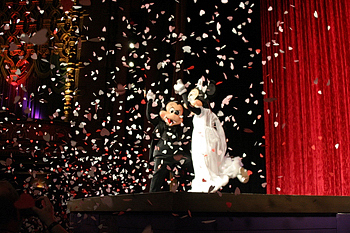 Mickey and Minnie say good-bye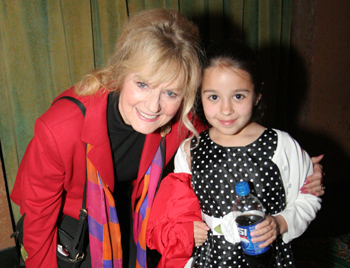 The lovely and very kind, Kathryn Beaumont ("Alice In Wonderland"), takes a moment to pose with Alexandria — According to the IMDB, Beaumont has been a teacher for many years
Special Thanks To Mac McLean and Alexandria Kallay
---
All photos © 2006 William & Alexandria Kallay. All rights reserved.
Images of Disney characters are © Walt Disney Enterprises. All rights reserved.