THE SCREENING ROOM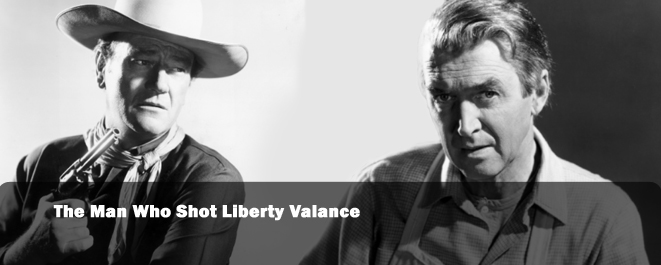 DVD REVIEW
By Bill Kallay
By the looks of him, James Stewart seemed like a peaceful man. His on-screen persona of Mr. Nice Guy added to his aura. It wasn't until reading some tidbits about him that I realized that Jimmy was a tough guy. Decorated in World War II, Mr. Stewart had the ability to hurt another man. In "The Man Who Shot Liberty Valance," we see Jimmy as a reluctant hero.

"The Man Who Shot Liberty Valance" is available on a 2-disc DVD.

His "aw shucks" voice added to Jimmy Stewart's Mr. Nice Guy image. He just seems to peaceful a man to hurt anyone. In this film, he's a senator who is robbed and beaten by Lee Marvin & his gang of outlaws. Stewart gets ticked off enough to consider finding Marvin and killing him. John Wayne, of all people, tries to convince Stewart otherwise.

Directed by John Ford, the film is a bit slow paced. Ford allows for the actors to walk around the camera frame. There are no real quick cuts, instead allowing the actors to act. It's a bit stagey, but if you stick with it (and have never seen it), you're witness to some fine direction and acting. I can imagine this film plays better on the big screen where you let your eyes take in the fine acting.

Lee Marvin is his usual bad self in "Liberty Valance," playing a low life cowboy thug. The scene in which he beats Stewart badly is actually pretty frightening. Marvin is vicious. John Wayne is fairly subdued in the film, letting Stewart take the lead. I loved the scene where Wayne squares off with Stewart on his ranch. Look for great actor Woody Stroh to show up.

The film isn't as great as I've heard or read about. That's not to say it's not going to appeal to western or John Wayne fans. The film plodded along too slow for my tastes, though. I think as a showcase of excellent acting by Stewart, Wayne & Marvin, the film works well.

Bill Kallay

Special thanks to Click Communications

Photos:

© Paramount. All rights reserved.



QUICK GLIMPSE
MOVIE
Good western

TALENT
Director: John Ford

Cast: John Wayne, James Stewart, Lee Marvin

FEATURES
Bonus disc has lots of extras

RATING
Not rated

DVD
Picture: Very Good
Sound: Very Good

GEEK OUT
Watch John Wayne kick some!

TECH SPECS
Aspect Ratio (1.85:1)





DVD RELEASE DATE
May 19, 2009
About | Site Index | Contact | Terms & Conditions | Links
Custom Search