Related Articles:
"The Muppet Show: Season 2" On DVD
By
Bill Kallay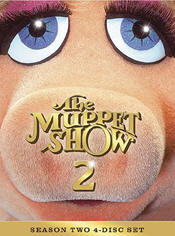 When Mac, my main DVD man, offered the chance to review "The Muppet Show," I didn't hesitate to ask him to send on over a copy. I've always had a soft spot in my heart for Jim Henson's cast of crazy Muppets.
Disney has produced a 4 DVD set of the show's second season.
"The Muppet Show" was a syndicated program (at least it was in the Los Angeles area) during the 1970s and early 1980s. On Saturday nights, it was the bright spot on a night normally scheduled with dorky shows like "The Love Boat" and "Fantasy Island." I know, they're probably now considered "classics," but they were lame then and lame now. But "The Muppet Show" was a smart and inventive program that appealed to both adults and kids. Surprisingly enough, decades later, the show is still immensely charming and funny.
The show took place in a live stage theater where Kermit The Frog, Fozzie Bear, Miss Piggy and the gang tried to put on various acts that often ended up in disaster and mayhem. The audience was made up of fellow Muppets and two cranky old men who watched the show from their balcony seats, Statler & Waldorf. The show was silly, offbeat, sometimes almost psychedelic, but almost always fun.
I always looked forward to the short openings in which the guest stars would encounter something bizarre happening backstage, and the big opening number. The music and energy was reminiscent of "The Looney Tunes" opening. You always looked forward to what happened after the opening number, and you knew you'd be entertained.

"The Muppet Show" was also famous for the incredible talent it booked. Famous actors of the stage like Zero Mostel ("Fiddler On The Roof"), and old timers like Milton Berle, would guest star with the Muppets. One might think that stars of their caliber wouldn't do a show like this, but they did and seemed to enjoy doing so.
It's fun going through the DVDs of this release. Remember when Elton John sang songs you'd remember and love? He does it here and it makes me miss those days of "yore" when the man could really rock. And rock he does, and you guessed it, with "Crocodile Rock" and Muppet crocs. How about Don Knotts, Bob Hope, Steve Martin, Peter Sellers and Julie Andrews? They're all here in Season 2. There are even stars, please forgive me, whom I have no idea who they are. Cleo Laine? Teresa Brewer? If you were a child (or adult) in the 1970s, you'd recognize that decade's celebrities like Rich Little, Nancy Walker, Lou Rawls, Jaye P. Morgan and more. This disc is totally 1970s, but it's a kick.

The Muppets had a magical and believable quality to them. Even though I could occasionally see they were manipulated by their human helpers, it was their personalities that really made them seem real. Kermit, as voiced and made alive by Jim Henson, had many human qualities about him. He was an enthusiastic show host, an often frazzled stage manager, and Miss Piggy's elusive lover. I've heard that Kermit was a true extension of Henson's personality.

Miss Piggy (Frank Oz) was always a kick. Excuse the pun. Hi-ya! Always thinking she was beautiful, even if she was a pig and some of the Muppets made fun of her weight, she was proud of who she was. Girly-girl swine? You gotta problem with that, bub?
The skits ran the gamut from very funny, to occasionally tedious, to sweet. My favorite regular skits were "Pigs In Space," "Veterinarian's Hospital," and "Muppet Labs." "Pigs In Space" appealed to me because I loved science fiction and the crew of the Swine Trek poked fun at the genre. "Vet's Hospital" relied on the bad jokes by Rolf, and "Muppet Labs" was hilarious when Bunson's lab assistant, Beeker, was the unwilling participant in his experiments. The show, as a whole, was geared toward adults. Some of the jokes went over my daughter's head, but I got a good chuckle out of them. That doesn't stop children from enjoying the show.

The DVDs look great and sound very good. The show's producers seemed to make sure that the quality of the program was top notch. Disney has gone in and done well with the DVDs. The slipcase cover with Miss Piggy's face adorning it is fuzzy and invites you to touch it. Extra features include "The Muppet's Valentine Special" from 1974, "The Muppets On The Muppets," and "Weezer & The Muppets Keep Fishin'."
Watching "The Muppet Show" brought me back in time to watching television on a tiny 13-inch color television with rabbit ears, and less than ten channels to chose from. I'm not an old "foogie," but those days were simpler. And so were the Muppets. Right before they were in the amazing "Muppet Movie" (1979), and before many often mediocre sequels were made, the Muppets on "The Muppet Show" created great entertainment.
The Muppet Show: Season 2
Buena Vista Home Entertainment
Catalog Number 53118
Region 1
1.33:1
Dolby Digital 5.1
DVD Release Date: August 7, 2007
$39.99
1977
612 minutes
Color
Director: N/A
Cast: Kermit The Frog, Miss Piggy, Fozzie Bear, Bunson, Beeker, Animal (ANIMAL!), Gonzo The Great, and many more
---
Special thanks to Mac & Dinah McLean
IMAGES: © The Muppets Holding Company and BVHE. All rights reserved.