THE SCREENING ROOM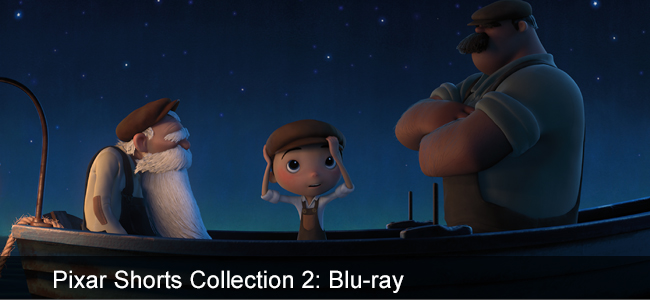 QUICK GLIMPSE

MOVIE: Excellent Pixar shorts in one package

PICTURE: Excellent

SOUND: Excellent*

TECH SPECS: Various / Various

RELEASE DATE: November 16, 2012
By William Kallay

Pixar has a winning formula in producing films that enchant audiences. Not all of their films are perfect, but even the mediocre ones still have moments of perfection.

The "Pixar Short Films Collection 2" illustrates the brilliance of Pixar's storytellers, and on occasion, their rare missteps. This is a fine line up of the animation studio's most recent short films, and nearly every one of them is delightful. And for extra fun, some student films by Pixar alumni John Lasseter, Andrew Stanton, and Pete Docter have been included on the new Blu-ray/DVD combo pack.

Pixar placed itself, essentially, on the map with short films. "The Adventures of Andre and Wally B" (1984) was directed by Pixar co-founder Alvy Ray Smith and animated by John Lasseter. The film showed that computer animation could and would change the way we see animation forever. From that point on, Lasseter would direct a number of Pixar shorts and animation for feature films such as "Young Sherlock Holmes" (1985) and TV commercials for Listerine and Tropicana.

After "Toy Story" was released in 1995 as the first full-length computer animated feature, Pixar grew and still continued making short and experimental animated films.

This latest collection is a wonder and showcases the charm and storytelling capability of Pixar's animators. My favorite out of the group is "Your Friend the Rat." By combining traditional and computer animation, director Jim Capobianco uses an "educational" approach to show humans that rodents are friends instead of enemies. The story is fast-paced, funny, charming and witty. It's as if Capobianco was channeling the late animator, Ward Kimball. This film has Kimball's oddball and quirky imprint all over it. That's a high compliment. Yet Capobianco instills his own charm on the film, especially with the funny lawyer talk toward the end.

"Presto," and "BURN-E" are very funny and charming, but they mostly rely on one joke premises.

"Partly Cloudy" is harmless and sweet, but it mainly appeals to those under the age of three.

"Dug's Special Mission" expands the story of "Up" a slight bit, showing us how Dug met Carl Frederickson and Russell. Dug is a great character and if you're a dog person, you'll love all of the canine gags.

The one film out of the group that almost lost me was "George & A.J." I had a feeling that it was a proof-of-concept film. I was right. Thankfully, I watched it with the director's commentary track. I did not care for the film before. It's not easy watching storyboard footage, after all. But the clever commentary track really made me appreciate how good Pixar's animators are.

Similar to "Partly Cloudy," "Day & Night" can be mistaken for a short film geared towards toddlers. That is a mistake, because it's really aimed at all audiences and is very charming. Pixar does an amazing job in CGI animation. It's a shame that they haven't tried a full-length feature with hand drawn animation as has been used in "Day & Night." The combination of CGI and hand drawn (later done in a computer) is sweet.

The gang from "Toy Story" comes back for "Hawaiian Vacation" and "Small Fry." Both short films are very funny and enjoyable. I really enjoyed "Small Fry," especially with the lost toys support group. My daughter thought that Small Fry was totally cute.

Part of the gang from "Cars" returns for "Air Mater" and "Time Travel Mater." "Air Mater" is simply a plug for "Planes." I did enjoy "Time Travel Mater," even though I'm not really a fan of the "Cars" franchise.

The most elegant and beautifully animated short films is "La Luna." I wasn't expecting much from it, yet it charmed me. The simple idea of three generations of men working on a magical job was done well here. The look and animation of this film is remarkable.

I did have a few minor issues with this Blu-ray release. Disney did not include a "play all" feature. Instead, you have to go through each title individually in the main menu. This is a cumbersome way of watching the Blu-ray. I'd rather have it play through all of the films, especially if you have children.

The Blu-ray picture is outstanding. Detail on nearly every title on this disc is sharp and colorful. Even the student films by the Pixar vets look great. Watch this disc on a large flat screen and be prepared to have your eyes tantalized by all of the short films. My personal favorite, "Your Friend the Rat," showcases both the stunning picture quality of different animation formats (and "film" scratches and grain) and your display's picture quality. I've had the DVD version of this short film and it has always looked good. The Blu-ray version blows it away.

The Blu-ray has a number of audio options.* All of the shorts sound excellent, but be aware that some shorts come with Dolby Digital, DTS-HD Master-Audio, and Dolby TrueHD soundtracks. Normally, Disney releases most of its Blu-ray discs in high resolution audio like DTS-HD Master-Audio. For whatever reason, Disney released this Blu-ray with lower resolution Dolby Digital soundtracks on some shorts. This is odd, as Pixar soundtracks are very dynamic and really shine in the highest resolution audio format available. The Dolby Digital soundtracks sound very good, but they're not in the same league as DTS-HD Master Audio or Dolby TrueHD. This is not a comment on the original Pixar soundtrack quality, because they all sound very good here.

Here are the default soundtracks on this Blu-ray:

"Your Friend The Rat" (Dolby Digital)
"Presto" (Dolby Digital)
"BURN-E" (Dolby Digital)
"Partly Cloudy" (Dolby Digital)
"Dug's Special Mission" (Dolby Digital)
"George & A.J." (Dolby Digital)
"Day & Night" (DTS-HD Master-Audio)
"Hawaiian Vacation" (DTS-HD Master Audio)
"Air Mater" (Dolby TrueHD)
"Small Fry" (Dolby TrueHD)
"Time Travel Mater" (Dolby TrueHD)
"La Luna" (Dolby TrueHD)

Whether or not this Blu-ray is used for demonstration purposes, or to keep the kids occupied, it's a must buy.

Special thanks to Click Communications

Photo:

© Disney/Pixar. All rights reserved.
Best viewed on Google Chrome, Safari and Internet Explorer