Related Articles:
"Pirates Of The Caribbean: At World's End" Premiere!
Disneyland Taken Over By Pirates, Fans & Johnny Depp
By
William & Alexandria Kallay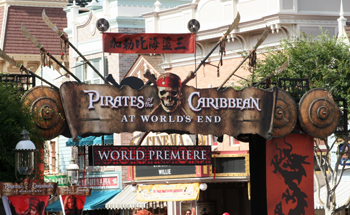 Leave it to Disney to put on a bash like no other. "Pirates Of The Caribbean: At World's End" certainly can qualify as the party to end all parties. Pirates, famous movie stars, world class athletes, screaming fans, paparazzi, news outlets and dancing stars lined the red carpet on Disneyland's Main Street U.S.A. in Anaheim, California on May 19, 2007. The film screened afterwards on the Rivers of America section of the park.
Stars present from the film included Johnny Depp ("Capt. Jack Sparrow"), Orlando Bloom ("Will Turner"), Geoffrey Rush ("Barbossa"), Jonathan Pryce ("Gov. Weatherby Swann"), Bill Nighy ("Davy Jones"), Lee Arenburg ("Pintel"), Kevin McNally ("Gibbs"), Jack Davenport ("Norrington"), Naomie Harris ("Tia Dalma"), Martin Klebba ("Marty"), Lauren Maher ("Scarlett"), Chow Yun-Fat ("Captain Sao Feng"), Keith Richards ("Captain Teague"), Vanessa Branch ("Giselle"), Reggie Lee ("Tai Huang"), Peter Donald Badalamenti II ("Penrod"), David Schofield ("Mercer"), screenwriters Ted Elliot and Terry Rossio, composer Hans Zimmer, producer Jerry Bruckheimer, and director Gore Verbinski.
Guest stars included Kobe Bryant, make-up artist Rick Baker, The Cheetah Girls, Maksim Chmerkovskiy, Ricardo Chavira, Cheryl Burke, Janice Dickinson, Joey Fatone, Kym Johnson, Liz Hernandez, Leeza Gibbons, Kyle & Christopher Massey, Apolo Anton Ono, Julianne Hough, Emma Roberts, Brenda Song, Dave Winfield, Yi Jianlian, Holly Robinson Peete & Rodney Peete, Mark Indelicato, Dixie Chick Natalie Maines & son, Martin Landau, Chad Michael Murray, Carrie Ann Inaba, Len Goodman, Christy Carlson Romano, Corey Maggette, Danielle Penabaker, Don Hahn, Ian Ziering, John Lasseter & his family, Jon Voight, Lauren Holly & son, Mary McDonnell & children, Masi Oka, beauty pageant winners Meagan Tandy & Kylee Lin, Meredith Eaton, Mark Curry, Sofia Milos, Teri Hatcher & daughter, Shandi Finnessey, Cloris Leachman, Henry Simmons, Kim Smith, Roy E. Disney, Sara Paxton, Selena Gomez, Cuba Gooding Jr., Stacy Keibler, Linda Bruckheimer, Michael Rosenbaum, Sean Farris, Wilmer Valderrama, Disney Archivist David R. Smith, Imagineers Marty Sklar & Tony Baxter, Walt Disney Company CEO Bob Iger, Walt Disney Studio President Dick Cook and Walt Disney Animation President Ed Catmull.
The premiere not only featured stars, but also featured a number of guests invited for the Make A Wish Foundation, of which proceeds from this event were donated.
The atmosphere was colorful with pirates performing acrobatic stunts down the red carpet, pirate musicians warming up the crowd of fans lining Main Street U.S.A., and an air of anticipation for the stars to arrive.
With their Mickey Mouse "pirate" ears on and their digital cameras ready, fans screamed in unison as the stars walked the carpet. Some held up signs for their favorite idols, while others had their autograph books in hand. Girls shrieked with glee as Orlando Bloom and Johnny Depp finally arrived as the sun was setting. The screaming didn't stop for almost five minutes as the two male leads from "POTC: At World's End" warmly greeted the press and fans. One fan in particular cried after Depp walked past her. (I missed whether or not he was able to talk to her.) The stars were in great spirits, taking in the hoopla and enjoying this electric evening. Even the more reserved actors like Geoffrey Rush cracked a smile or two.
This was a spectacular premiere, and normally we here at FSTDVD (our new acronym) are pretty reserved about these events, but we were impressed with the scope of the fun atmosphere. Our junior reporter, Alexandria Kallay, made it though the three hour show with flying colors. Despite the noisy fans (all with good intentions, of course), and having a headache from it all, she had a great time. We'd like to thank Natalie Maines and Brenda Song for stopping by to sign Alexandria's autograph book, as well as our fellow photographers who were mindful of her presence (we didn't see any other child reporters that evening). We also thank Rebecca Rosen for helping us out during this wild event.
"Pirates Of The Caribbean: At World's End" opens in theatres May 25, 2007 for special early showings (select locations screened the film early on May 24).
For your convenience, we've placed the pictures into individual galleries to save on download time.
Special thanks to Rebecca Rosen and Alexandria Kallay
---
All photos © 2007 William Kallay. All rights reserved.