"Building A Home Theatre"
By
William Kallay and Michael Coate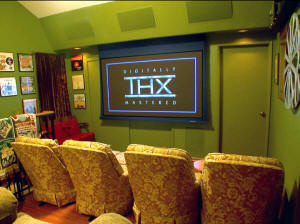 Nestled in a quiet part of the San Gabriel Valley, outside of Los Angeles, Rich Greenhalgh, a 57-year-old veteran of the entertainment and audio industry in Hollywood, has quietly assembled his dream home theatre system. His isn't merely a combination of a flat-screen television and one of those so-called home-theatres-in-a-box. Rather, it is a combination of some high-end equipment, a little remodeling ingenuity to his condominium, and a year of patience.

Over the years, the Greenhalghs have amassed a gigantic collection of movies on both LaserDisc and DVD. He and his wife, Anna, are avid movie buffs. Annoyed by the general lack of good projection and sound at most local theatres, he decided to build himself a first class home theatre. This way, he could enjoy excellent projection, have control of what he and Anna want to see, and when they want to see it, and adjust the volume to suit their taste. But how does one do this in a condominium?

Unlike those folks featured in many home theatre magazines with their ultra-expensive home theatre set-ups, the Greenhalghs were realistic. There wouldn't be the installation of a $40,000 video projector, a $75,000 sound system and $50,000 of components. It would be a combination of new equipment and some equipment they already owned installed in an attractive and functional décor. They participated in every phase of the design and installation of their home theatre. Unlike many who have theatres of this stature (who can afford to just throw money at it), they worked very hard to get the most bang from every buck they spent.
The Greenhalghs live in a condo built in the late-1970s. As with most homes built back then, there wasn't any consideration given to build a place for a home theatre, whether in a den or a room addition. These days, many new homes have a special nook or cranny built specifically for the addition of a home theatre. So how does one convert a 20th century pad into a 21st century luxury cinema?

They decided to put their new home theatre upstairs. What was once an open walkway with a vaulted ceiling and a view to the ground floor, became the basis for the theatre. The open space was built over creating additional square footage. A carpeted riser was built to accommodate their version of stadium seating for their two reclining chairs. Four comfortable tilt-rocking chairs with ottomans plus two antique upholstered theatre seats are available for their guests. The seating area was augmented with throw blankets and rare roll-a-way tables that Anna found on the Internet. Some of the throw blankets are stitched with famous movie characters, like those from the "Lord Of The Rings" series.

Rich has been collecting movie memorabilia for many years during his career in the entertainment industry. One of their prize possessions is an original Cinerama reel that has been restored to brand-new condition. Another is a pair of original Bausch & Lomb CinemaScope lenses which Rich found at the ArcLight Cinema bookshop in Hollywood. They were simply marked "old projector lenses - $35"! He quickly snapped them up and added them to his home theatre décor.
And then there is the framed poster from "Raiders Of The Lost Ark" (1981) which was the first film the Greenhalghs watched in their new theatre. It has been personally autographed to them by John Williams, Rich's favorite film composer. The film was released while Rich was working at Paramount.

The well-stocked snack bar, loaded with many types of movie theatre candy and treats, and the equipment bay is located in a former hallway nook right in the theatre, within easy reach.

In front of a hallway closet, a Stewart electric roll-down screen was installed. Rich chose their StudioTek 130 white screen material, which was developed by Joe Kane, rather than the higher contrast gray material for the best color reproduction.
"There is a slight contrast trade-off but you simply cannot get a good white from a gray screen," Rich explained.

Housed in a cutout in the back wall is his Runco VX-1000d projector. This high-definition 720p DLP projector throws out an impressive picture, with the ability to project a variety of aspect ratios to match any presentation requirement. Rich has many pre-widescreen movies, which he doesn't stretch or crop to fit his 16:9 screen, as has been the case with some home theatre owners (and many in-store demonstrations) these days. And since movies coming out of the Runco projector shine onto a real movie screen in a fully darkened room, Rich doesn't have to explain to "newbies" why "Casablanca" doesn't fill the full width of the screen. Both B&W and color movie images look terrific on his Stewart screen.

"The primary reason we picked the Runco DLP projector was not only for its quality and reputation, but for the lack of the annoying 'rainbow' effect which can easily be seen in less expensive units on the market. We picked DLP technology over anything else because of the complete lack of burn-in problems which all other types of technology can suffer from," says Rich.

The centerpiece of the audio system is the new Integra 10.5 Receiver, which delivers 1050 watts to their 7.1 channel speaker system. This was the last piece of equipment to be installed, as it was only released several weeks before our visit to their theatre.
"The reason we bought this model, aside from excellent quality, was its new modular input cards, which will allow us to upgrade for future technologies for at least some years to come," says Rich. "We chose to stay with a receiver, rather than separate audio components, so we could stay within a reasonable budget for the audio system."
Rounding out his components are several Equi=Tech power conditioners, a variety of DVD, LaserDisc and VCR players, and a high-definition satellite receiver. (see sidebar for a complete equipment list)

For the speaker system, Rich was looking for something that would fit nicely into the walls and still sound good. He opted for Triad speakers, manufactured in Portland, Oregon.
"That was a recommendation from our dealer, and we could not be happier," says Rich. "They look and sound great, but don't bust our budget."

The Triad InWall Silver Home Theater Series speakers, used for the left, center, and right main channels, were installed above the screen. Additional OnWall Triad surround speakers were mounted on the side and rear walls, providing a 360-degree sound field. Triad painted the speaker grills to match the color of their walls. No problem, as they have an in-house department for exact color-matching to do just that. Rich went the extra step to have them paint the air conditioning grills and lighting rings in their home theatre.
The ".1" low-end audio comes from the Triad Silver PowerSub which has its own 250-watt amplifier which brings their total audio power to 1300 watts.
"What I like about this subwoofer is that the amplifier is not built into the speaker cabinet which makes it easier to adjust and service."
Going toward the back wall of the home theatre, there is a velvet curtain that leads into the projection room, which also houses their extensive movie collection. This room features a full-size refrigerator with an icemaker for cold drinks, a microwave oven and even a hot water dispenser for hot tea or coffee. Most importantly, there is a theater popcorn machine. They serve genuine theater popcorn, purchased from a commercial theme park supplier, made with coconut oil and popcorn salt to their frequent visitors. It's the real thing!

Rich has amassed thousands of movies on LaserDisc and DVD. So large is the collection, he has cataloged every title into the DVD Register® database program which he uses and recommends, even for much smaller collections. He has been contributing information to the author of this software for many years. As for the films themselves, they've been alphabetized and stored on shelves by genre. Over the years Rich has found many oddities and rare titles no longer available on any current video format.
Rich and Anna were very pleased with the team from Evolution Audio Video, their home theatre consultants. While Rich did most of the installation himself during their remodeling, he credits them for the excellent design and technical assistance. They did the initial setup and calibration, but Rich touched it up himself from-time-to-time with his own sound pressure meter and video calibration discs.
Rich's experience with home theatres began in the late-1970s when he supervised the installation of several home screening rooms for the top executives of Paramount Pictures.
"Back then, there weren't any home theatres, so these rooms were installed with theatrical 35mm dual projectors and Dolby Stereo theatre sound systems," Rich explained.
One of the neatest aspects of the Greenhalghs' home theatre is Rich's attention to showmanship. He and Anna have invited friends, co-workers, church and film cronies like Mike Coate and I for an evening of short subjects, cartoons, demonstration discs (like the THX WOW LaserDisc and a variety of DTS DVD demo discs) before screening the feature presentation. Rich has designed and prints a full-color program for each showing, including his guests' names!
His enthusiasm for showmanship shows. The lights are dimmed and the Runco spreads light onto the screen. If it's Walt Disney's Technicolor short, "Flowers And Trees" (1932), Rich makes sure it's showing in 1.37:1. On more recent films, like his showing to us of "Around The World In 80 Days" (2004), he makes sure that the 2.39:1 aspect ratio is in full force.
"I grew up going to the road show movies in Hollywood in the late-1950s and 1960s and believe that movies should be shown with dignity, in a manner befitting the quality of the show," Rich says.

The Greenhalghs' passion for movies is evident in their home theatre. Having spent a year on this home theatre project, seeing movies here is an event. From the staircase lined with framed vinyl album soundtrack covers, to the film memorabilia lining the shelves, they have created an environment that is better than many theatres showing first-run films. Better yet, they've created this Hollywood nirvana on a relatively reasonable budget.
---
The Greenhalghs' Equipment List
Runco, VX-1000d Widescreen Digital Light Processing™ Projector & DHD™ Video Controller

Stewart, Luxus Model A ElectriScreen, Aspect Ratio 1.78:1, Size: 78" X 44" Screen Material: StudioTek 130

Integra, DTR 10.5 THX Ultra2 7.1 Home Theater Receiver, 150 watts/channel

Triad, Silver Home Cinema Series InWall LCR Front Speakers

Triad, Silver Home Cinema Series OnWall LR & Rear Surround Speakers

Triad, Silver Home Cinema Series InWall PowerSub Sub Woofer, 250 watt

Equi=Tech, Son of Q Balanced Power Conditioner System, 1500 watt (2)

Sony, SAT HD-300 High Definition DirecTV Satellite Receiver

Integra, DPS 5.3 DVD Player (temporary - until Hi-Def units become available)

Pioneer, DVL-91 Elite LaserDisc/DVD Combo Player

Pioneer, CLD-D406 LaserDisc Player (2)

Pioneer, RFD-1 RF Demodulator (for AC-3 LaserDisc audio playback)

Sony SLVN-750 VHS Video Cassette Recorder

Sony SLHF 450 Betamax Video Cassette Recorder

Intel PC Computer (for showing PowerPoint presentations)

DVD Register® Software (a customizable catalog containing every LaserDisc and DVD ever published)

---
IMAGES: Rich Greenhalgh (rgreenhalgh@pacbell.net)
Special Thanks To Rich & Anna Greenhalgh