THE SCREENING ROOM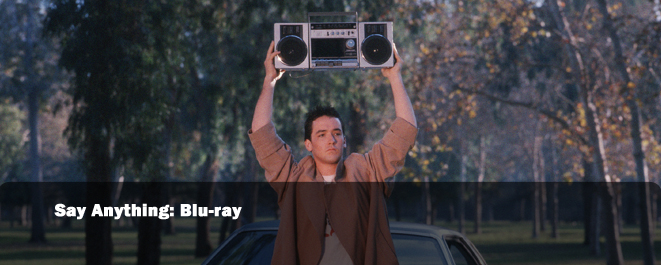 BLU-RAY REVIEW
By Bill Kallay
Almost every guy has fallen so hard for a girl, that their life seems to stop when the girl dumps them. Lloyd Dobler is the poster child for love lost in those fragile years right after high school.

"Say Anything" is now available on Blu-ray.

The film wasn't a hit when it came out in 1989, but it certainly gained an audience of fans on videotape and cable. I was one of those people who got caught up in Cameron Crowe's sincerity in the screenplay and its characters. I loved the film until it derailed with its plot twist toward the end. Seeing the film now 20 years later, I saw how the seeds had been planted through the film. Was the plot twist as bad I had remembered it? Not as bad, but I contend that the film could've been more powerful if James Court (John Mahoney) was handled better. The film's charm outweighs the plot twist.

This Crowe's first film to direct. It has a relaxed feeling because Crowe doesn't let fancy camerawork or numerous pop songs dominate the film too much. If Crowe can be faulted, to a degree, he likes his movies to play nice and not offend anybody. There are no real nasty villains, and his characters tend to be good people. In a sense, Crowe seemed to borrow story and character traits from director Billy Wilder. It's fitting that he wrote a book of their conversations. And that's okay. Outside of John Hughes' '80s teen flicks, most teenage comedies were raunchy and filled to the brim with pop tunes. Not "Say Anything." The music is handled well, and it's a sweet and endearing film that speaks from the teenage heart. He instilled Dobler as a slacker-type who still knew what he wanted in life; Diane Court (Ione Skye). Speaking from experience, I knew my world revolved around a girl and not much else at 18 years-old.

Cusack is one of the more underrated actors of my generation. Playing Lloyd Dobler fit him well. He'd been an '80s teen star who'd made his mark in "The Sure Thing", "The Journey of Natty Gann" (both 1985) and cult favorite, "One Crazy Summer" (1986). He was geeky yet cool enough to outsmart anyone. He was confident yet vulnerable. Cusack was an actor during the 1980s that you could rely on giving a good performance. Dobler shows Cusack's acting range quite well.

For a change, it was nice to see a female character in a teen comedy who was quiet, smart, and just simply lovable. Ione Skye plays her role as Diane convincingly. We see her love for her father is sincere, and we see how she lets Dobler into her secluded world. Unlike some of the other teen actors of the '80s, she doesn't flaunt and she doesn't fit in with the showy "Brat Pack" actors of the day. She was a neat discovery.

Mahoney is great as James Court. It seemed that movies made in that decade featured single fathers raising their daughters. "Sixteen Candles" (1984) and "Pretty in Pink" (1986) were two examples. Mahoney is very likable and believable as a father who wants the best for his girl. My only gripe is how his character turns. It seems to undermine most of what happened in the film prior. I would've much preferred him to fight more on the fact that his daughter is growing up and how he handles that. Instead, we're given his plot turn and for me, it changes how the film pans out.

The Blu-ray picture is very good, showing Laszlo Kovacs' wonderful simple cinematography. The entire film is shot in mostly dimly lit locations or on cloudy days. The look is diffused and lacks a colorful palette, which is how the film should look. There is film grain, which I welcome. This is perhaps the best the film has looked on home video.

The DTS-HD Master Audio soundtrack is perfectly fine for what it is. This is a mostly dialogue driven film. "In Your Eyes" by Peter Gabriel comes out loud and clear, but the rest of the soundtrack won't shake your house like a Michael Bay movie would.

"Say Anything" isn't a perfect movie, but it's sincere enough to convince you to watch it again.

Special thanks to Fox Online PR

Photos:

© 20th Century Fox. All rights reserved.
QUICK GLIMPSE
MOVIE
One of the better teen movies from the 1980s

TALENT
Director: Cameron Crowe

Cast: John Cusack, Ione Skye, John Mahoney

FEATURES
Commentary, look at the film 20 years later and more

RATING
PG-13

BLU-RAY
Picture: Very Good
Sound: Very Good

TECH SPECS
Aspect Ratio (1.85:1)





BLU-RAY RELEASE DATE
November 3, 2009
About | Site Index | Contact | Terms & Conditions | Links
Custom Search