THE SCREENING ROOM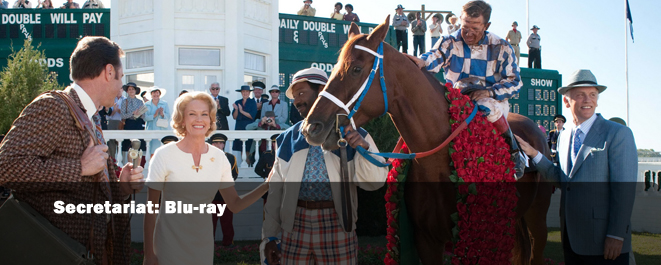 BLU-RAY REVIEW
By Bill Kallay
Real life drama throws us curves of happiness and sadness. Drama is necessary to keep life interesting. When a film throws us depressing curves, it is often difficult to shake out of a mood after watching it, even when the film is supposed to be uplifting.

"Secretariat" is now available on Blu-ray.

The story of Peggy Chenery and her determination to turn her horse, Secretariat, into a winner is inspiring. Back in the early-1970s, it was still pretty much a "man's world." There were still old-boy's clubs and chauvinism around. Thankfully, times were changing. Chenery was a housewife living in a nice suburban home in Colorado when she got word that her mother had passed away. She inherits a remarkable horse that is later named Secretariat. Against the odds, both she and Secretariat prove themselves to be winners.

Diane Lane plays Chenery with a sweet yet strong demeanor. She is exquisite and wonderfully cast in this role. Lane never goes over the top with rousing speeches, screaming matches with the old boy's, and presents Chereny with dignity and grace. This is a person I would've been pleased to have known as Lane portrays her. She wasn't the strongest personality nor was she a doormat. Simply, she was determined.

The film, directed by Randall Wallace, is well-done. It is carefully directed with confidence. The acting in almost every role is realistic. The audience grows to like the characters almost immediately. The period of the early-1970s is realistic.

Yet despite the film being inspirational, the undertone of it is dead serious and depressing. There are a number of deaths in the film. Lane walks around the film in a number of scenes with somberness. There are quite a few scenes of tears. Although there are moments of triumph, the moments of grief pull the film down into a slow paced drama.

"Secretariat" is a difficult film to embrace because the audience, provided they know a little history, already knows the outcome. I didn't feel much anticipation over the eventual outcome of the story. It is an incredible story. It is well told. Unfortunately, the downbeat undertone and pacing of the film keeps it from becoming uplifting.

The Blu-ray picture is excellent, showcasing Dean Semler's outstanding cinematography. At times, the film is dark, but most every scene shows up well with Semler's lighting style.

The DTS-HD Master Audio soundtrack is excellent and pounds your speakers with horseracing action. Most of the film is quiet with dialogue and music cues. The score is nicely recorded.

"Secretariat" is a winning story that is well told here. But it's no "Seabiscuit."

Special thanks to Click Communications

Photos:

© Disney. All rights reserved.
QUICK GLIMPSE
MOVIE
Like the real Secretariat, it means well but it won't win everyone over

TALENT
Director: Randall Wallace

Cast: Diane Lane, John Malkovich

FEATURES
Behind-the-scenes, documentary on the real Penny Chenery, DVD copy included

RATING
PG

BLU-RAY
Picture: Excellent
Sound: Excellent

TECH SPECS
Aspect Ratio (2.39:1)





BLU-RAY RELEASE DATE
January 25, 2011
About | Site Index | Contact | Terms & Conditions | Links
Custom Search