THE SCREENING ROOM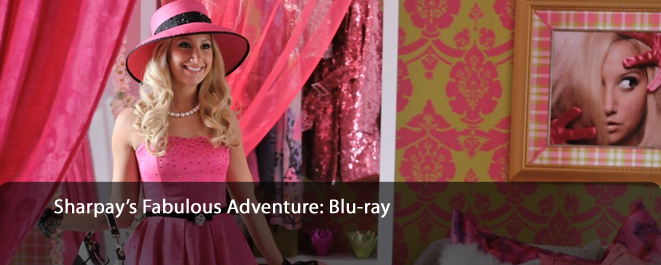 BLU-RAY REVIEW
By Bill Kallay
Ashley Tisdale is an atypical actress. She seems more like your typical and sweet girl next door rather than a flashy starlet. She's a refreshing and fun person to watch when she's in a good vehicle to showcase her talents. Unfortunately, "Sharpay's Fabulous Adventure" doesn't do her justice.

"Sharpay's Fabulous Adventure" is now available on Blu-ray.

After starring in the "High School Musical" movies, Tisdale went onto a singing career while showcasing her voice in the Disney Channel series, "Phineas & Ferb." She's wonderful in the role of their sister, Candace.

In the "High School Musical" movies, she played Sharpay, a spoiled and conniving rich girl. In the first and second films in the series, she added spice to the squeaky-clean set of characters. She wasn't overly mean, but she fun enough to watch. But by the third (released in theaters) film, her mean streak was watered down considerably. She was made to be nice and thoughtful. Why mess with a great character?

Tisdale has reprised her role as Sharpay in this new Disney Channel movie. But in no way, except for the crazy fashions she wears, did I get the impression that I was watching Sharpay. Part of the reason that character was so much fun, especially in the first "HSM" movie, was that she didn't care whose toes she stepped on to get what she wanted. In this new movie, she's very passive and shows no signs of being a snob.

Sharpay gets her hopes up high when she's invited to Broadway to audition for a new show. With her Yorkshire Terrier, Boi, she gets to New York City only to discover the message wasn't as clear as she thought. Set up in her own apartment, she meets a typical Disney Channel teenage guy with the right haircut and blue eyes, Peyton (Austin Butler). Naturally, he's an aspiring film student at NYU (why can't he be like, I don't know, a video game playing slacker?) who carries around his expensive camcorder to capture her every move. They bond.

The movie isn't very long at 89 minutes, but it seems to play much longer. The pacing and action in the film is very slow. My daughter is still within the age bracket of these Disney Channel movies and she was restless during the presentation. What made the original "HSM" so fun, at least for me, was the combination of catchy songs, fast pacing, and Sharpay's relentless spirit. In this spin-off, there is none of that. The songs are only used within the context of a stage setting, so this really isn't a musical. Sharpay's character has been watered-down. I miss her "evil" side. Tisdale, Butler and Cameron Goodman are good in their roles, however. I did enjoy the short little snippets regarding the lover dogs. Now that might make a cute movie!

The Blu-ray picture is very good. Don't go into this presentation expecting a superior picture. Disney Channel movies almost always seem to have their own distinct look, and this movie doesn't stay from it. There is a certain lack of flash or dimensionality to these movies. This is a movie that will look almost as good on DVD as it does on Blu-ray.

The DTS-HD Master Audio soundtrack is good. Again, with some of the Disney Channel movies I've heard over the years, including the "HSM" movies, there isn't much to crow about regarding the soundtrack. Most of the movie is dialog-driven and it's clear and concise. The music sounds good, but it's not very strong or dynamic. There isn't a lot of spatial or dimensionality to the score.

It's difficult for me to critique Ashley Tisdale. She really is a fun actress to watch. Perhaps if she ever reprises her role as Sharpay, she'll be the queen of mean again.

Special thanks to Click Communications

Photos:

© Disney. All rights reserved.
QUICK GLIMPSE
MOVIE
Slow-paced spin-off from "High School Musical"

TALENT
Director: Michael Lembeck

Cast: Ashley Tisdale, Austin Butler, Bradley Steven Perry, Cameron Goodman

FEATURES
Bonus features, "Austin Cam," and more

RATING
G

BLU-RAY
Picture: Very Good
Sound: Good

TECH SPECS
Aspect Ratio (1.78:1)





BLU-RAY RELEASE DATE
April 19, 2011
About | Site Index | Contact | Terms & Conditions | Links
Custom Search