THE SCREENING ROOM

By Michael Coate

The date May 25, 1977 is immortalized forever as the "birthdate" of one of the most popular movies ever made: "Star Wars." Can you think of any other movie whose release date is so well known?

In the 27 years since its release, "Star Wars" has gone from a modest launch in a couple dozen theatres, to winning seven Academy Awards, to selling hundreds of millions of dollars of tie-in merchandise, to influencing a generation of storytellers, and, according to Lucasfilm Ltd. Vice President of Marketing Jim Ward, to selling over 100 million home video units. The movie also positively influenced the personal budget of George Lucas and young stars like Harrison Ford, making them millionaires. Add to this, millions of DVDs recently welcomed into many a home theatre library.

While audiences can now enjoy the movie on DVD, writer-director George Lucas' ongoing revisions have left a lot of fans feeling as though there's a disturbance in the Force. Whether one approves or disapproves of the changes made to the movie for the 1997 Special Edition and the 2004 DVD version, what many do not realize is that changes, no matter how subtle, have been made to "Star Wars" dating back to its initial 1977 release. These include alternate sound mixes, a revised opening scroll, and, possibly, some deleted scenes. These adjustments, as well as the initial theatrical engagements, are the subject of this article.

A Long Time Ago In A Theatre Far, Far Away....

For over two and a half decades, enthusiastic fans have related tales of standing in long lines and recalling in astounding detail their first impression of seeing the original movie in George Lucas' legendary "Star Wars" saga. Many moviegoers remember seeing the movie on opening day. Ah, but which opening day?The passage of time has caused many people to forget that "Star Wars" (known today as "Star Wars: Episode IV – A New Hope") did not have the type of opening movies of today enjoy: thousands of theatres simultaneously opening a film. Rather, "Star Wars" opened initially in a mere 43 locations across the United States.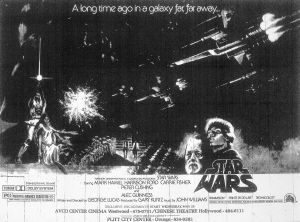 Southern California newspaper ad, May 15, 1977

Many sources over the years have cited 32 as the opening number of engagements, and many trivia-minded fans may recognize the number. The number 32 is correct... sort of. The film indeed opened with 32 engagements on the 25th of May, a mid-week Wednesday opening. But what many may not realize is that additional bookings began on the 26th and 27th of May, which brought the opening weekend engagement total to 43. To say "Star Wars" opened in 32 theatres is literally correct but does not tell the complete story.

The Original Engagements

So, who remembers the theatres in which "Star Wars" opened? For the purpose of history and to provide a dose of trivia for the Jedi Knights out there, what follows is the definitive list of original, first-week engagements of "Star Wars." (Fans may be interested in knowing the list is more comprehensive than a similar listing posted on the starwars.com website and the list provided to the press at the junkets promoting the "Star Wars Trilogy" DVD release.)

Presentation Legend
* 70mm Dolby Stereo (magnetic)
** 35mm Dolby Stereo (optical)
*** 35mm mono (optical Dolby Stereo print)

Opened Wednesday, May 25, 1977:
ARIZONA
Phoenix: [Plitt] Ciné Capri ***

CALIFORNIA
Hollywood (Los Angeles): [Mann] Chinese *
Orange: [Plitt] City Center *
Sacramento: [Syufy] Century 25 ***
San Diego: [Mann] Valley Circle ***
San Francisco: [UA] Coronet *
San Jose: [Syufy] Century 22 ***
Westwood (Los Angeles): [GCC] Avco Center *

COLORADO
Denver: [Cooper Highland] Cooper **

DELAWARE
Claymont (Philadelphia, PA): [Sameric] Eric Twin Tri-State Mall ***

DISTRICT OF COLUMBIA
Washington: [RKO/Stanley-Warner] Uptown **

ILLINOIS
Milan (Quad-City, IA/IL): [Redstone] Showcase **

INDIANA
Indianapolis: [Y&W] Eastwood **

KENTUCKY
Louisville: [Redstone] Showcase **

MASSACHUSETTS
Boston: [Sack] Charles **

MICHIGAN
Southfield (Detroit): [Nicholas George] Americana Complex **

MINNESOTA
Roseville (St. Paul): [Northwest] Roseville 4 **
St. Louis Park (Minneapolis): [GCC] St. Louis Park ***

NEW JERSEY
Edison (New York, NY): [GCC] Menlo Park ***
Lawrenceville (Philadelphia, PA): [Sameric] Eric Twin Lawrenceville ***
Paramus (New York, NY): [RKO/Stanley-Warner] Triplex Paramus *
Pennsauken (Philadelphia, PA): [Sameric] Eric Twin Pennsauken ***

NEW YORK
Hicksville (Long Island): [Mann] Twin South *
Manhattan (New York): [Loews] Astor Plaza *
Manhattan (New York) [Loews] Orpheum *

OHIO
Springdale (Cincinnati): [Redstone] Showcase **

OREGON
Beaverton (Portland): [Luxury] Westgate **

PENNSYLVANIA
Fairless Hills (Philadelphia): [Sameric] Eric Twin Fairless Hills ***
Monroeville (Pittsburgh): [Redstone] Showcase East **
Philadelphia: [Sameric] Eric's Place ***

UTAH
Salt Lake City: [Plitt] Centre ***

WASHINGTON
Seattle: [UA] Cinema 150 **


Opened Thursday, May 26, 1977:
KANSAS
Overland Park (Kansas City, MO): [Dickinson] Glenwood **


Opened Friday, May 27, 1977:
ILLINOIS
Calumet City (Chicago): [Plitt] River Oaks ***
Chicago: [Plitt] Esquire **
Lombard (Chicago): [GCC] Yorktown ***
Northbrook (Chicago): [Lubliner & Sterns] Edens **

IOWA
Des Moines: [Dubinsky] River Hills **

MISSOURI
Creve Coeur (St Louis): [Wehrenberg] Creve Coeur **

NEBRASKA
Omaha: [Douglas] Cinema Center **

OHIO
Dayton: [Chakeres] Dayton Mall **

TEXAS
Dallas: [GCC] Northpark I&II ***
Houston: [GCC] Galleria ***

An immediate sensation, "Star Wars" accumulated incredible per-screen averages and broke numerous box office and attendance records at the few locations lucky enough to have been playing the movie. The film industry was in shock, and exhibitors everywhere couldn't wait to get their hands on a print. The film's distributor, 20th Century-Fox, quickly added one extra engagement in each of the Los Angeles, New York, and Cincinnati markets, as well as starting two engagements in Honolulu. Fox had the lab cranking out prints as fast as they could as they accelerated their plans for a broad, nationwide release.

The expanded release began with over 100 new engagements added throughout the U.S. during the week beginning June 15, with additional engagements added each week throughout the summer. At its peak in August and September of 1977, "Star Wars" was playing in approximately 1,100 theatres in the United States and Canada, and was well on its way to surpassing "Jaws" (1975) and becoming the new all-time box office champ. In the fall of '77, "Star Wars" began its engagements in foreign countries under such titles as "Guerre Stellari," "Krieg Der Sterne," and "La Guerra De Las Galaxias."

Why So Few Theatres?

Why was "Star Wars" released initially to so few theatres when, in retrospect, the movie seemed like such a sure-fire hit?

"No one knew it was going to be a big hit," remembers Ben Burtt, who was responsible for Special Dialogue & Sound Effects on "Star Wars." "Nowadays, we take for granted that a big blockbuster will go out with thousands of prints... and open in May. But back then the summer special effects blockbuster did not exist."

In the 1997 book "Empire Building: The Remarkable Real Life Story Of Star Wars," former Fox executive Gareth Wigan offered an explanation: " 'Star Wars' only opened in forty theaters because we could only get forty theaters to book it. That's the astonishing thing."

Although there were certainly fewer movie theatres in operation during the 1970s compared with today, a wide release of a mainstream, non-specialized film at that time typically meant a few hundred engagements. To illustrate just how low the number of theatres was in which "Star Wars" opened, even by 1977 standards, here is for comparison a sample of some of the highly-anticipated films from the spring and summer of 1977 followed by the opening-week number of engagements.

The Spy Who Loved Me (200+)
Smokey And The Bandit (300+)
A Bridge Too Far (400+)
New York, New York (400+)
Rollercoaster (400+)
The Other Side Of Midnight (500+)
Exorcist II: The Heretic (700+)
Orca (700+)
The Deep (800+)

In "The Unauthorized Star Wars Compendium" (1999), Charles Lippincott, former Lucasfilm Ltd. Vice President for Advertising, Publicity, Promotion and Merchandising, mentioned that "If the film was redone today, on the basis of the way movies are released with a couple of thousand prints, it probably would have been unsuccessful. Theaters didn't want the movie. We were lucky to get thirty theaters to open it." Lippincott also remarked on the importance and prestige of getting booked in a major Hollywood theatre and the difficulty Fox faced in finding such a venue for "Star Wars." "At that time, Hollywood Boulevard was still very important for opening films. We only got on Hollywood Boulevard because the new Billy Friedkin film ['Sorcerer'] wasn't ready yet. It was supposed to be ready by May 25 but wasn't, and we were given a month in the Chinese. It was the only way we got into Grauman's."

In contrast with the belief shared by many that "Star Wars" was a tough sell to exhibitors, at least a few people at 20th Century-Fox had a hunch the movie could be a hit if marketed carefully and given a prestige-style platform release, specifically keeping the number of engagements limited to key markets during the initial weeks of release. (Films during 1977 given successful platform releases included "Julia," "The Turning Point," and "Close Encounters Of The Third Kind.") Peter Myers, Vice President of Domestic Distribution for Fox at the time, first saw "Star Wars" in a test screening three months before scheduled release. He was very impressed, and contemplated the best approach to marketing the film. "The answer," Myers revealed to the Associated Press shortly following the movie's opening, "was to position the picture in the proper theaters and give it the proper presentation so the people themselves could discover it and spread the word."

Being Blown Off The Screen

For the Hollywood exposé "Easy Riders, Raging Bulls: How The Sex-Drugs-And-Rock 'N' Roll Generation Saved Hollywood" (1998), film editor Bud Smith recalled his experience in seeing the coming attractions trailer he had cut for "Sorcerer" in front of "Star Wars" at the Chinese Theatre: "When our trailer faded to black, the curtains closed and opened again, and they kept opening and opening, and you started feeling this huge thing coming over your shoulder overwhelming you, and heard this noise, and you went right off into space. It made our film look like this little, amateurish piece of shit. I told Billy [Friedkin], 'We're fucking being blown off the screen. You gotta go see this.' "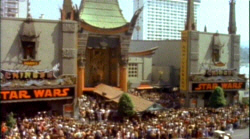 Mann's Chinese Theatre, 1977

To accommodate the opening of "Sorcerer" on June 24, 1977, the Hollywood engagement of "Star Wars" was moved to another theatre a couple of blocks down the street from the Chinese. Ultimately, the space opera would have the last laugh. As "Sorcerer" failed to live up to expectations while "Star Wars" continued to perform in stellar fashion, Lucas' epic moved back to the famous Chinese beginning August 3, where it stayed until June 1978. This marked the first time a film had returned to the Chinese for a second first-run engagement in the theatre's then fifty-year history. (The return of "Star Wars" to the Chinese was highlighted by the foot and droid print ceremony in the theatre's courtyard, an event thousands showed up to witness.)

Deleted Scenes – "I Saw That Scene!" "No, You Didn't." "Yes, I did!"

A controversy "Star Wars" has generated over the years is whether or not any scenes were added to or deleted from the film after the initial batch of prints were released to theatres. Many fans insist changes were made, all of which Lucasfilm representatives have denied in print and at many science-fiction and comic book conventions. Fan recollections vary wildly and range from additional scenes featuring Luke Skywalker and friend Biggs Darklighter, to an encounter with Jabba the Hutt, to a brief bit with Chewbacca not scaring off the Death Star's Mouse Robot, to a single shot of Luke throwing his grappling hook and missing before throwing a second time successfully so he and Princess Leia could swing across the Death Star chasm.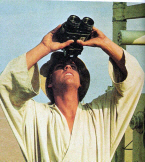 Deleted scene - Luke observing battle in space

While there is no doubt that the Jabba the Hutt scene and three scenes set on Tatooine early in the movie featuring Luke (two of which included Biggs) were deleted before the release, "The Unauthorized Star Wars Compendium" includes a claim that the Luke-Biggs reunion scene in the Rebel Hanger appeared in the original 1977 prints, only to be deleted for the 1979 re-release, then re-instated for the 1997 Special Edition. (The author of "The Unauthorized Star Wars Compendium" declined to be interviewed for this article.)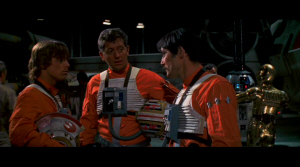 Deleted scene - Luke reunited with Biggs

Memory can be a strange thing, and while it has been difficult to confirm changes made to the film, an explanation for fans' recollections of seeing things can be traced to the movie's assortment of tie-in publications and merchandise. For example, the Ballantine novel, the Marvel comic book adaptation, the Topps bubblegum card series, the documentary "The Making Of Star Wars," and the books "The Star Wars Storybook" and "The Art Of Star Wars" all featured text, photos, footage, or cartoon renditions of scenes scripted and/or shot. Combined with the lack of availability of a (legal) version of "Star Wars" on home video formats until five years following the original theatrical release, one can see how anyone with a vivid imagination can convince themselves that they saw footage that may have never appeared in a theatrical presentation of the movie.

Episode What?!

Despite the deleted scenes conflict, one thing is certain: the "Episode IV: A New Hope" tag at the head of the opening scroll was not present in the original prints of the film. The tag was seen for the first time by audiences in America during the spring 1981 re-release, the first re-release after the 1980 original release of the follow-up to "Star Wars": "The Empire Strikes Back."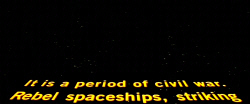 In a May 1980 interview with The Seattle Times, George Lucas explained why "Star Wars" was originally released without an episode number or subtitle: "I chickened out at the last minute thinking people aren't going to understand what this is all about, so we dropped 'Episode IV: A New Hope.' Now we're putting it back on. 'Empire' will be called 'Episode V.' "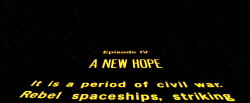 The presence of an episode number and subtitle on the opening scroll of "The Empire Strikes Back" caused some confusion and received coverage in many film reviews and major news and film industry magazines, including TIME, Newsweek, and American Cinematographer. Why the confusion? Obviously, audiences had not yet seen a "Star Wars" movie begin with an episode number or subtitle!

The "Empire" film review that appeared in The Washington Post clarified the situation: "When 'Star Wars' is reissued, probably next summer, the prints will include the subtitle, 'Episode IV: A New Hope.' This adjustment may already be seen in the published screenplay, which came out last winter in an attractive book called 'The Art Of Star Wars.' "

Dolby Jumps To Hyperspace

The engrossing "Empire Of Dreams" documentary included on the "Star Wars Trilogy" DVD bonus disc offers a portrait of George Lucas as a maverick, independent filmmaker, and covers the production, release, and afterlife of "Star Wars." While the opening of the movie initially in only a handful of theatres is represented, curiously, the documentary fails to explore in detail the influence the film had on production and exhibition technology, namely the use of and eventual industry-wide adoption of Dolby Stereo sound. "Star Wars," it can be argued, has influenced the motion picture industry and a generation of moviegoers more so than any other single motion picture.

Perhaps the lack of coverage in "Empire Of Dreams" is due to the filmmakers' desire to avoid addressing the controversy and confusion that has existed regarding the presentation type audiences experienced in the opening weeks of release. Numerous books, articles and fan recollections have attributed "Star Wars" as having an exclusive opening in the Dolby Stereo process (Dolby System, as it was then known). Other claims have included "Star Wars" being the first film ever released in Dolby Stereo, or that all of the initial prints of the film were in the 70-millimeter wide gauge format. None of the claims are correct, though by extensively researching the subject it becomes clear how one could be misled.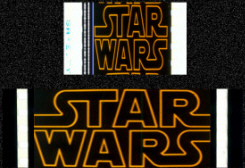 Above: 35mm Frame From "Star Wars" With Optical Soundtrack – Below: 70mm Frame With Magnetic Soundtrack

"Star Wars" was indeed released in Dolby Stereo, but was not the first film to utilize the then-fledgling technology. A few films prior to "Star Wars" were released in various forms of Dolby Stereo on a limited or test engagement basis. Examples include "Tommy" (1975), "Nashville" (1975), "Lisztomania" (1975), "Logan's Run" (1976), and "A Star Is Born" (1976). "Star Wars" was the first attempt at a wide release in the Dolby Stereo format in the sense that all of the prints put into circulation in the initial wave were Dolby-encoded. All of the prints, however, were not necessarily decoded during playback using Dolby equipment; in other words, the initial mono presentations were Dolby prints played in mono. It appears that the distributor sought to book "Star Wars," at the filmmakers' urging, in as many theatres as possible willing to install Dolby sound systems. The number of suitably-equipped venues, however, fell short of the total number of prints initially put into circulation. As for release prints in the deluxe (and expensive) 70mm format – with its superior projection quality and exquisite six-track magnetic audio – they were kept to a minimum.

But I Swear I Saw 'Star Wars' In 70mm

Many technology-savvy and quality-conscious moviegoers may have a distinct recollection of attending a 70mm (blow-up) presentation of "Star Wars." However, in looking over the list of original engagements some may be surprised to find that only eight 70mm engagements are noted, and that they were limited to theatres in the Los Angeles, New York, and San Francisco markets. Ah, but some of you are positive you saw a 70mm showing at a big, famous theatre in Washington, D.C., or Dallas, or Chicago, or Detroit, or even Honolulu. Well, you did... but not during the film's opening weekend!

Throughout the summer and fall of 1977, as "Star Wars" continued to perform beyond expectations, Fox ordered several new 70mm prints, and many theatres were provided with a large-format print. By Christmas 1977, over two dozen 70mm engagements were playing throughout major cities in the U.S.



Newspaper ad in Dallas

When people fondly recall the soundtrack experience of "Star Wars" – the rumble of the Imperial Cruiser in the classic opening scene... the squeaks and chirps of R2-D2... the hum of the lightsabers... the roar of the TIE Fighters... the Millennium Falcon's escape from the Mos Eisley spaceport and jump to hyperspace... the unforgettable John Williams music score... the climactic explosion of the Death Star... – it is likely that one's memory is based upon having attended a 70mm Six-Track Dolby Stereo presentation, with its easily apparent superiority over conventional 35mm stereo and monaural presentations. While all things "digital" are commonplace today, back then 70mm was the Rolls-Royce of the movies.

As a result of the impact of "Star Wars," the number of theatres equipped for stereo sound increased significantly, as did the number of films being mixed for stereo playback. Counting those initial theatres that installed Dolby for their "Star Wars" engagement, the number of Dolby-equipped theatres in the world by the end of May 1977 was fewer than 50. By the following year, when the film was retired from release, the number of equipped venues topped 700. As for films available with Dolby-encoded soundtracks, the number doubled in 1978 compared with the previous year and would continue to increase each year. As well, the 70mm format, which thrived during the 1950s and '60s, enjoyed a renaissance of sorts with many event movies being released in the magnetic six-track format on 70mm prints for selected theatres as well as in optical Dolby on conventional 35mm prints compatible in all movie theatres throughout the world.

Now You Hear It, Now You Don't

Variations in the soundtrack presentations of "Star Wars" can be traced to the multiple mixes that were prepared to accommodate the different formats in which the movie would be released:

1) 35mm stereo (optical, two-track/four-channel)
2) 35mm stereo (magnetic, four-track)
3) 70mm stereo (magnetic, six-track)
4) 35mm mono (optical)

The sound editing and re-recording team began by preparing a four-track master mix (Left-Center-Right-Surround) which would serve as the basis for both the 35mm and 70mm stereo versions. First, the master mix was dubbed to a matrix-encoded two-track Lt-Rt (Left total-Right total) printmaster for use in creating the 35mm Dolby Stereo prints. Then, the same four-track master, with some enhancements added, was used to create the six-track version. In comparison to the 35mm Dolby Stereo version, the Six-Track Dolby Stereo version during playback offered discrete channels, greater clarity, superior dynamic range, and two extra channels for special low-frequency enhancement, in what the Dolby folks affectionately called "baby boom." After completing the multichannel versions, the soundtrack crew created another English-language mix: a monaural mix. This would be included on prints destined for theatres not equipped with a stereophonic sound system and for versions prepared for ancillary markets. The mono prints were put into circulation upon the wide national break in June 1977.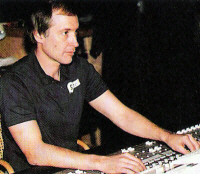 Sound designer Ben Burtt

Although the 35mm Dolby Stereo process is mono-compatible, at the time those involved with the new technology were, for both technical and aesthetic reasons, concerned about the effectiveness of mono playback from a stereo-encoded print. For similar reasons, a decision was made not to create the mono master by means of dubbing the stereo master and folding the multiple tracks into one. Instead, a new dedicated mono mix was created.

With each subsequent mix, the filmmakers seized opportunities to revise and enhance selected portions of the soundtrack where they had felt rushed or shortchanged creatively. Sound Designer Ben Burtt recalls: "Because we were always trying to make the film better and better and fix things that were not right, there were some sweetener tracks added; things like different C-3PO or Stormtrooper lines ['Close the blast doors'], additional sound effects, or some different ADR [the dialogue of Aunt Beru]." Knowing that multiple mixes were made containing subtle yet detectable differences help explain conflicting memories of moviegoers who remember hearing a certain sound effect or line of dialogue in one presentation but not in another.

It may be difficult to comprehend today as most major film releases on DVD sport a 5.1-channel digital soundtrack, but at the time, not knowing what the future would hold in terms of widespread adoption of multichannel sound in movie theatres and in homes, some members of the production felt the mono mix represented the definitive soundtrack of "Star Wars." They felt that the stereo version was a novelty that selected audiences would be treated to only during a brief theatrical run. "George put a lot of effort in that mono mix," Burtt remembers. "And he even said several times, 'Well, this is the real mix. This is the definitive mix of the film.' He paid more attention to it because he felt it was more important archivally."

Conclusion

No matter how often George Lucas waves his magic wand and makes changes to "Star Wars," for many, the memory of experiencing the magical space-fantasy in 1977 will never fade. Perhaps this explains the enduring appeal of the movie, despite the ongoing revisions made to it. This article was written to preserve those memories and to provide a history of the original release of the movie. Obi-Wan Kenobi was right: The Force will be with [us]...always.