THE SCREENING ROOM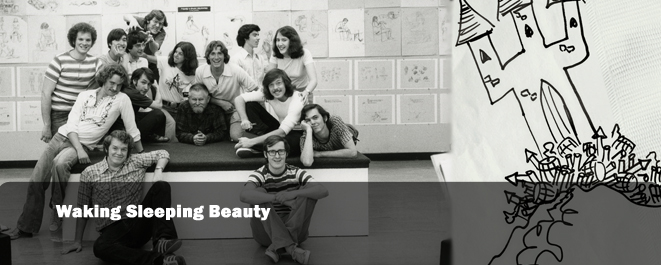 DVD REVIEW
By Bill Kallay
I remember an article in the "Los Angeles Times" around 1985 that described the downfall of animation. "The Black Cauldron" had been released that summer and had not done as well as Disney had hoped. I personally always enjoyed the film, especially in 70mm on the big screen. But it was film that didn't have an identity. It was too dark for children, too light for teens. The "Times" article spoke about how animation was at an all-time low, and how "The Black Cauldron" lent to the downfall of Disney's animation. In reality, Disney Animation had been on a downfall for years.

"Waking Sleeping Beauty" is now on DVD.

It can be reasonably said that the last "great" animated feature to come from the Disney studio was "The Jungle Book" (1967). In truth, Disney had scaled back from the ambitious animated features of its past since "Sleeping Beauty." The studio went with cheaper and faster methods of making animation come alive by "101 Dalmatians" (1961). By 1977 when "The Rescuers" was released, most of the studio's "Nine Old Men" animators were retiring or had been close to retirement. A new group of young animators came into the studio and had hopes of reviving it. That didn't happen for many years.

"The Little Mermaid" woke Disney's magic animation kingdom in 1989. Audiences loved that film, and I was most certainly one of those people who fell in love with Disney animation again. Certainly "The Great Mouse Detective" (1986) and "Oliver and Company" (1988)preceded Ariel. But they were not in the same league. It was so refreshing, yet comforting to see that Disney was back in the business of making fairy tales come true.

It was during the late-1980s that Disney went through a remarkable turnaround. Just a few years before, there was some uncertainty whether or not the company's animation studio would survive. Roy E. Disney, Walt's nephew and Roy O. Disney's son, was fed up with the decline of the studio's films. One of his first mandates after helping bring in Michael Eisner, Frank Wells and Jeffrey Katzenberg was to revive animation. At first, especially Katzenberg, wasn't enthused. Thankfully Roy persisted and got the animation department back on track.

But the story behind the revival of Disney Animation isn't all pretty. There was a lot of fighting and hurt feelings that occurred. Director Don Hahn ("The Lion King") has done an excellent job in bringing the blood, ink, sweat, and tears to the forefront in "Waking Sleeping Beauty." The look into the revival of the studio is frank and refreshing. This is not a glossy and pretty picture that has been painted. Hahn takes us inside of the minds of Roy, Katzenberg, and many of the animators who were there at the time. So often we're given a pretty picture of the "magic" behind Disney's animated films. In reality, the fantasy you see is simply that. There were so many distinct and often powerful personalities behind the paintbrush that we forget that humans made these remarkable films.

I was glad to see that Hahn focused his camera lens on this era. Composer Howard Ashman is given screen time, and he was truly passionate about his music and storytelling. Ashman was so adamant about keeping a prologue in "Beauty and the Beast" (1991) that he practically spit out fire at directors Kirk Wise and Gary Trousdale. His point was taken and the prologue stayed put.

Hahn dived into the film and video archives and produced some wonderful footage for this film. Animator Randy Cartwright had filmed footage in Super 8mm and then on video over the course of a few years. It's great to see his enthusiasm for not only animation, but for working on the famed Walt Disney Studios lot.

I have my favorite eras of Disney. I loved between 1937-1942. I loved between 1950-1969. I even loved some of the parts of the 1970s-1985. But there was a wonderful era between 1989-1994 at Disney that gave us such wonderful films. "Who Framed Roger Rabbit," "The Little Mermaid," "Beauty and the Beast," "Aladdin," and "The Lion King." Thanks to Don Hahn and Peter Schneider, we can relive the greatness and the hard work & pain behind those films.

Special thanks to Click Communications

Photos:

© Disney. All rights reserved.
QUICK GLIMPSE
MOVIE
An excellent look at a great period in Disney animation

TALENT
Director: Don Hahn

Cast: Don Hahn, Peter Schneider, Roy E. Disney, Michael Eisner, Jeffrey Katzenberg, Frank Wells, Randy Cartwright

FEATURES
A number of extra interviews

RATING
PG

DVD
Picture: Very Good
Sound: Very Good

TECH SPECS
Aspect Ratio (1:78:1)

Dolby Digital 5.1

DVD RELEASE DATE
November 30, 2010
About | Site Index | Contact | Terms & Conditions | Links
Custom Search