"Who Made The Potatoe Salad?" DVD
By
William Kallay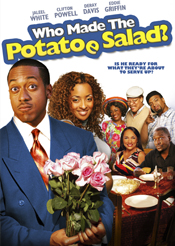 Have we gone mad here at FSTD? We're starting to review straight-to-DVD movies? Are we abandoning the classics and personal favorites that have adorned this site? And we're reviewing "R" rated movies to boot? Well, hold on there, young blood. Every once in a while, we receive DVDs to review on the site from gracious public relations folks who work for various studios.
FSTD isn't officially a DVD review site, though we do some. We love DVDs, but to review them in our way, it takes time to break down the DVD and supplements. We mainly concentrate on film classics or personal favorites. But it's fun for us to do something a little different every once in a while.
In time for Thanksgiving, 20th Century Fox Home Entertainment is releasing a straight-to-DVD movie called "Who Made The Potatoe Salad?" The film is available on a single DVD and is presented in widescreen (1.78:1) with 5.1 Dolby Digital audio. There aren't any special features, but there are previews for other DVDs that include "Phat Girlz" and "The Big Black Comedy Show: Volume 1."
The image quality of the DVD is very good. The movie was shot in High Definition and has its own distinct look, though there are sections of the movie where the colors were desaturated. These shots come from out of nowhere and are a little distracting. It's almost as if someone was playing in the coloring templates in Final Cut Pro too much. There are also some cuts where it appears that the picture is out of focus. It's possible that the film was rushed through production, thus some shots may have been the only ones available for editing.
The soundtrack is well presented with a nice soundstage. It isn't dynamic like those on many current high budget films, but it's good. The 5.1 mix plays at 448kbps.
"Who Made The Potatoe Salad?" is reminiscent of "Meet The Parents" (2000), only this time it's Jaleel White as a San Diego police officer who travels to Los Angeles to meet his soon-to-be in-laws. White meets Ashley's (Jennia Fredrique) dysfunctional family, headed by her former Black Panther father, Mr. Jenkins (Clifton Powell). He's stuck in the movement of the 1960s and isn't happy that his little girl is in love with a "pig." He insults White in nearly every scene and calls him "young blood." Yet he seems to have a soft side and deep down likes this kid. White eventually meets more of the family, an old boyfriend played by Tiny Lister, and tries hanging out with Ashley's gang banger brother, June Bug (De Ray Davis). He finds out that it's going to be an uphill climb for him to win the hand of his fiancée.
There are some funny moments in the movie, such as when White has a dream about his fiancée visiting him downstairs on the couch (covered in plastic, no less). Fans of Eddie Griffin will laugh at his special appearance in the film. But most of the jokes are crude and filled with enough bad language to make a sailor blush. You may not want to share this DVD with your family after Thanksgiving dinner, unless of course they aren't offended by ethnic humor and bad language.
Don't get me wrong. I'm no prude. Like the recent film "Borat: Cultural Learnings of America for Make Benefit Glorious Nation of Kazakhstan" illustrates, I can laugh at the most absurd and crude jokes ever laid down on film. Borat, the character, is likable. He's ignorant and racist, yet we laugh at him because he's totally naive that he's being so. In "Potatoe Salad," the jokes and language are held together by characters that are campy, not to mention, sometimes mean-spirited.
Powell's Mr. Jenkins is funny in concept, but his repeated references to "the movement" and "pig" get tiresome fairly quickly. Powell shines in moments where the movie takes a serious turn. He lets his guard down every once in a while and shows his good natured side. Had the entire film been a drama, his role would have been right at home.
White's character is by nature a wimp. Somehow, I don't envision a five year veteran of the SDPD being so wimpy. I'm sure this was done for comedic effect. Jaleel White's Michael is a likable guy, but he's simply too much of a pushover for the audience to feel empathy for him.
Credit should be given to actor Jaleel White. He was famous for playing Urkel on ABC's "Family Matters" (1989-1998). Good or bad, everyone who has seen the show remembers Urkel. The show was obviously made for families and most especially children, and that's why it was a part of ABC's TGIF Fridays. After the show went off the air, White could've easily become a punch line or one of those former child actors on those "Where Are They Now?" shows. But to his credit, he's acted in quite a few movies, most notably the kid flick "Big Fat Liar" (2002) and will be in the upcoming "Dreamgirls."
In a movie where the budget is low and the intended audience will love these jokes and situations, it's perhaps wrong of me to be too picky. There are reasons why films like this get made. The DVD market for straight-to-DVD movies is hot right now and movies like "Potatoe Salad" are relatively easy and inexpensive to produce. If the figure on Amazon.com is correct, this movie cost approximately $1 million to make. Even if it cost $5 million to make, it could theoretically generate a nice profit for 20th Century Fox through sales, rentals and television broadcasts. You could also consider this a movie in which you sit back and get a few laughs, and there's nothing wrong with that.

Who Made The Potatoe Salad?
20th Century Fox Home Entertainment
Catalog Number B000HT3P92
Region 1
1.78:1
Dolby Digital 5.1
DVD Release Date: November 7, 2006
$19.98
R
One DVD-9 Disc
2006
90 minutes
Color
Director: Damon 'Coke' Daniels
Cast: Jaleel White, De Ray Davis, Jennia Fredrique, Tiny Lister, Reynaldo Rey, Be Be Drake, Eddie Griffin, Ella Joyce and Clifton Powell

---
Special thanks to Mac McLean
IMAGES: © 20th Century Fox Home Entertainment. All rights reserved.