Related Articles:
A Barking Great Time With "Lady And The Tramp"
By
William Kallay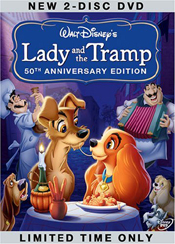 Of all the animals faithfully rendered by Walt Disney's filmmakers and animators, the dog must certainly be the most popular. No other animals, including mice, birds, crickets and felines have received more glowing attention. Okay, that may be stretching the truth a bit. The company was started by Mickey Mouse, after all. And Donald Duck, Jiminy Cricket and Simba all have been in the spotlight. But it is the Old Yeller, the Shaggy Dog, Nana, and One Hundred and One Dalmatians who fill out the Disney canine lineup.

Perhaps the most enduring and charming animated feature devoted to dogs, "Lady And The Tramp" (1955) is available again on DVD in a 2-disc set. The film was released on DVD in a barebones edition in 1999, and previously in VHS and LaserDisc editions. The Disney home video unit has gone in and "digitally restored" the classic and added a litter full of extras on Disc 2.

Disc 1 contains the feature film in both full screen (1.33:1) and CinemaScope (2.55:1) versions, a new 5.1 Disney Enhanced Home Theater Mix, French and Spanish language 5.1 mixes, and the restored original soundtrack in three channel stereo. This disc also includes the usual "Sneak Peeks" and a Disc 2 preview.

Disc 2 continues Disney's impressive ability to mine its archives for a plethora of goodies to hear and watch. Deleted scenes include "Turning The Tables" and "The Arrival Of The Baby" which utilize sketches, dialogue and music to reconstruct those scenes. These can be viewed with a nice introduction by animator, Eric Goldberg. The "Music & More" section takes viewers behind-the-scenes with how "The Siamese Cat" song was created. Singer Steve Tyrell sings a rendition of "Belle Notte." In the "Games & Activities" section, kids can play the "Disney Virtual Puppy" game on a PC. The other features in this section, "Disney Dog Trivia," "Going To The Dogs (Disneypedia)," and "Your Inner Bark (Personality Profile)" round out this part of the disc.

In "Backstage Disney," animation fans will pant with delight with the choices. "Lady's Pedigree: The Making Of 'Lady And The Tramp,'" "Finding Lady: The Art Of The Storyboard," "Original 1943 Storyboards," "Excerpts From 'Disneyland TV Shows,'" theatrical trailers and "Lady And The Tramp Galleries" are just a part of this section. Dig deeper into most of the headings, viewers will encounter a lot more juicy morsels of "Tramp" history. Since there are so many avenues to take just in the "Backstage Disney" section, viewers are encouraged to seek out what's available here. I'll highlight some personal favorites.

Walt himself is featured quite extensively throughout the features. As the genial host of "Disneyland" television series, there is no doubt of his on-camera charisma. There was simply nobody like Disney who could be a creative leader for his company, a spokesman for its projects and in some ways, an uncle for an entire generation of kids. Television audiences felt comfortable with Walt. For many, even today, Walt was a part of the family. Thus, when this DVD takes us back to Marceline, MO, we're happy to join Walt and brother Roy on a return to their childhood home. Also located within this section is a delightful look back on "The Story Of Lady And The Tramp," which not only has Goldberg, historian and recent Oscar winner John Canemaker, Disney storyman Burny Mattinson, and Andreas Deja talking about the journey of "Tramp" to the widescreen, but it also gives due credit to Joe Grant who initiated the original story and characters for the film. For techie purists, there is a section about the film's use of CinemaScope in "Pretty As A Picture: Art And Design." These are all located in the "Lady's Pedigree" section.

The "Excerpts From 'Disneyland TV Shows'" offers viewers a fun look at a program entitled "A Story Of Dogs," which apparently only aired once in 1954. This is standard promotional material for Disney at the time. The animators and storymen are obviously staged in showing the audience how the film was made, but they are delightful to watch. Disney was clever in selling his films (and eventually Disneyland) to audiences, and they never felt like they were being sold to. These pieces still work today and give Disney animation buffs some very entertaining moments to peek into the animator's mind. There are glimpses at sketches, characters and work-in-progress clips. And yes, there are film "artifacts" that show up on occasion through this segment. There is nothing wrong with your plasma or LCD television or DVD player.

There are really two picture related critiques to consider. The initial DVD menu on Disc 1 offers two versions of the film: full screen and widescreen. "Lady And The Tramp" was shot twice, once in the then-standard 1.37:1 aspect ratio, which is very close in shape to most standard televisions. Many theatres at the time of the film's release were not equipped to show widescreen CinemaScope. Disney made sure a "standard" version was available for those theatres. The other version, which was very much highlighted in promotional material for the film, was shot in CinemaScope. The aspect ratio for many early CinemaScope films, which includes "Lady," was 2.55:1. This ultra wide aspect ratio is normal and should look very good on 16:9 widescreen television sets.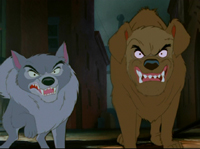 Full screen version (top); Widescreen version (bottom)
The picture quality of both versions is excellent. Lowry Digital Images once again did the video restoration work. The full screen version looks much like the new DVDs of "Cinderella" and "Bambi." The animation has the clarity of today's recent Disney endeavors.

The widescreen version looks clear, mostly sharp and the colors are vibrant. There is a bit of softness in the picture, which isn't distracting like that of the recent DVD release of "Oklahoma!." But it is there. This may be due in part to the early softness of CinemaScope lenses. Even though the presentation here has undergone Lowry's digital processing, this is perhaps the most faithful the film has looked to its original form. This is one of the most pleasing and natural looking pictures of Disney's recent DVD releases.

The soundtrack is pleasing and very clean. Some parts of the soundtrack have been fixed. In Chapter 4, the dog catcher yells, "Hey! What's going on over there?" In the original version of the film, and in video releases, Lee Millar's (who also plays Jim Dear) voice sounds like it's coming out of a tin can. This was probably due to the acoustics of the studio in which he was being recorded. That reverb has been eliminated on the new Disney Enhanced remix, but is still in the original soundtrack.

The remix in 5.1 has basically maintained the original's warm, 1950s analog sound without resorting to modern surround sound tricks. Surround is present, but it's subtle. The dialogue has been cleaned and sounds very good and natural. The Disney Enhanced, French and Spanish mixes play at 448kbps, and the restored soundtrack plays at 320kbps.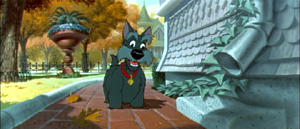 1999 DVD release (top); 2006 DVD release (bottom) [Enlarge]
"Lady And The Tramp" is a wonderful film. If you're a dog lover, you can identify with the characters, because more than likely, your dog is very much like them, albeit with human personality traits. Animators like Frank Thomas and Milt Kahl captured each dog breed's personality (as seen in the film) down to even the most minute elements. Just look at how each canine character walks, barks, sniffs the air and sits. Look at the expressiveness in the characters' eyes. Nearly every dog in this film communicates a range of emotions just by how the animators drew their eyes. We know that Tramp is from the wrong side of the tracks, but we can tell just by looking at his eyes that he's got a heart of gold.

Lady (Barbara Luddy) is perfectly personified as a pampered pooch in 1900s New England. Though she is spoiled and very "proper," she's never played as a snooty pooch. Jock (Bill Thompson) and Trusty (Bill Baucom) are the charming gentlemen who will do anything to help Lady. Jock is especially charming. His walk, his mannerisms and his cheery, yet feisty disposition, are great character traits. Tramp (Larry Roberts) isn't the strongest character in the film, but he's very good. Much like previous animated Disney films, the female lead is stronger than the male. But Tramp is no slouch and offers Lady a good counterbalance.

This is one of those rare films in which nearly every character is delightful to watch and listen to. The Siamese Cats, Si & Am (both portrayed by Peggy Lee), Aunt Sarah (Verna Felton), Tony and Joe (George Givot and Bill Thompson) and the Beaver (Stan Freeberg) are memorable. Their screen time is short, but their time is stamped into our minds long after the film is over.

The story of a pampered pooch meeting a dog from the wrong side of the tracks is simple. In fact, the film as a whole, is simply plotted. But that's a positive attribute and makes the film easy to watch, enjoy and watch again. It's never cloying or too cutesy. There is humor, action and some drama all wrapped up into a 76-minute movie. How many movies today can get an audience into a story, its characters, play some original songs and get them out of a theatre in less than an hour-and-half, and do it well?

The widescreen CinemaScope version is a visual treat, in my opinion. Though some animators balked at the extra wide space in which to compose backgrounds and characters, they were clever enough to utilize it. Unlike many early CinemaScope films, in which much of the actor staging was done to fill the frame, or there was limited movement of the camera, "Lady And The Tramp" uses the wide frame as a different kind of canvas to play with. The staging is done with such creativeness, that you're unaware of the CinemaScope screen. This film is beautifully rendered on the widescreen, with vistas of the New England town where Lady lives, to the scope of the zoo. And it's worth noting that much of the film is shot from the dogs' point-of-view.
Historians have stated for years that "Lady And The Tramp" was among the early CinemaScope productions shot twice — and I imagine fans have anticipated the alternate version would be included on this deluxe anniversary DVD set — but it is clear that this is indeed the case as the fullscreen version on this DVD appears to be a pan-and-scan of the 'scope version.

The score and songs throughout "Lady" are truly outstanding. Oliver Wallace was a Walt Disney Studio composer who had written a lot of orchestral music for a number of Donald Duck shorts and studio features, including "Dumbo" (1941) and "Alice In Wonderland" (1951). He was an underrated composer and it's a shame his music hasn't been more appreciated (though, the DVD does focus on him a bit). The score for "Lady" is perfectly suited to each character and situation. For example, Lady's theme is as cheery and delightful as watching a puppy try to run for the first time.

The songs were written by Peggy Lee and Sonny Burke. "He's A Tramp," "Siamese Cat Song," "Belle Notte," among others, are instantly recognizable. The songs don't follow the conventional, rose colored 1900s Wallace score. Instead, each takes on a different musical genre and they fit the moods of the movie. A jazzy number like "He's A Tramp" is perfectly suited to not only "Peg's" character in the dog pound scene, but to the character of Tramp. Free, easygoing and catchy.

From one dog lover to another, sniff out the trail to your local DVD retailer and fetch this 2-disc set. I don't want to see you begging for it once Disney puts it back in the vault!

Lady And The Tramp
Walt Disney Home Entertainment
Catalog Number 40233
Region 1
1.33:1 and 2.55:1
Dolby Digital 5.1 (Disney Enhanced Home Theater Mix)
Dolby Digital 3.0
DVD Release Date: February 28, 2006
$29.99
G
Two DVD-9 Discs
1955
76 minutes
Color
Directors: Wilfred Jackson, Hamilton Luske, Clyde Geronimi
Cast: Peggy Lee, Barbara Luddy, Larry Roberts, Bill Thompson, Bill Baucom, Stan Freeberg, Verna Felton, The Mello Men

---
IMAGES: © Disney. All rights reserved.