Related Articles:
"ASC 2005"
Posted February 18 , 2006
The 4th Annual Visual Effects Society Awards!
VES Celebrates With John Lasseter And Friends
By
William Kallay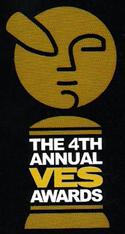 With the likes of Woody, Buzz Lightyear, King Kong, Yoda, and quite a few of his industry friends, director John Lasseter was certainly in great company at the 4th Annual VES Awards. Members of the VES honored their peers for outstanding work in visual effects in numerous categories for feature films, special venue films, commercials, television shows/mini series, music videos and video games. The Visual Effects Society (VES) held its ceremony at the Hollywood Palladium on February 15, 2006.
The VES was founded by Tom Atkin. The organization has grown substantially over the past few years with over 1300 members worldwide. With visual effects covering almost every aspect of the entertainment industry, Atkin felt it was necessary to create and build a society dedicated to the visual effects artist. This year's sold out show was a testament to the growth of VES.
Both visual effects stars and movie stars were guests of the VES. John Lasseter and his wife Nancy Lasseter, Dennis Muren ("War Of The Worlds"), Pablo Helman ("War Of The Worlds"), Carl Rosendahl (Founder, Pacific Data Images), Jim Morris (Pixar), Harrison Ellenshaw ("Tron"), John Dykstra ("Spider-man 2"), Cheech Marin ("Cars"), Bonnie Hunt ("Cars"), Edie McClurg ("Cars"), Craig T. Nelson ("The Incredibles"), Katharine Helman ("Cars"), and John Ratzenberger ("Cars") were on hand.
The night was as exciting as Hollywood award shows get. Limos pulled into the Palladium's parking lot and the entertainment world's finest visual effects talent received star treatment. In almost every major awards show outside of the VES Awards, visual effects artists are usually given a shrug and little respect for their craft. The visual effects category, along with other "technical" categories, are often treated as "geeky" and with numerous jokes that aren't always tongue-in-cheek. But for one night during the year, visual effects artists got their due.
John Lasseter was given the George Méliès Award for his lifetime work in advancing visual effects and digital technology. He began his career in film at the Disney Studios in the animation department. After seeing early footage of the Light Cycle sequence on "Tron" (1982), he was convinced that the ability to tell animated stories could be done in extraordinary ways with digital technology.
"This is what Walt (Disney) was waiting for," said Lasseter in 1982. He felt that digital technology could expand an animator's palette to unforeseen levels. But Lasseter was quick to point out that computers, no matter how sophisticated they were, could not replace storytelling and emotional involvement on an audience level.
"Computers don't make the animation — people do."
Lasseter also said that he loved making films that created a legacy. He was moved when he met a family who's grandmother was a painter on "Snow White And The Seven Dwarfs" (1937). She wasn't in the upper realm of the animation hierarchy, he said. But the fact that she worked on such a classic moved him to inspire his creative teams at Pixar to create films that would leave a legacy.
Actress Edie McClurg, who has provided voices in Disney and Pixar films, spoke of Joe Ranft. He was a brilliant storyteller at Disney and Pixar, and is probably most recognized by audiences as the hilarious voice of "Heimlich" in "A Bug's Life" (1998). One of the most shocking stories that came out over the news was his untimely death. He and a companion were killed in 2005 in a car accident, while another passenger was injured. Her voice choking up and tears welling from her eyes, McClurg spoke of missing him and his spirit while working on Pixar films. From people I've spoken to, and from seeing him on many of the Pixar DVDs, Ranft was a creative spirit and great guy at Pixar who is sincerely missed.
Once the dinners were served, the show went on a fast clip. The evening's dominant visual effects award winners were "King Kong" and "War Of The Worlds." By looking at the evening's various nominees, 2005 was a year of difficult choices! Visual effects artists have really pushed the envelope on what can be done. It seems today that there is no such thing as "can't be done."
Jim Morris was given the Board Of Governers Award. Morris has been with Lucas Digital, where he was the head of that division for a number of years. He's now with Pixar Animation as a producer.
Congratulations to the nominees and winners of this year's VES Awards!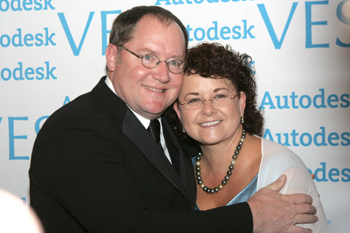 John and Nancy Lasseter before the show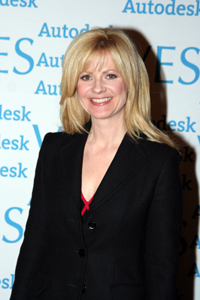 Actress Bonnie Hunt ("Cars") presented Lasseter with the prestigious George Méliès Award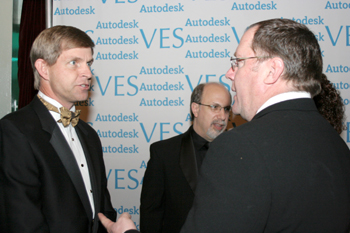 Carl Rosendahl (left) chats with Lasseter (right) — Rosendahl founded Pacific Data Images (PDI) whose software helped develop "Shrek" (2001)
(Left-to-Right) Jim Morris (Pixar), Eric Roth (VES Executive Director), John Lasseter and Tim McGovern (Co-Chair of VES Awards Committee)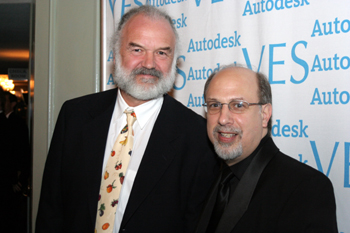 ILM model maker Lorne Peterson and Eric Roth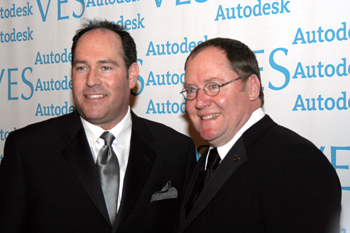 Martin Vann (Vice President Worldwide Sales, Autodesk) and John Lasseter
Eric Roth with Cheech Marin ("Cars") and Carl Rosendahl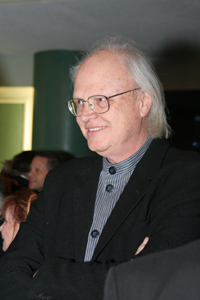 One of ILM's most honored visual effects supervisors, Dennis Muren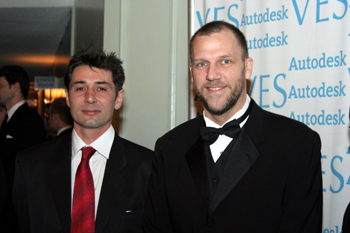 Denis Couchon and Rex Grignon ("Madagascar")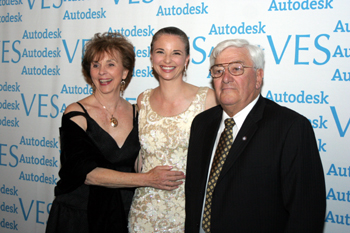 Margi Celluci, Camille Celluci ("Warm Springs") and Herb Dietzler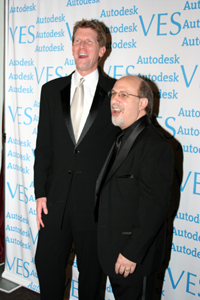 Tony Uphoff, (Publisher, The Hollywood Reporter) and Roth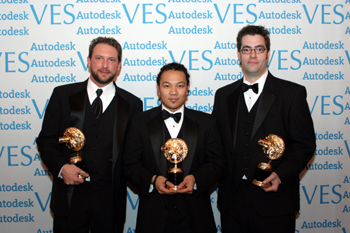 Andrew Karr, Louie Hinayo and Gary Hughes ("Battlestar Galactica")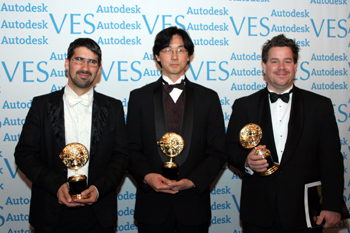 Christian Rivers, Atsushi Sato and Guy Williams ("King Kong")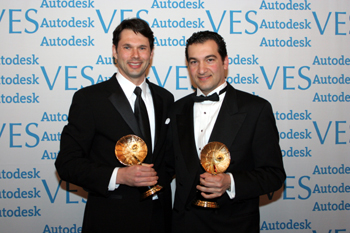 Colin O'Connor and Habib Zargarpour ("Need For Speed Most Wanted")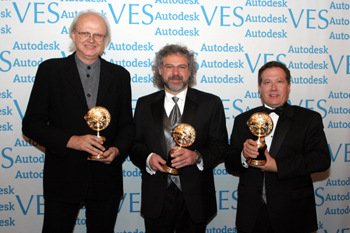 Dennis Muren, Pablo Helman and Marshall Krasser ("War Of The Worlds")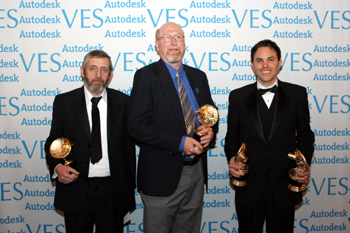 Ed Hirsh, Steve Gawley and Joshua Ong ("War Of The Worlds")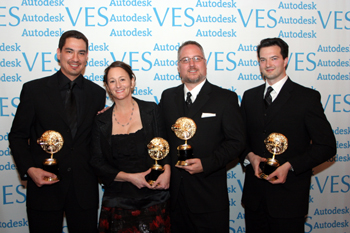 Eric Barba, Lisa Beroud, Jay Barton and Jim Gaczkowski ("Nine Inch Nails" 'Only')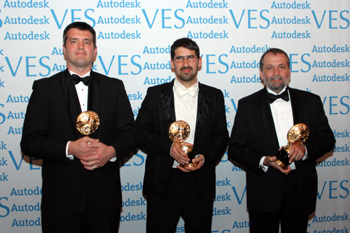 Eric Saindon, Christian Rivers and Joe Letteri ("King Kong")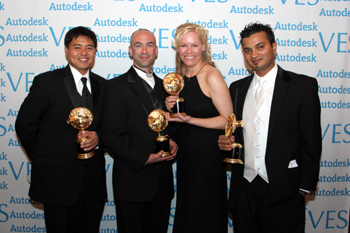 Cedric Tomacruz, David Bailey, Valeri Pfahning and Siddhartha Jayakar ("Into The West")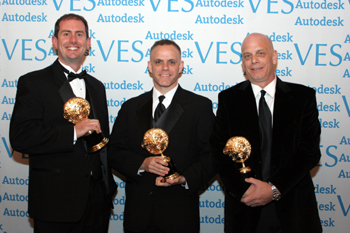 Jack Geist, Johnathan Banta and Jerome Morin ("Magnificent Desolation: Walking On The Moon")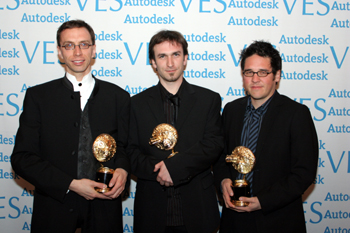 Jean-Jacques Tremblay, Raphael Lacoste and Kun Chang [accepting for Anne Mai Le Bouyonnec] ("Prince Of Persia: The Two Thrones")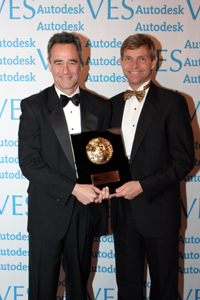 Jim Morris received the Board Of Directors Award — He poses with Carl Rosendahl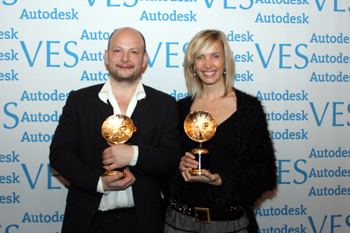 Jon Collins and Sara Dowland ("Guinness" beer commercial) accepting for William Bartlett, Scott Griffin, Andrew Boyd, Dan Seddon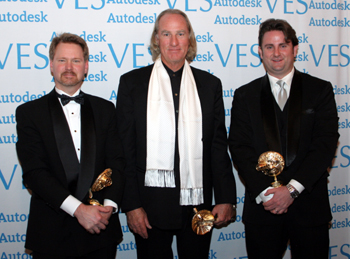 Kevin Blank, Craig T. Nelson (accepting for Mitchell Firm and John Teska) and Eric Chauvin ("Lost")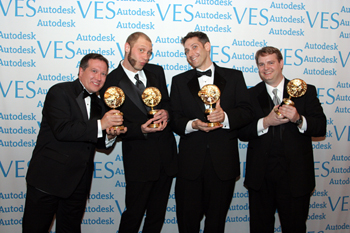 Marshall Krasser, Michael Jamieson, Jeff Saltzman and Regan McGee ("War Of The Worlds")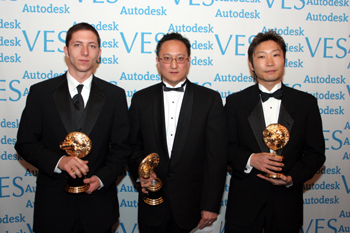 Michael Cook, Anthony Ocampo and Eugene Kim ("Las Vegas")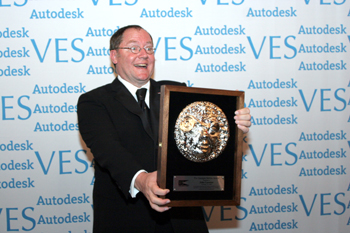 John Lasseter and his George Méliès Award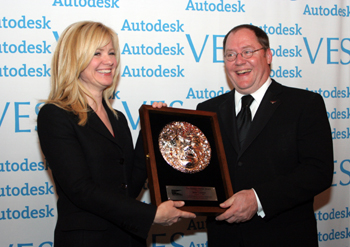 Bonnie Hunt and John Lasseter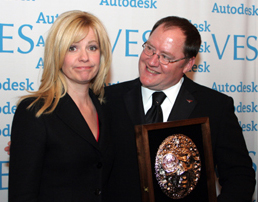 Hunt plays "Sally" in Lasseter's upcoming film, "Cars"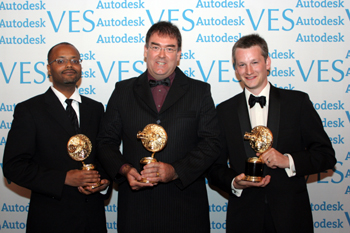 R. Christopher White, Matt Aitken and Charles Tait ("King Kong")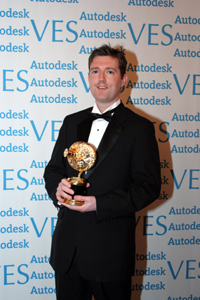 Seamus Malone ("Wallace & Gromit: The Curse Of The Were-Rabbit") [accepting for Loyd Price]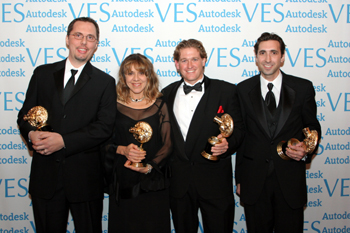 Stefano Trivelli, Michele Moen, Kelly Bumbarger and Sean Wilson ("Empire")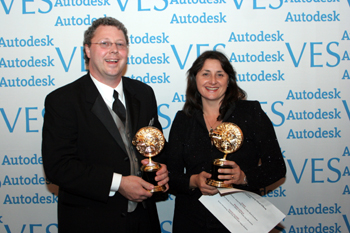 Wes Sewell and Victoria Alonso ("Kingdom Of Heaven")
Special thanks to Ellen Pasternack and Raulette Woods
---
For the complete list of nominees, awards and additional photos, click onto:
http://www.visualeffectssociety.com.
---
All photos © 2006 William Kallay. All rights reserved
u